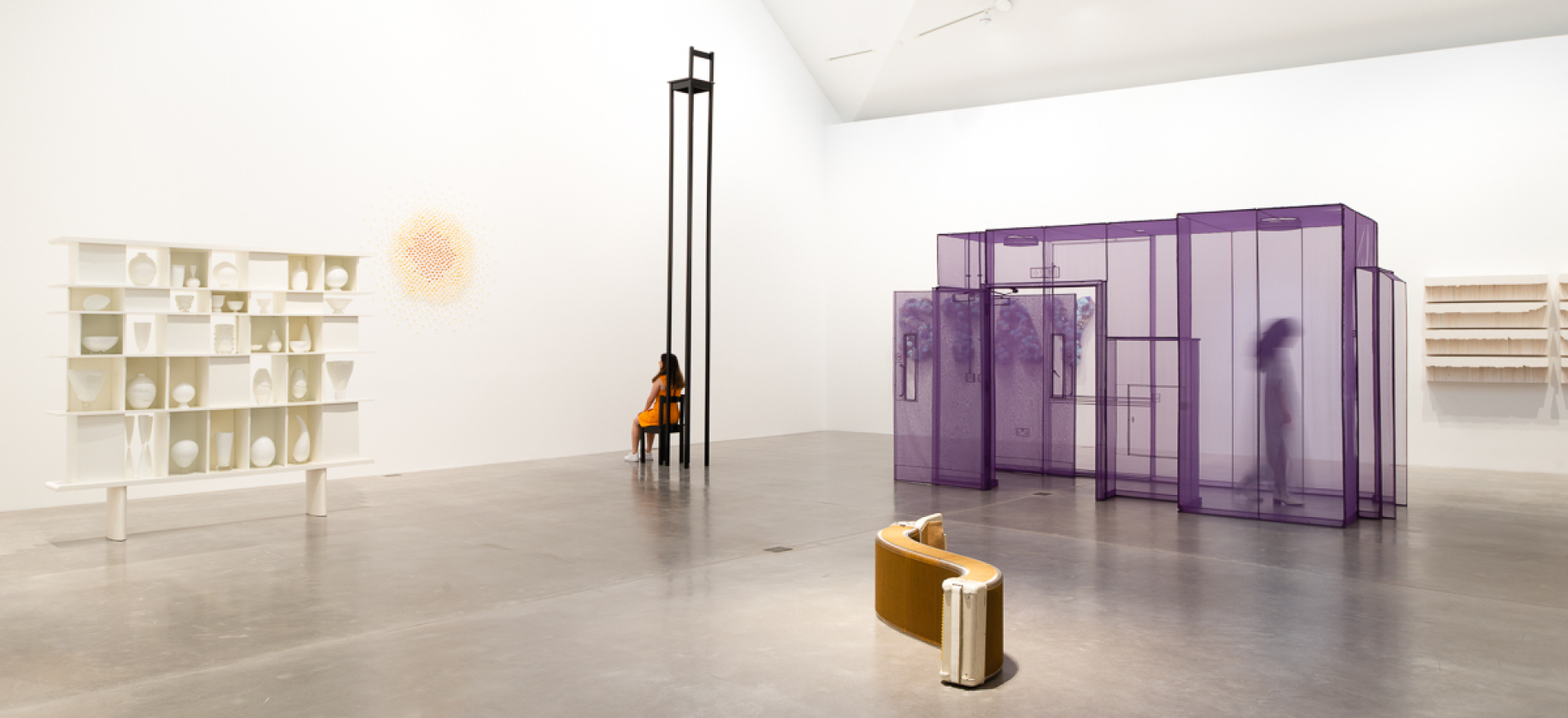 Ruby City's Inaugural Exhibition, Waking Dream, to close on July 24, 2022
June 24, 2022 at 12:15pm
The opening of Ruby City's first exhibition, Waking Dream, took place in October 13, 2019. Shortly after the opening, in March of 2020, the world came to a halt due to the COVID-19 global pandemic. Since then, Ruby City has either had to shut its doors or take visitors by an appointment-only basis.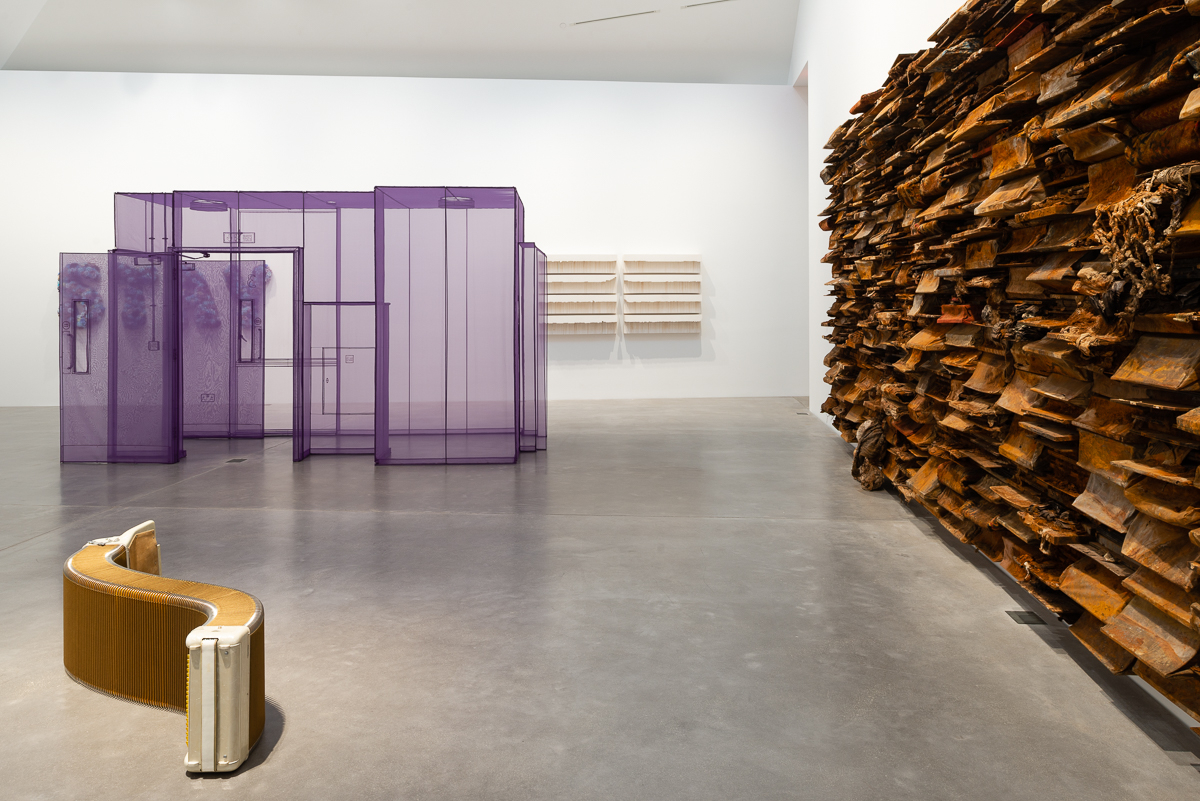 Ruby City's first exhibition is now in it's final days and will close after July 24, 2022. Now is the time to see this beautiful collection of international artists most of whom were not only friends of Linda Pace, but also previous artists-in-residence at Artpace.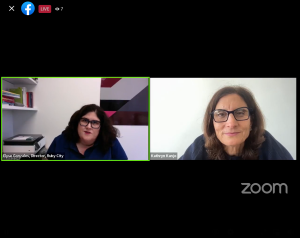 In a recent Facebook Live session, Executive Director of Ruby City, Elyse Gonzales, interviewed Kathryn Kanjo, who is the curator of Waking Dream and President of the Linda Pace Foundation Board of Trustees. Kanjo also currently serves as Director and CEO of The Museum of Contemporary Art in San Diego, California.
In the interview, Kanjo gave a thoughtful synopsis of the exhibition and expanded upon the story behind several of the pieces.
The virtual walkthrough begins as you enter Ruby City's doors. Kanjo states that the exhibition as a whole covers topics that hover between the recognizable and the other worldly, suggest themes of vulnerability and resilience, self, community and ideas of home. They touch on the micro to macro and from prosaic to profound.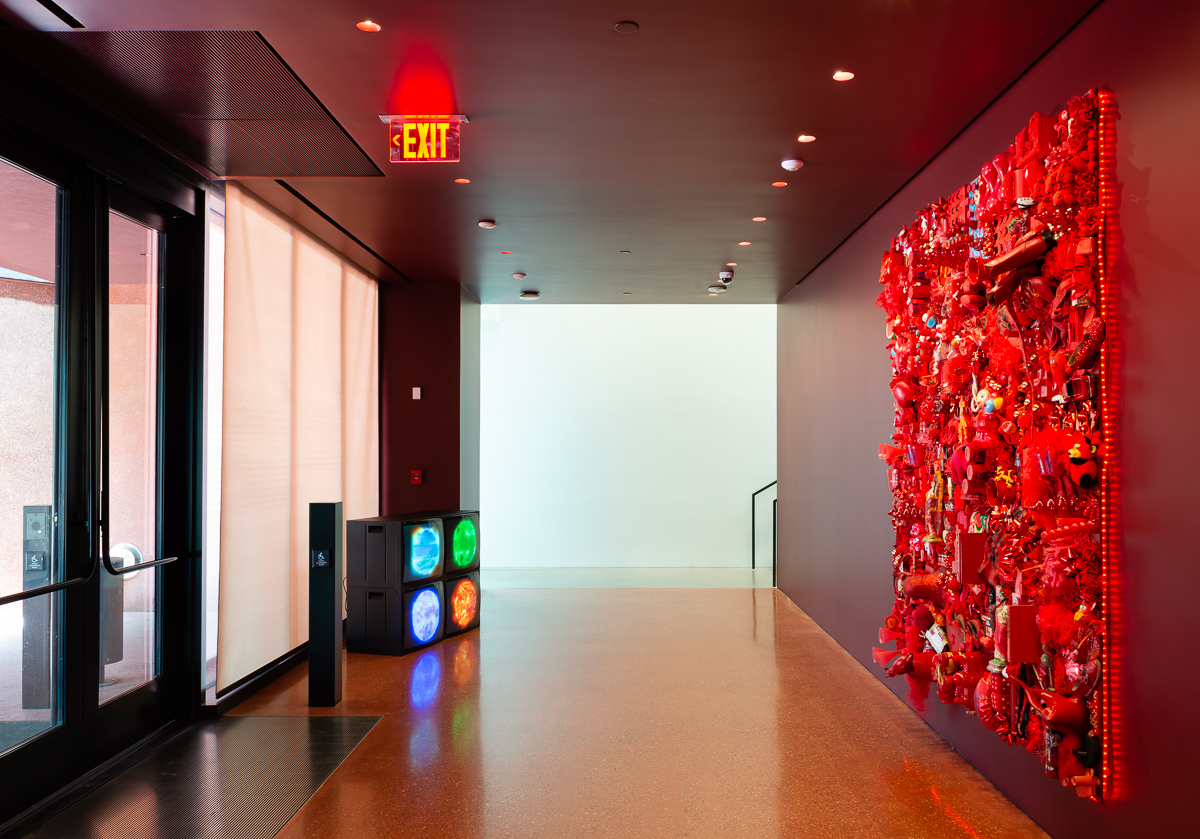 The building's international architect, David Adjaye, (with the help of San Antonio-based architect- Alamo Architects) chose to bring the concept of the exterior into the interior lobby as a continuation of Linda's vision of a Ruby City. The first artwork that you encounter is that of Linda Paces Red Project and Diana Thater's Four Suns Videowall. Kanjo states that the intent of the pairing is to draw attention to both artist's figurative (Pace) and literal (Thater) references to the cosmos.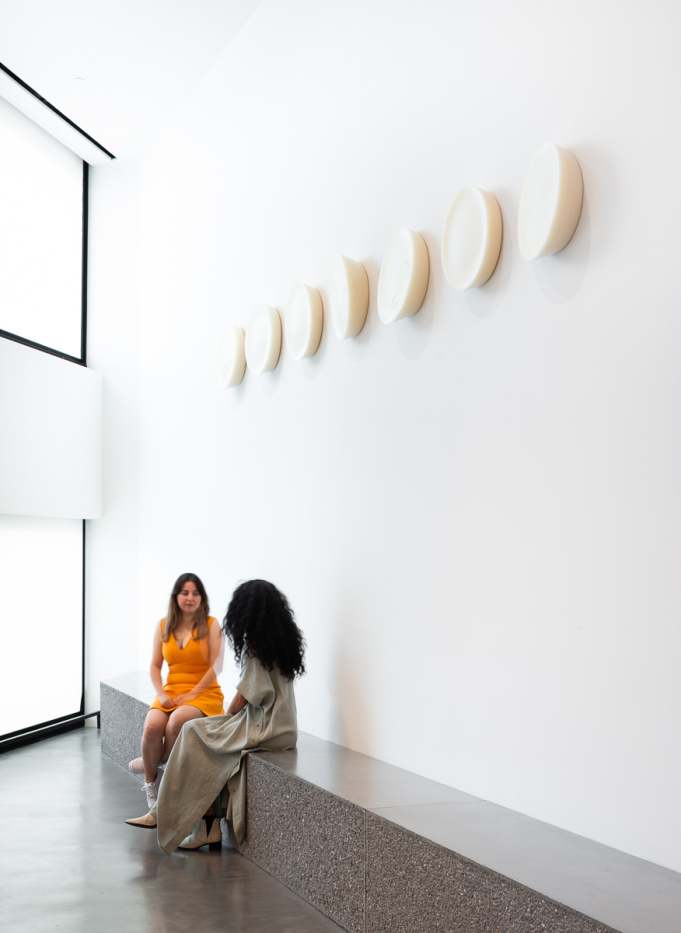 As you ascend the stairwell you encounter another celestial reference by the renowned artist/architect Maya Lin entitled Phases of the Moon: Prime Number Series. Kanjo points out that this piece is an excellent example of Linda Pace's frequent focus on materiality. Lin is frequently known for her design of the Vietnam Veterans Memorial in Washington D.C.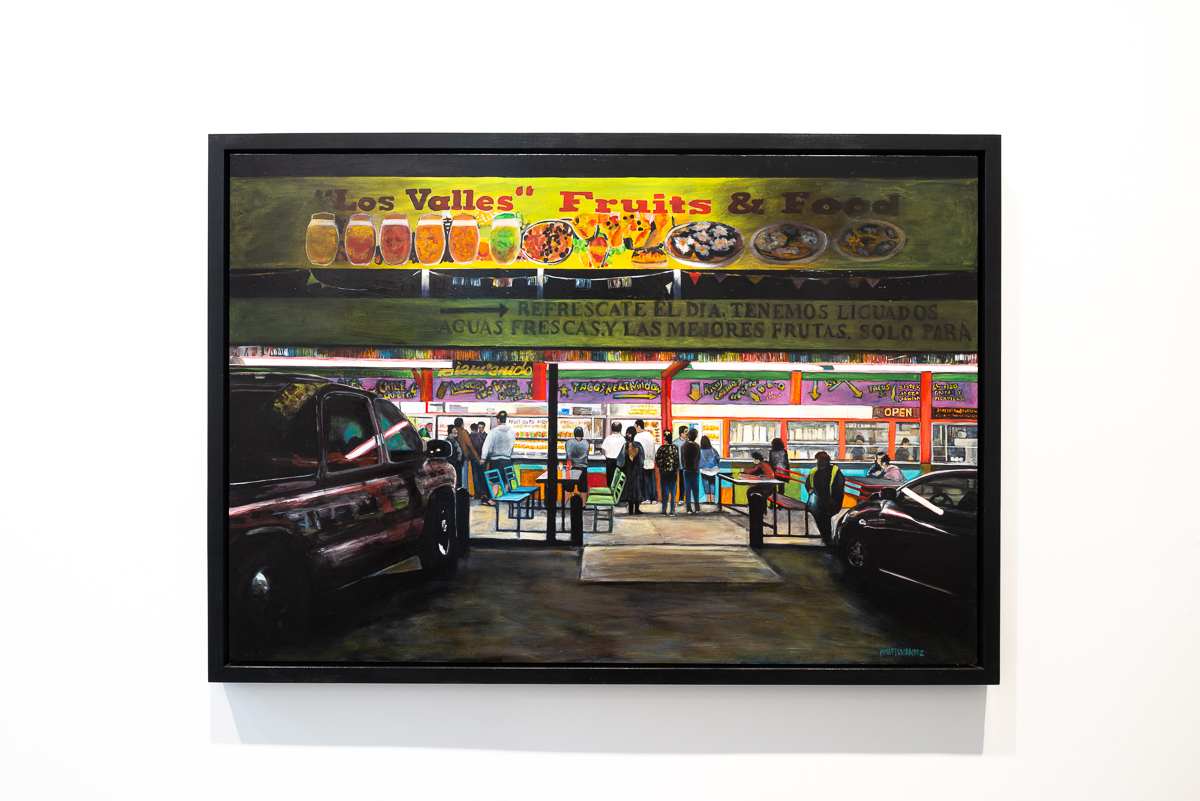 Ana Fernandez's Los Valles is the first painting that you encounter in the exhibition and is directly across from Lin's piece. These were paired together to draw upon the concepts of the night sky and artificial light which also pours in the windows from the neighboring Chris Park in the evenings.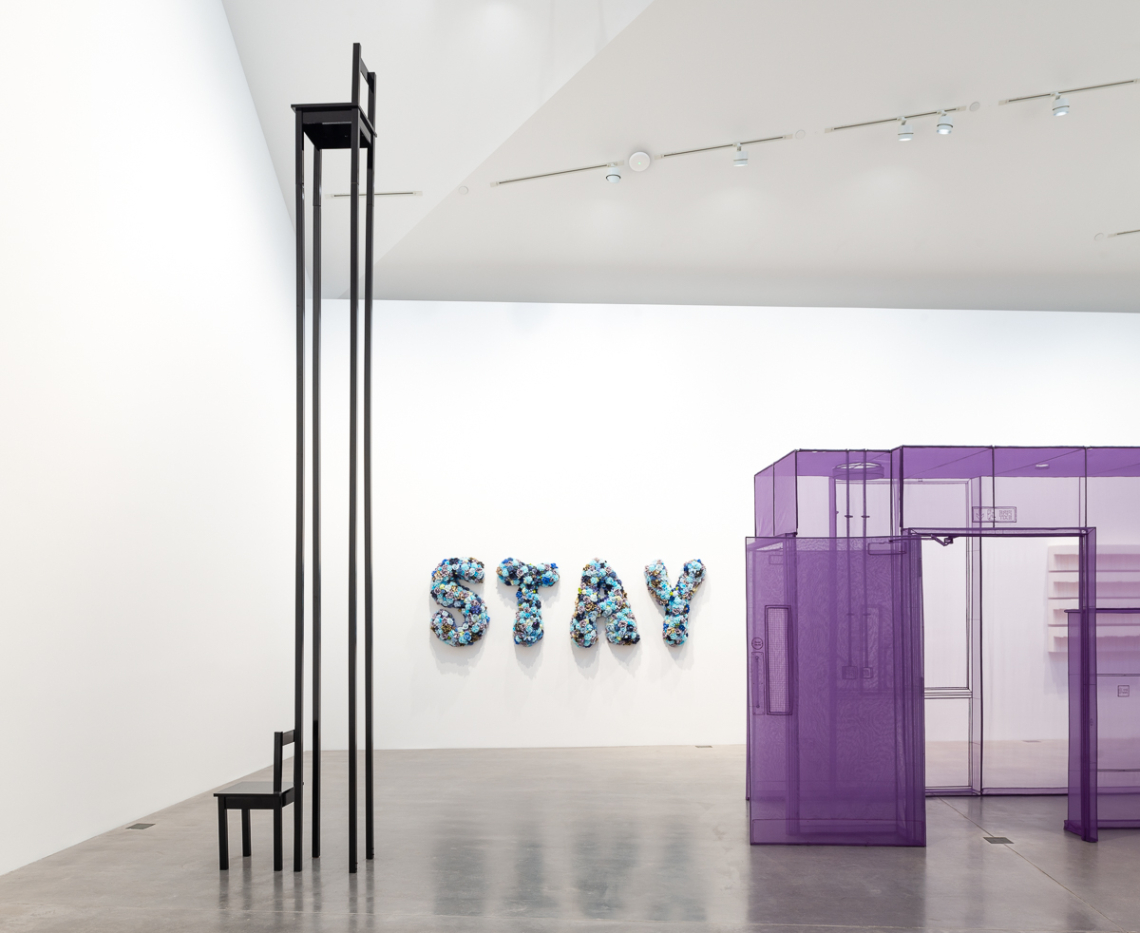 The next gallery that you encounter is a large volume of space that seems to dwarf the larger pieces yet is the perfect unifying setting for their mono-chromatic and textural presence. The subjects of the works tackle the topics of identity, home, objectification, critiques of the art and design worlds, celestial/spiritual, loss/longing, and the passage of time.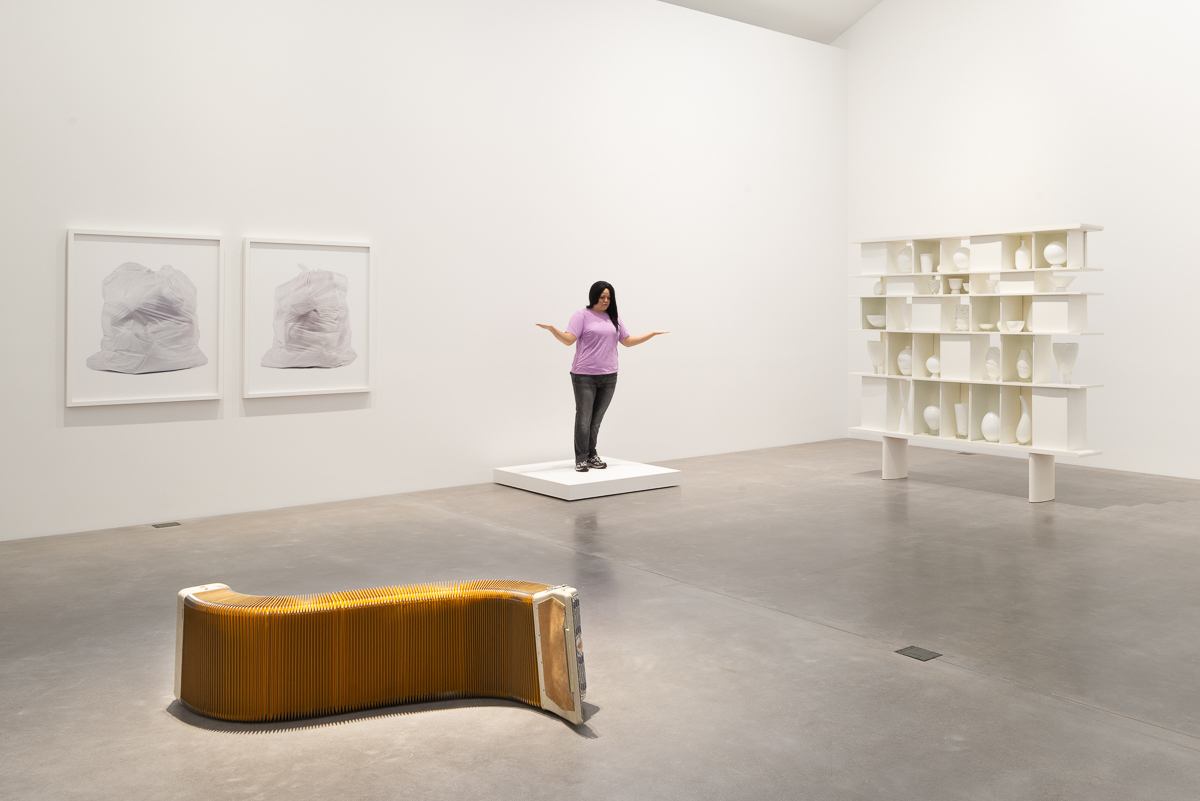 Artworks include:
Marina Abramovic, Chair for Man and His Spirit, 1993. Iron sculpture.
Alejandro Diaz, Muebles (Hat Stand), 2015. Cast resin, paint, clothing, hair.
Leonardo Drew, Untitled (#48), 1995. Wood, fabric, found objects.
Teresita Fernandez, Burnout, 2005. Ed. 2/3 glass cubes.
Christian Marclay, Accordion, 1999. Altered piano accordion.
Josiah McElheny, Charlotte Perriand, Carlos Scarpa, Other (White), 2000. White blown glass objects on wood and metal display shelves.
Linda Pace, Stay, 2006. Wood, adhesive and artificial flowers.
Chuck Ramirez, White 1, 1998. Ed. 5/10 digital durst print.
Chuck Ramirez, White 2, 1998. Ed. 5/10 digital durst print.
Do-Ho Suh, Hub, 3rd Floor, Union Wharf, 23 Wenlock Road, London N1 7ST, UK, 2016. Ed. 2/3 polyester fabric and stainless steel.
Rachel Whiteread, Untitled (Eight Shelves), 1995-1996. Cast plaster.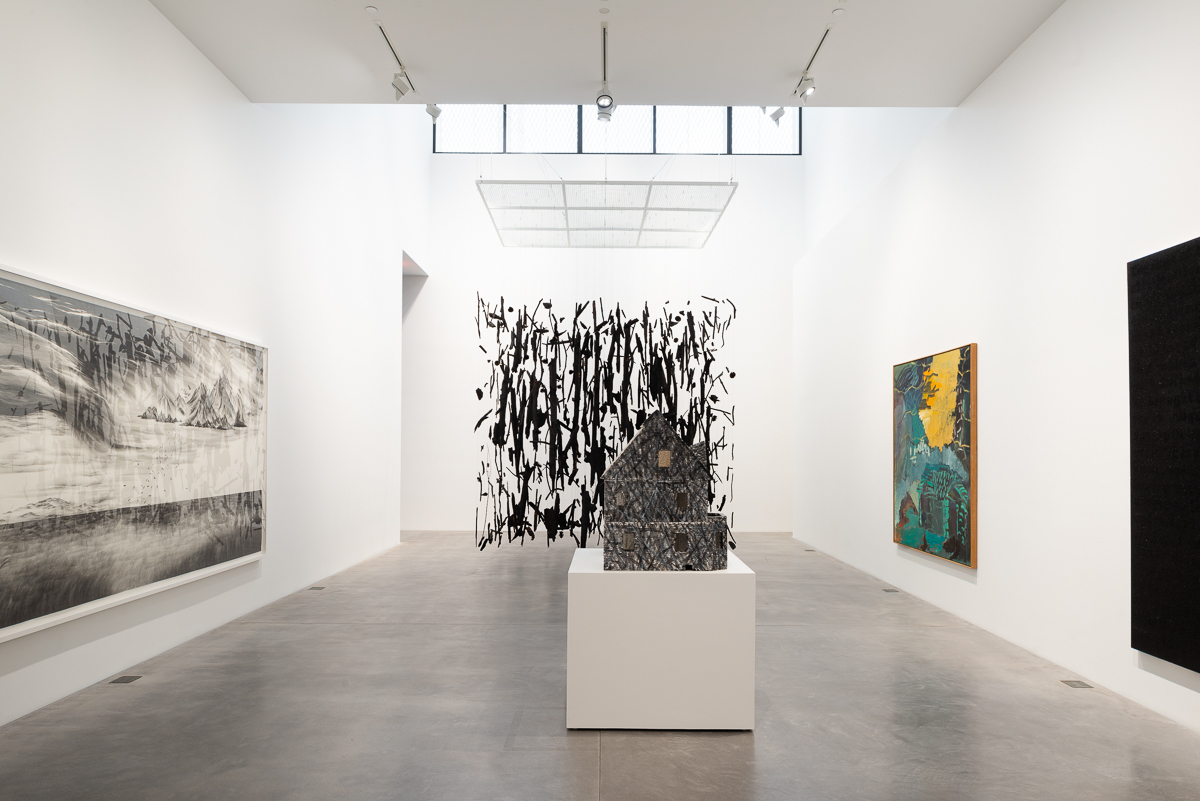 As you enter the smaller gallery you get a sense of the objects being charred, disconnected and destroyed. Kanjo describes the works as having common themes of erasure, denial, invisibility, false sense of stability, war, displaced, restraint and escape.
Artworks include:
Isa Genzken, Untitled, 2004. Aluminum, adhesive tape and collage.
Kim Jones,Untitled, 1974-2013. Acrylic and graphite on wood.
Per Kirkeby, Ruckblick I, 1986. Oil on linen.
Glenn Ligon, Stranger in the Village #11, 1998. Acrylic, gesso, enamel and coal dust on canvas.
Robyn O'Neil, Staring into the blankness, they fell in order to begin. 2008. Graphite on paper.
Cornelia Parker, Heart of Darkness, 2004. Charcoal.
Lari Pittman, Visceral and Needy, 1991. Acrylic and enamel on gessoed mahogany panel.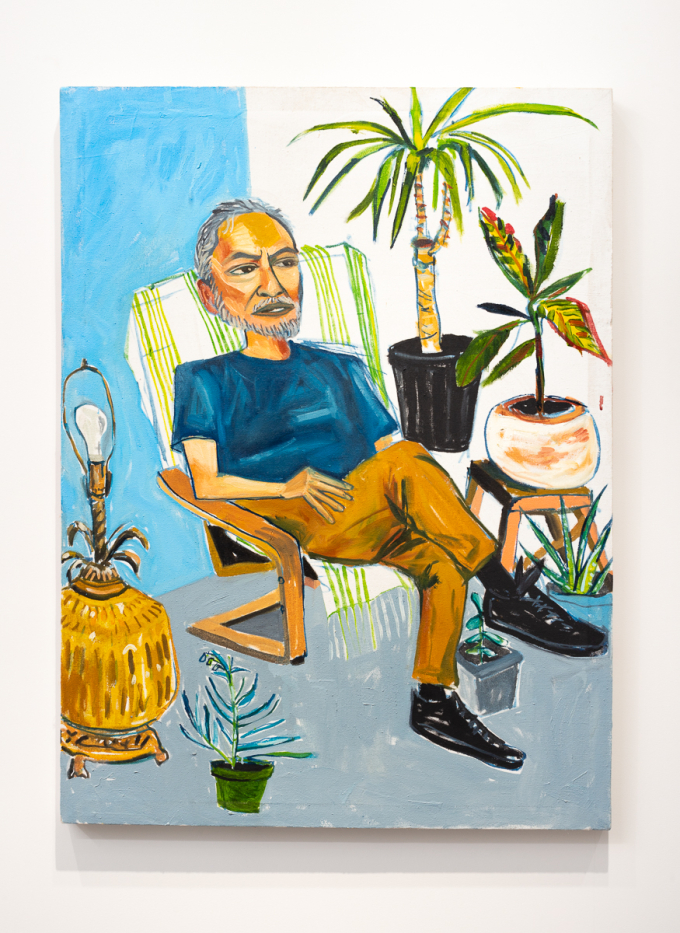 Around the corner from this smaller gallery are a series of portraits and self-portraits. Here Kanjo is drawing attention to Linda's interest in the creative life, self-expression and documenting the creative community.
Artworks Include:
Gillian Wearing, Me as an Artist in 1984, 2014. Ed. 5/6. Framed c-type print.
Cruz Ortiz, El Jesse Amado, 2017. Oil on canvas.
Wangechi Mutu, This Second Dreamer, 2017. Ed. 2/3. Bronze.
Ethel Shipton, Cotulla, 2014. Ed. 3/10. Print.
Ethel Shipton, Devine, 2014. Ed. 3/10. Print.
Ethel Shipton, Dilley, 2014. Ed. 3/10. Print.
Ethel Shipton, Encinal, 2014. Ed. 3/10. Print.
Ethel Shipton, Freer Encinal, 2014. Ed. 3/10. Print.
Ethel Shipton, Los Dos Laredos, 2014. Ed. 3/10. Print.
Ethel Shipton, Pearsall, 2014. Ed. 3/10. Print.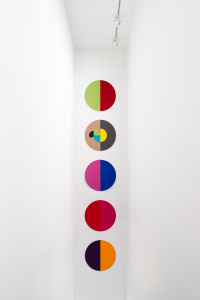 As you descend the stairs towards the exit and look up, you will see a colorful series of works by Jesse Amado (see his portrait by Cruz Ortiz mentioned earlier). Kanjo points out that at the top of the stairs near the entry was Maya Lin's Phases of the Moon and now as we go down we have a similar sentiment with Amado's piece arranged vertically. Kanjo references Amado's subject of pills and how they can heal us or mislead us.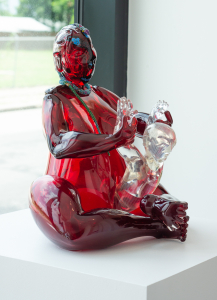 At the bottom of the stairs is the installation of Breathe by Joyce J. Scott. Kanjo states that it touches again on the topics of the cycles and passages of life, memorial and birth.
The final piece as you exit Ruby City in your point of view is Be Amazing by Sylvie Fleury which, as  Kanjo mentions, plays with ideas of desire and consumerism.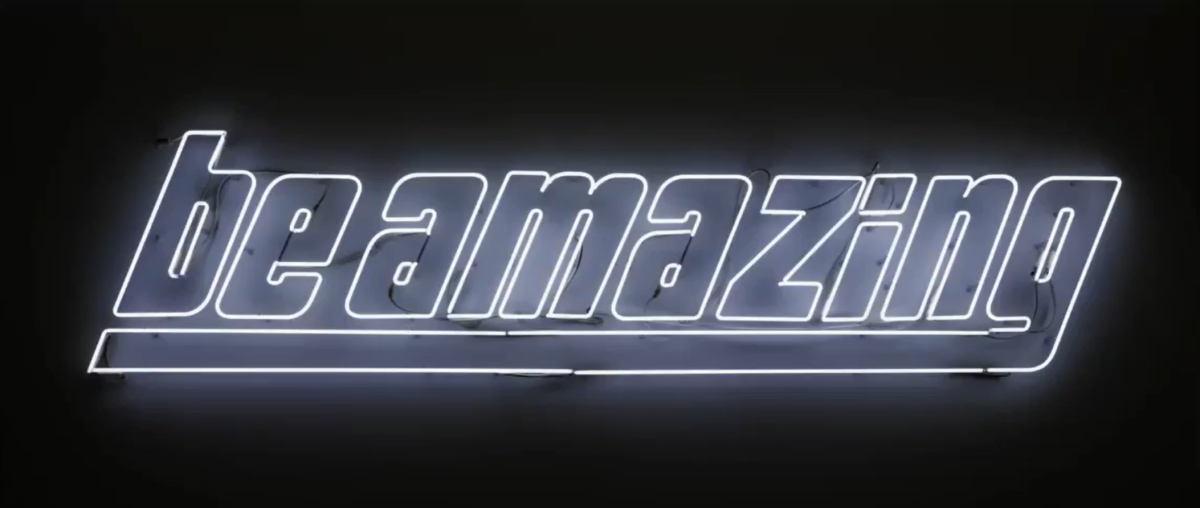 If you are planning to catch Waking Dream before it closes (and if there is not currently an audio tour of the exhibition offered by Ruby City), we recommend pulling up the Facebook Live (link found here) interview on your phone, put in your earbuds, and listen to Kathryn Kanjo's description of the exhibition. It will make for a very fulfilling visit.
In a recent press release, Ruby City stated,
"Following the conclusion of Waking Dream, Ruby City's main galleries will be closed for reinstallation from July 25 through September 7, 2022. Opening on September 8 will be Tangible/Nothing, the first reinstallation of the permanent collection since Ruby City opening in 2019. Studio, the exhibition space located in Chris Park, will remain open and currently features the exhibition Arturo Herrera: Constructed Collage."