One of the brave establishments to open during the COVID-19 pandemic is Re:Rooted 210 Urban Winery. Located in Hemisfair Park, this business model is refreshingly a-typical for your average winery.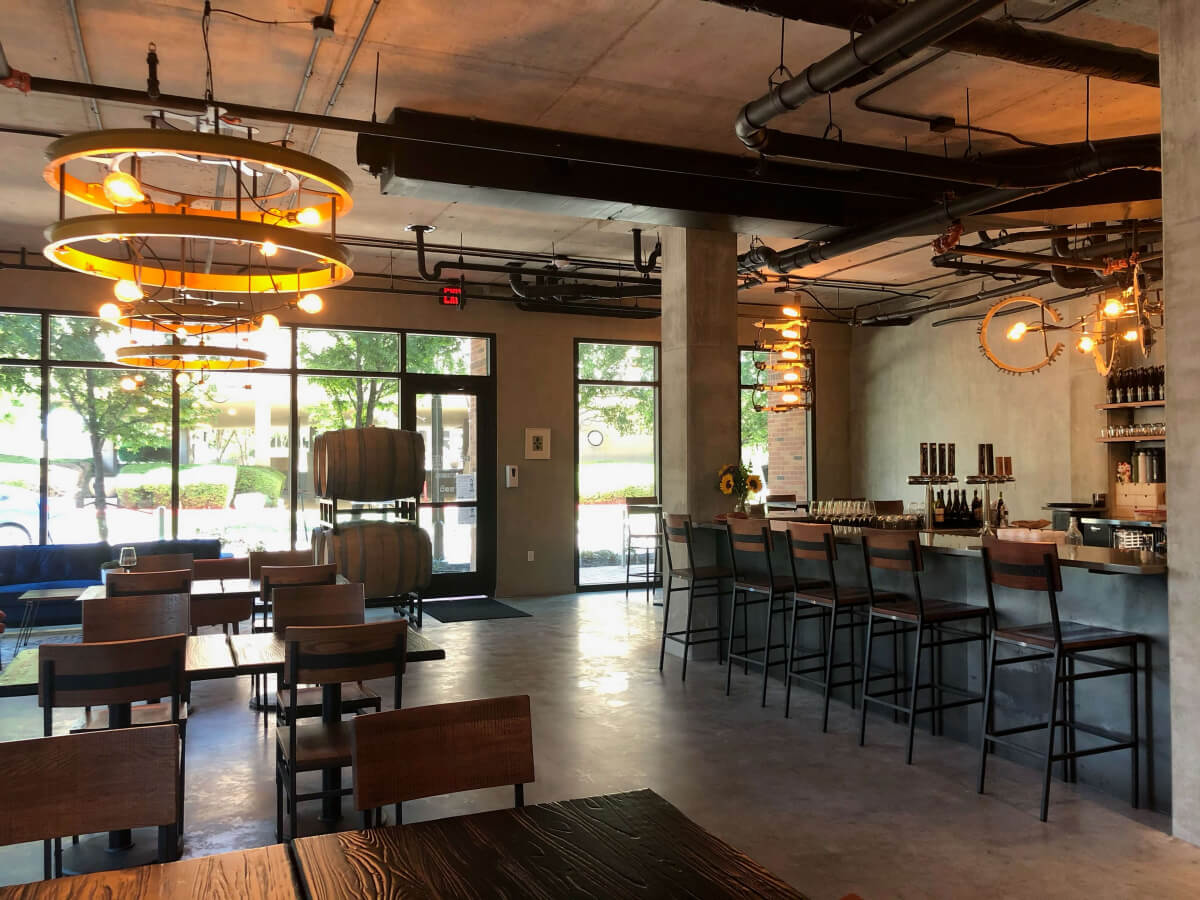 Re:Rooted Story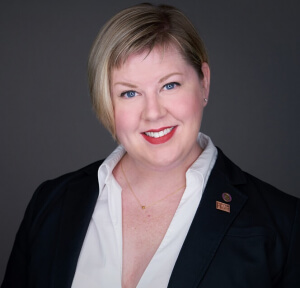 To understand the name of Re:Rooted 210 Urban Winery, you have to get to know the story of the owners. Jennifer Beckmann and her husband are originally from the midwest and were stationed in San Antonio while in the military. They quickly realized that San Antonio felt like home and they decided this was where they wanted to "lay down roots." Also playing with this concept of being re-rooted is the story of the experience of wine. Beckmann told MiSA,
"Wine is a product of agriculture - it is born in rural environments but comes alive wherever you enjoy it. It gets rooted as part of those memories - the places, the people, what you did, how you came to arrive at that moment in time."
Beckmann worked in the consumer wine market for over 20 years. It pained her to see consumers making quality assumptions sheerly based upon how the label looked on the product. She noticed how many Texas wines were also receiving a stigma based upon kitschy branding or labels. As a result, she was hearing statements like "It's great...for a Texas wine." While she admits there is a market for the kitschy Texas wine label, Beckmann has witnessed firsthand that Texas wines have transcended this stereotype, even observing several Texas wines winning awards in notable wine destinations extending from San Francisco, California to Lyon, France. She says that there are dozens of Texas wines that she would put aside with fine wine from all over the globe.
When speaking on their approach to highlighting great Texas wines Beckmann stated, 
"Speaking for ourselves, we are attracted to brands that have a creative approach not only to their branding imagery but also to their packaging methods. In Europe, getting wine is a daily convenience. Keeping it tucked away, with a lot of fear and trepidation over when and how to drink it is very stuffy.  We want to present wine so it's meant to be enjoyed - not sitting on a shelf like a souvenir." 
Deciding on the Hemisfair Location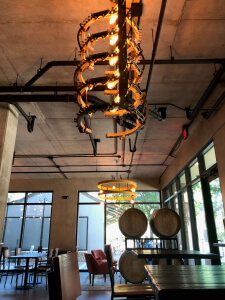 Beckmann fell in love with the Southtown and King William neighborhoods as it reminded her of the area where she lived in Chicago. It was a lengthy search for the perfect lease space for Re:Rooted, but she wanted to make sure it was the perfect fit. Eventually, the Hemisfair space became available and they decided that it was where they needed to be. They loved how Hemisfair is a bridge between downtown and a tight-knit community of urbanites.
About the area, she told MiSA,
"There's such a creative and vibrant vibe, it's an area where the community seems to enjoy the unique architecture, dining, and nightlife." 
Re:Rooted's Branding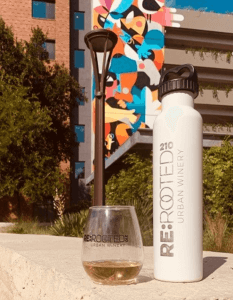 For the design of the Re:Rooted logo, Beckmann enlisted the design expertise of San Antonio-based graphic artist, Robert Tatum. About his work, she stated,
"We wanted a local artist that had strong ties to the community to help shape our message. We love his funky, irreverent vision and feel it comes through as uniquely San Antonio."
You may have seen his other work around town such as the Rosario's logo, the logo for the restaurant formerly known as The Luxury, and the recent mural for San Antonio Street Art Initiative under the overpass at Quincy and St. Mary's Street. Originally from Inglewood, South Central Los Angeles, Tatum moved to San Antonio in 1992. His most recent work includes designing logos, interiors, and event posters and merchandise for various local events. Such events included San Antonio JazzSALive, Poteet Strawberry Festival, King William Fair, San Antonio Contemporary Art Month to name a few. He also painted a wall mural for Pabst headquarters in San Antonio, and he curated the "Birds of a Feather" mural at Blue Star Arts Complex. Tatum owns Choice Goods Gallery and Tx Grown Brand which is located in the Blue Star Arts Complex.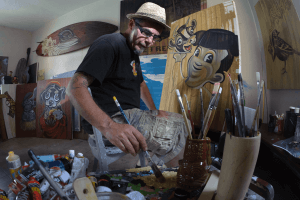 When we asked Jennifer Beckmann how she wanted the uniqueness of Texas wine to be represented in her brand, she stated, 
"Like any other winegrowing region, Texas has a unique 'terroir'.  It's one of the most challenging 'terroirs' that you can find for grape growing, but I believe that stress helps make inspired wines.  There is no winemaker in the world that chooses Texas because it's easy. Most of the acreage that now grows grapes originally grew cotton or was used for livestock. We wanted to reflect some of that 'alternate usage' vibe with a more industrial, rustic but still fresh look. Something that says if you don't think you like wine, try it again in a different setting. I would describe the Texas winemaking community as 'maverick'.  We want our design to reflect that feeling of challenging the senses with a strong, vibrant energy."
Re:Rooted's Interior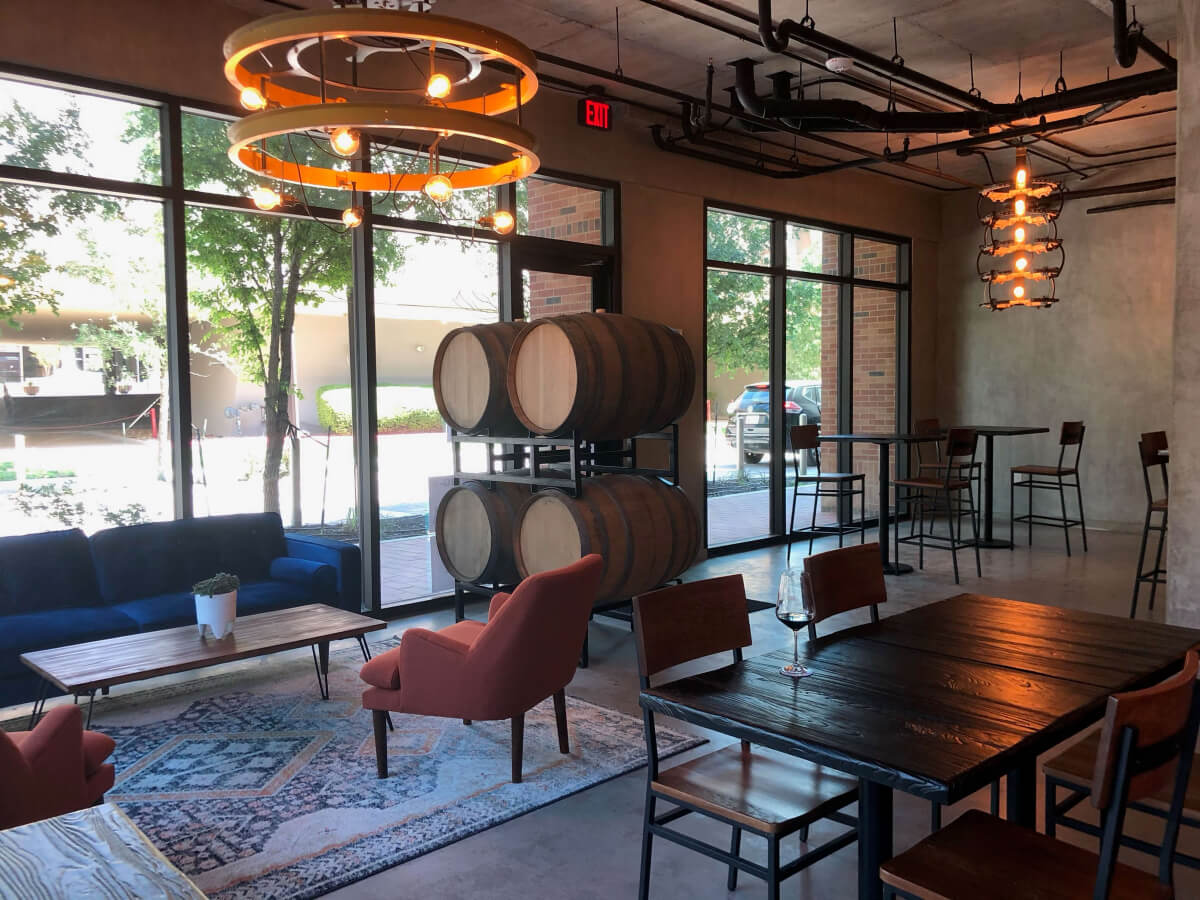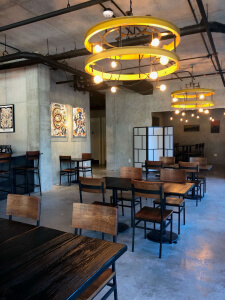 For the interior design of Re:Rooted, Beckmann chose the accomplished San Antonio-based interior designer and artist, Analy Diego. On working with Diego, Beckmann stated, 
"I absolutely loved working with Analy!  The design process is so difficult because you have this clear image of what your 'baby' should look like without having exact visual context. She was so incredible in helping me refine my visualization.  I loved the work she did in The 68 Apartments - her choices are minimal but wildly impactful. Her artwork also has the same effect.  Analy has such a wonderful eye for capturing a sense of kinetic energy through simple composition and color choices. That really spoke to our brand. Wine is liquid passion that when done well evokes both emotion and memory."
Much of the direction of the interior color palette was taken from the artwork of Chicago-based artist, Tony Fitzpatrick. Beckmann knew him personally from her years of living in Chicago and working at a restaurant next door to his studio. 
On incorporating Fitzpatrick's work into the space, Diego stated, "His works are described as inspired by street culture, cities that he has traveled to, children's books, and folk art. We wanted to stay true to his appreciation of the urban fabric, and it was actually very easy to do that because the space already had that industrial look. It was very easy to incorporate his work and to be inspired by it."
New Braunfels-based design studio, TADA (Total Art Design and Architecture) designed the industrial chandeliers in the dining space and over the bar area. You may have experienced their work before as they designed the interior at Rosella at the Rand Building in Downtown San Antonio as well as Order Up in Lincoln Heights. Their out-of-the-box thinking paired with their fabrication skills are refreshing in today's world of mass production.
See our full interview with Analy Diego where she talks about the design for Re:Rooted, her process, and on working with those mentioned above.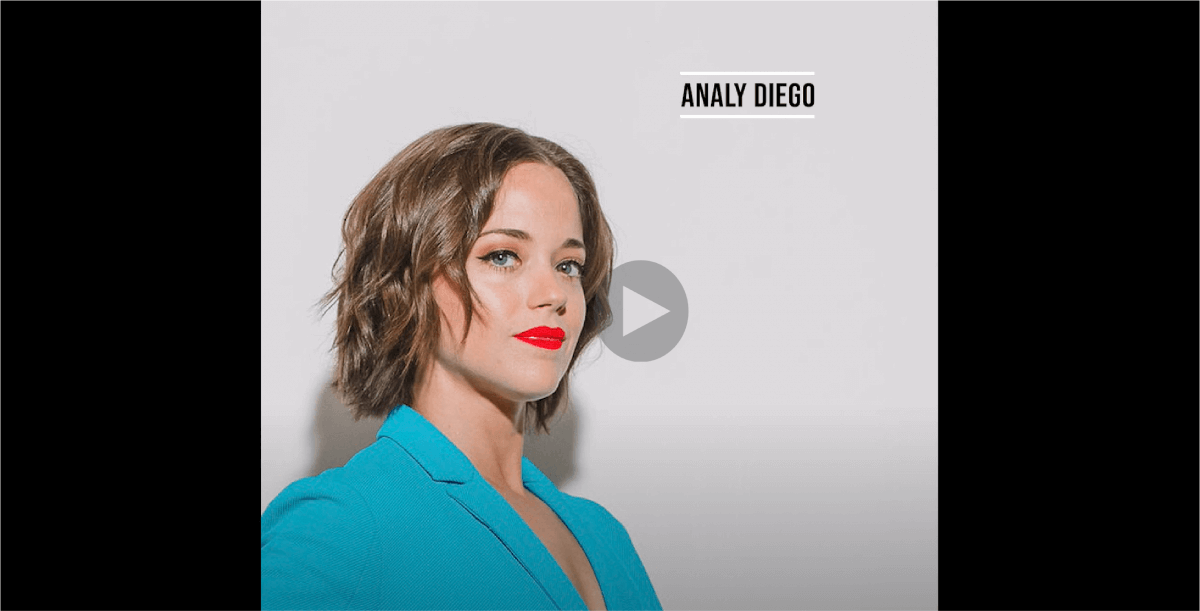 Owner: Re:Rooted 210 Urban Winery, Jennifer Beckmann
Registered Interior Designer: Analy Diego
Light Fixture Designers: TADA
San Antonio-base Graphic Artist: Robert Tatum
Chicago-based Artist: Tony Fitzpatrick
Mechanical & Plumbing: BEYER
Electrical: Miguel Navarro
General Contractor: Central Texas Finishers
ViVA MiSA