Arts Adviser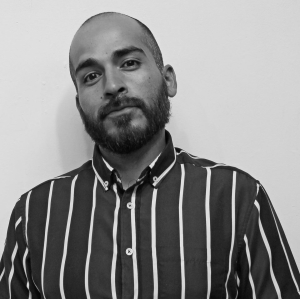 Artist
Raul Rene Gonzalez, born 1981, is a multidisciplinary artist who incorporates a wide range of mediums and methods in his paintings, drawings, sculptures, murals, installations, live and recorded dance and other performance-based work. Gonzalez is a Houston-native, but now lives in San Antonio with his wife and two daughters.  
Since moving to San Antonio in 2012, Raul's artwork has been added to permanent collections such as the National Mexican Museum of Art, the National Hispanic Cultural Center Art Museum, Benson Latin American Collection, the McNay Art Museum, Texas Public, the City of San Antonio, and University Health, amongst others.
Gonzalez and his work have been featured in Texas Monthly, New American Paintings No. 162: West Issue, Harper's Magazine, Southwest Contemporary Vol. 5: Collectivity & Collaboration, Glasstire, The Texas Observer, The San Antonio Express News, La Prensa Texas, The San Antonio Current, The Austin Chronicle, The Houston Chronicle, The Houston Press, and Whataburger.
In 2018, Raul started Werk House SA, a short-term rental Airbnb property that has since brought hundreds of travelers from around the world to San Antonio, including guests from Italy, Canada, Mexico and throughout the United States.
In 2020, Raul joined Clamp Light Studios & Gallery which is an artist's studios complex, and gallery located in Beacon Hill, near the Blanco Road roundabout. That same year Raul took over as the Gallery Director and has since then collaborated and worked with several curators and dozens of artists from throughout Texas.
In 2021, Gonzalez was selected as the San Antonio Museum of Art's inaugural Artist-in-Residence and as San Antonio Art League & Museum's 2021 Artist of the Year.