M!SA Perspectives: Rex Hausmann - In the Air
December 09, 2022 at 11:51am
From reminiscing about the art scene in San Antonio, to recent Art Miami experiences, to painting en plein air in the Texas Hill Country, and a new group exhibition of San Antonio artists on the horizon in NYC; SA-based artist, Rex Hausmann gives us his perspective on recent events in his art career...
Rex Hausmann: In the Air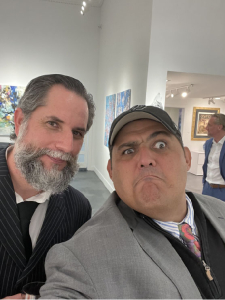 I met Gabe [Gabriel Delgado] on a loading dock. He was fresh out of UCLA and was talking mostly about human rights and people's identities. This was in 2010. The show was called "Paper Trail". It was on Bill Fitzgibons' loading dock. I think every person passed through that loading dock at some time or another if you were and are in the San Antonio art scene. 
Fast forward about 12 years. Gabe is the gallery director of Burgess Modern + Contemporary in Fort Lauderdale, Florida. I'm on a plane to Art Miami and we are going to take the little nephews to Disneyland. It's Thanksgiving and I have a lot to be thankful for. I'm up in the air … as I have been it seems for the past 8 months … either flying to New York for some kind of project or opening or going to Wellington, Florida where my mother and father have a horse "in training".
New York Experiences
I've found a place I can buy Polo at a discount. Dillard's in this old shopping mall. I have to wear polo these days because I've either found myself in the upper social crust of New York City or The Hamptons as of late. You kind of have to show up and be proper. And in all honesty, it's only right. You need to show your hosts proper attire by being respectful, it's important. So I have a few suits from Limitus Bespoke in San Antonio and some Polo from Dillards. I don't ever really know what social circle I will be traveling in these days … so you kind of piece your wardrobe together for the proper surroundings.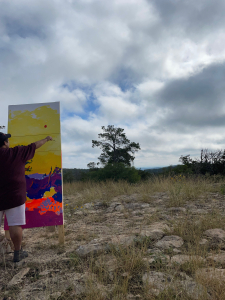 In Montell, Texas it's boots and Carhartt shirts mainly because you are in a pickup truck painting on the hottest piece of earth imaginable. In New York, you never really know who you are meeting with. Kate's gallery [in NYC at Waterfall Mansion & Gallery where Hausmann is represented] is amazing and hosts some of the most interesting people in the world … The Hamptons … total mixed bag … I mean it's all over the map. A sandwich that is ethically sourced will set you back only $18 and you eat in a park on a bench … and your water is from somewhere in Antarctica (also ethically sourced) for the low price of $8. I guess you get the warm fuzzies knowing you helped the boll weevil. If you thought Whole Foods was steep … honey, you ain't ever been to the Hamptons! It makes Whole Foods prices look like Walmart on a Black Friday deal day. But the meetings are cool. I've been in a room with the Guggenheim and then some of the upper crust of high society. I just try to focus on art and keep it at that. It's my language and my passion and it'll take me where I need to go.
Traversing Miami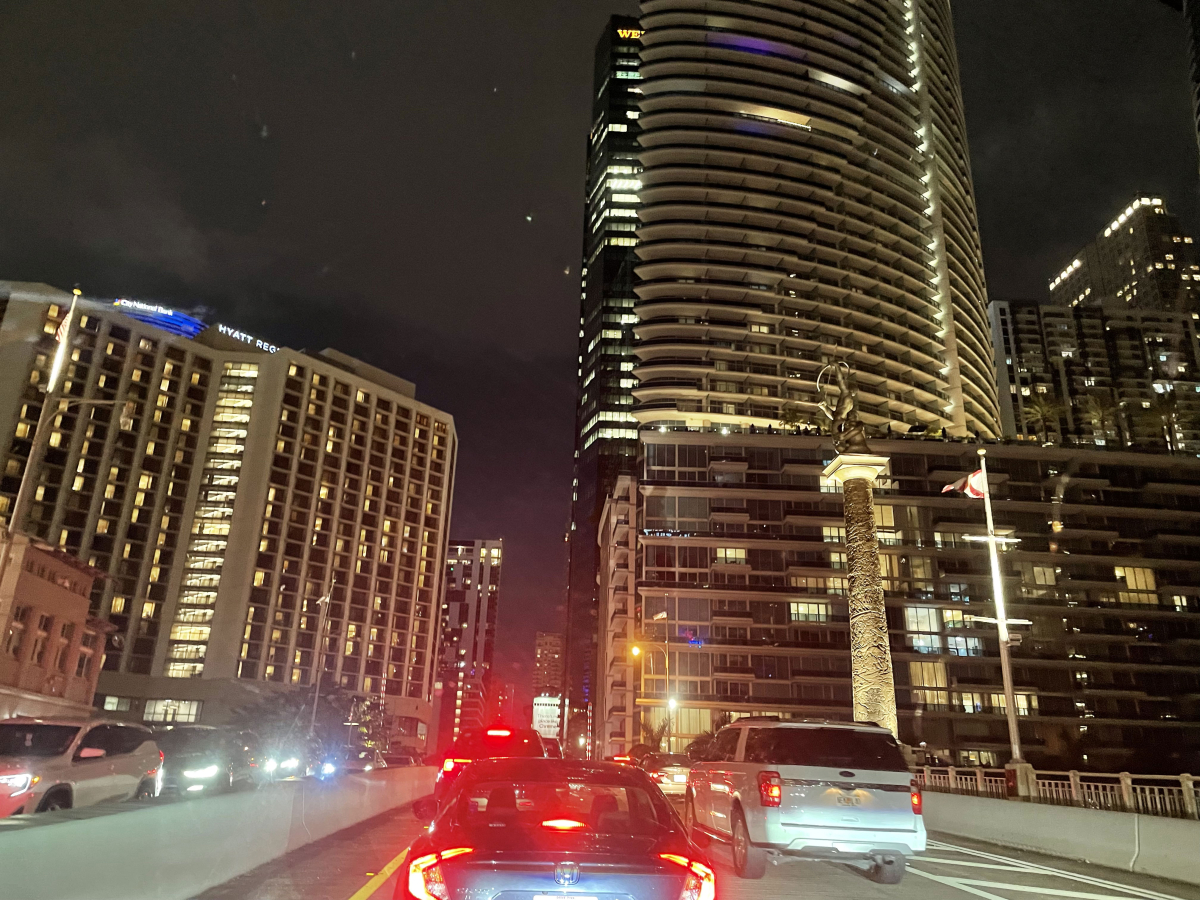 Now I'm on a plane for Art Miami. I remember visiting this in 2009 with Adam Tyson, Samuel Kho and the TM sisters. We're all still,  in whatever capacity, making art and talking with people. Sam still lives in LA and Tyson is still in New York, originally a Boston transplant. The TM sisters, the last I know of, still make work and do roller derby and synchronized swimming. This is when the "Containers" were still raw. We would walk them drinking cortados from a walk-up window or the ever-strong colada! Just drink the thimble. Don't go for the mini syrup cup pot. Your hand won't stop shaking for a week if you try more than one thimble of jet fuel. It's no joke!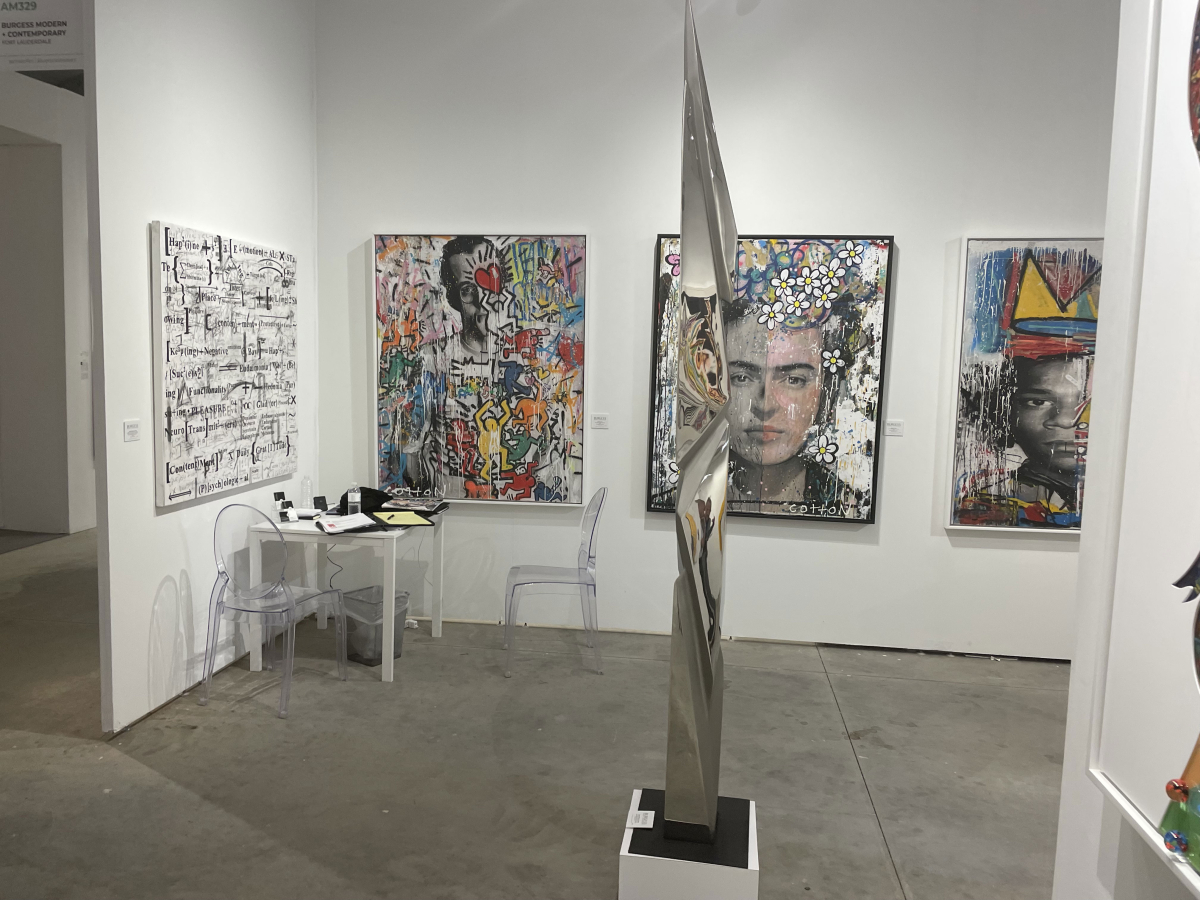 Then there was 2010 or 2011, Don Lisy, Darin, Shannon White, and Adam Tyson along with Lisa LaLa out of Kansas City. Don was in Brooklyn, Adam was still New York-based… and Darin and Shannon in Kansas. We ate mostly in grocery stores and in gas stations. Now, I'm in Brickell and I'm only dreaming of aros con pollo (chicken and rice), vacas fritas and ropa vieja … all AMAZING dishes. I just had Gambas al Ajillo, on Pan Cubano (Cuban bread) and it's mostly what I ate every day at the hotel, but instead of the walk-up prices of $3-5, try putting the two together and then you get my new Brickell prices. At least $32 … and I just dropped $20 on a bagel and coffee. My three-night beloved stay is as much as, if not more than my brother's mortgage on a very nice two-story house in an almost historic district in San Antonio. That's Art Basel for ya. Price gouge … let's just say it's a way of life you can't escape from Nov 30 - Dec 4 "Art Week".
In Wellington and Fort Lauderdale, I spent the whole week with my family and I've fallen asleep more times than I'd like to admit. My brother too. I think we're just mid-life'ing it or something.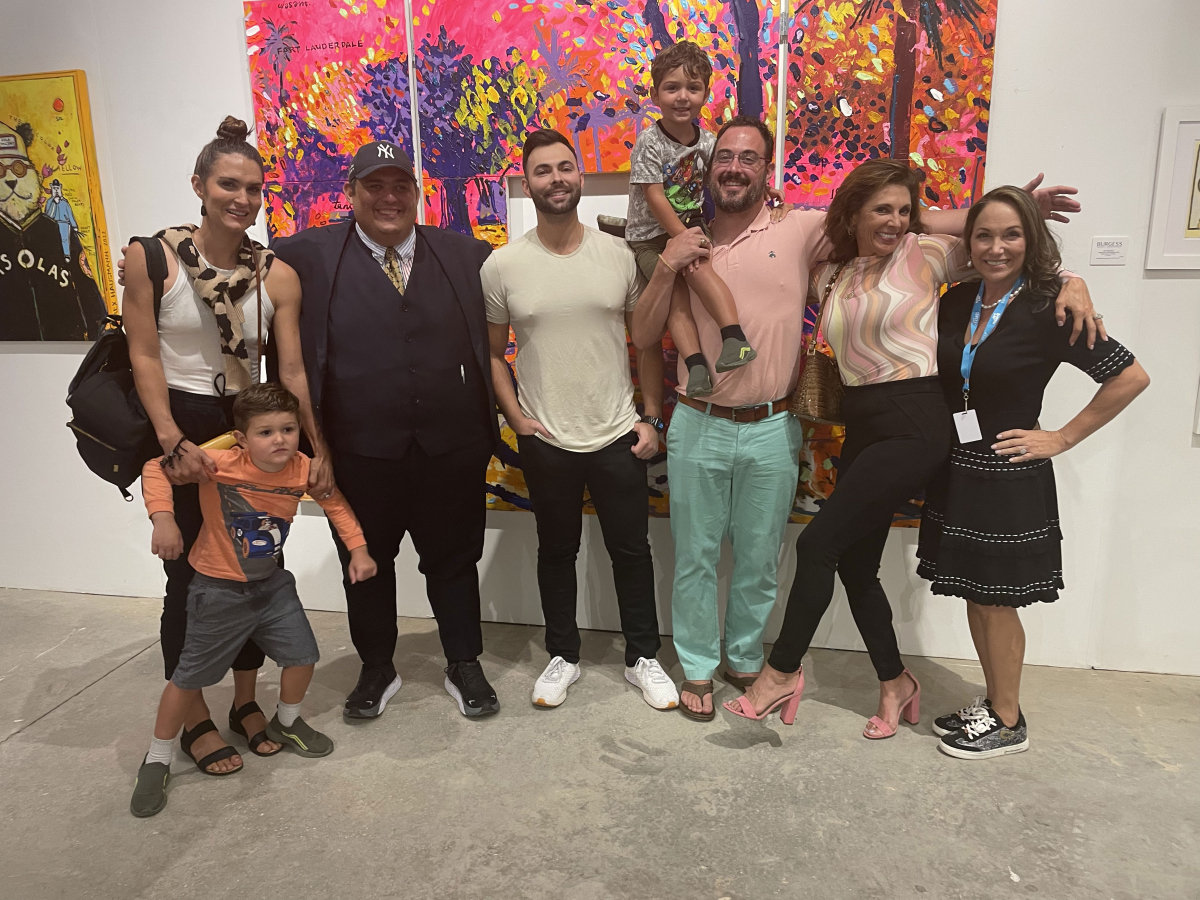 I'm just happy next week is happening. As I updated my Facebook page I was saying to myself … is this real? And it is. Some very cool people are flying in to see the new work. When I dropped off the work to Lisa, Gabe and Wassam [of Burgess Modern + Contemporary Gallery where Hausmann is represented], you could tell they were excited. 
Well Art Miami … here we go 2022, booth AM329!
Artists included at Art Miami | Burgess Modern + Contemporary booth:
Miss Bugs | Marc Chagall | Christo and Jean Claude | Andrew Cotton | Gabriel Delgado | Rex Hausmann | David Hayes | Damien Hirst | Alex Katz | Dora Maar | Santiago Medina | Jedd Novatt | Frank Stella | Retna | Tom Wesselmann
Preparations For NYC in 2023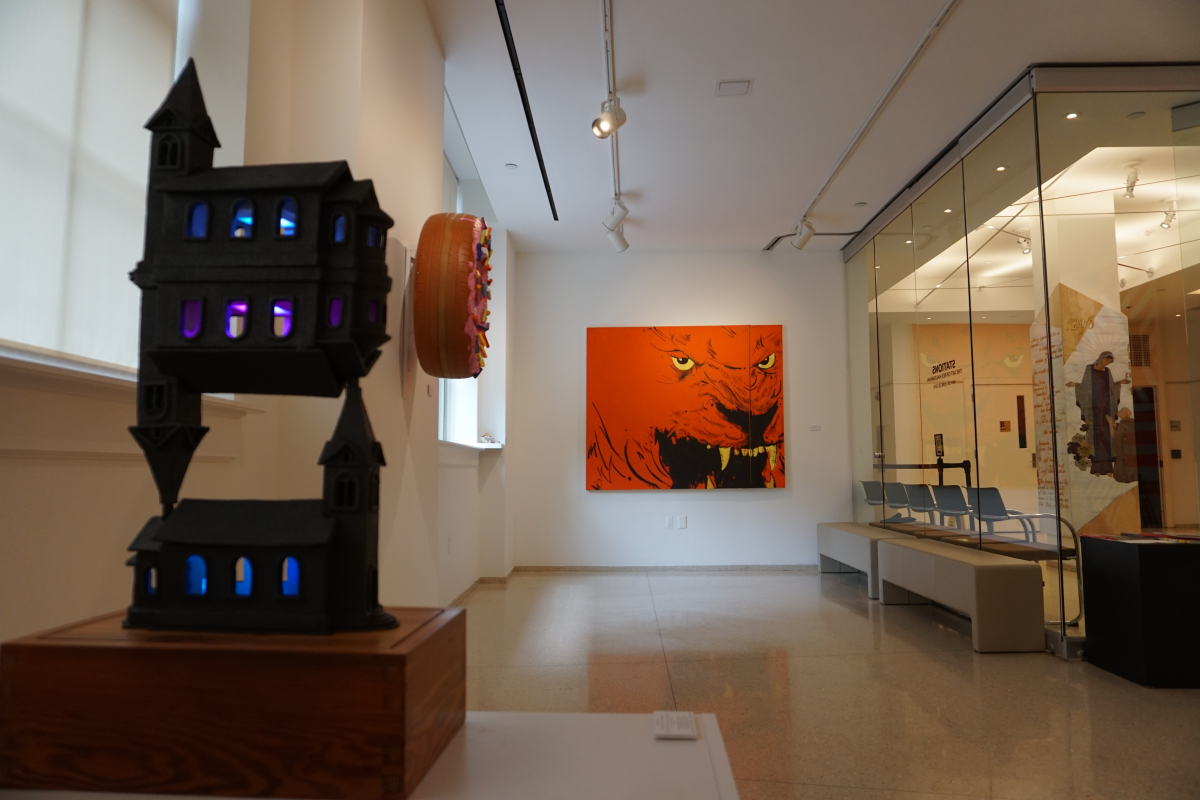 I still speak with all of my friends regularly. Don and Darin almost weekly. We have a show opening in New York at The Sheen Center in 1 month. David Almaguer and Jesse Moreno and I are taking my truck from The Hausmann Millworks: A Creative Community in San Antonio, Texas up to the Hamptons and to New York's Lower East Side to The Sheen Center. We're going to jump town after New Year, a show called "An American Dream." 
"An American Dream," curated by Rex Hausmann, at The Sheen Center for Thought and Culture in January 2023. The group exhibition will include the following artists:
Tyler Butcher 
Alain Gakwaya 
David Almaguer 
Louis Vega Trevino 
Jesse Moreno 
Steven DaLuz
Darin & Shannon White
Monique Leahy
Don Lisy 
Rex & Gene Hausmann 
Gabriel Delgado 
Denise Gutierrez Homer
Marc Wiegand
Paul Martin
 
---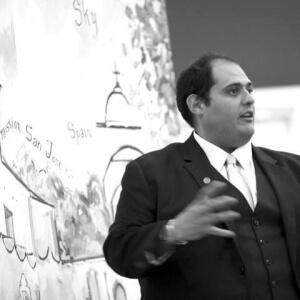 Rex Hausmann is a painter who is based in San Antonio, Texas and is a contributing writer for Modern in San Antonio.