Fiesta medals truly are an expression of celebration and San Antonio's culture. Every year in preparation for Fiesta (our annual city-wide week-long party at the end of April), organizations and individuals around the city take to sketching on napkins or even opening up graphics programs to get cracking on a design.  We wanted to provide an opportunity to highlight what people are doing to contribute to the wonderful burst of festivity that Fiesta brings, specifically expressed through the wearable art of Fiesta medals!
For our second annual Most Modern Fiesta Medal Design Competition, we changed up a few things, and it evolved into a full-fledged Medal Reveal Party.  The design competition was free to enter, and everyone was given the option of mailing in their medals as well. Our Advisory Panel, who are local art/design professionals, judged the entries keeping in mind form, function, and fun!  The award/trophy was designed and crafted by local architect, Kris Feldmann, with CREO.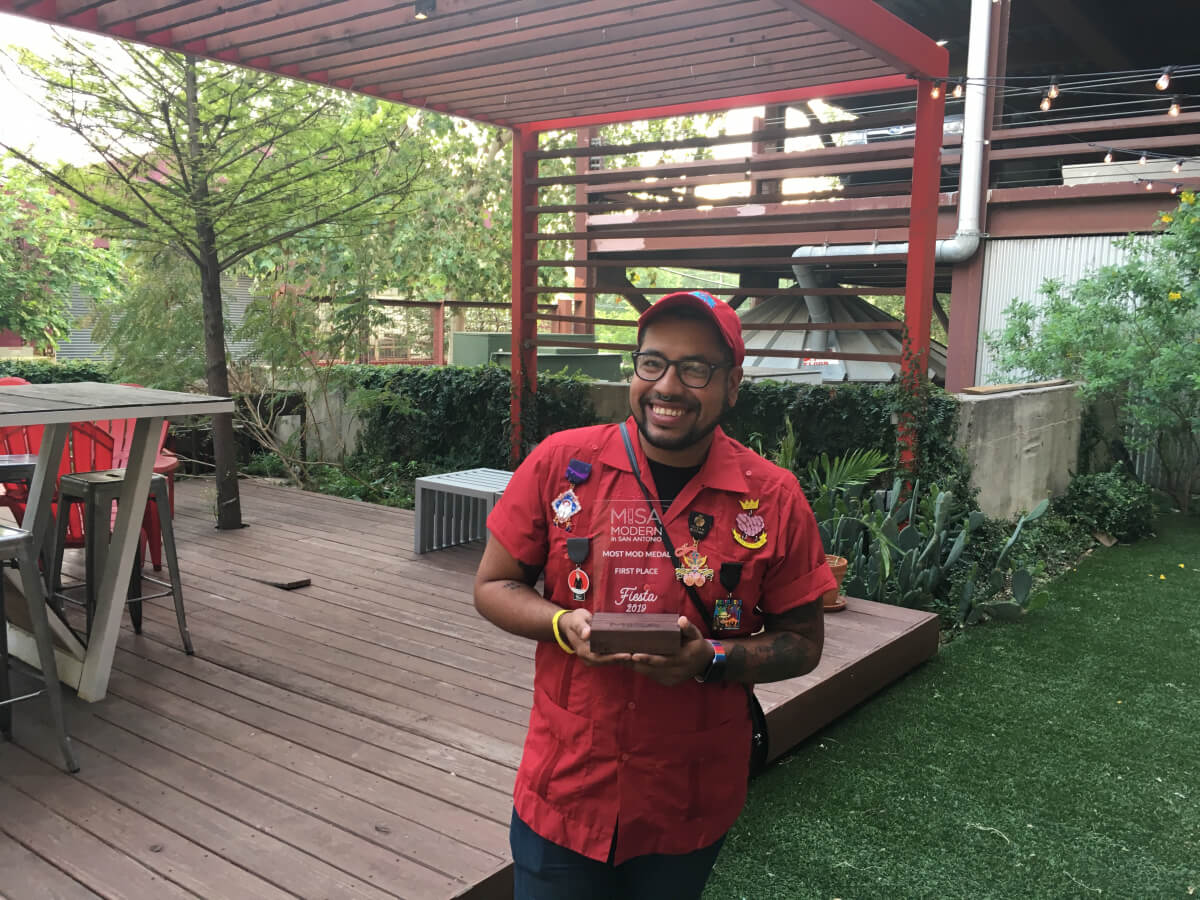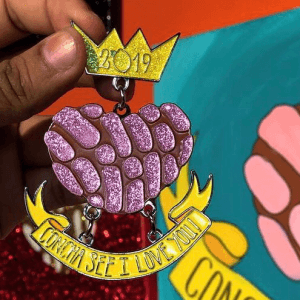 This year's winner was artist, Anthony Diaz!  Anthony is an artist and works at his family-owned antiques and gifts store called Karolina's Antiques.  His brother, Uriel Diaz, was the 2019 Fiesta Prince.  Anthony designed his medal based upon a painting that he did of a concha in the shape of a heart including the clever phrase, "Concha See I Love You?"  The judges loved how it was festive yet understated and was reminiscent of the Pop Art one sees in the contemporary art scene. He cleverly incorporated his personal symbol of a lemon (follow him on his social media under @thelemonad) in the zero of "2019".  During his acceptance speech, he expressed to attendees at the reveal party that he gave much thought to color theory, culture, and simplicity without losing the fun.  To purchase this medal, you can go to their shop at Karolina's Antiques at 1705 Blanco Road.
For the production of his medal, Anthony put his trust in the local medal fabricator, Mira Medals. Established in 2017, Mira Medals are a husband and wife duo that were both born and raised here in San Antonio. Mira Medals came into existence after the owners were inspired by all of the beautiful medals they would see each year at Fiesta and it sparked their creativity to get involved. Fiesta is about giving back to the community and that is what they strive to do. They have produced many of the medals that have caught our eyes this year and we look forward to seeing what they produce for San Antonians in the future!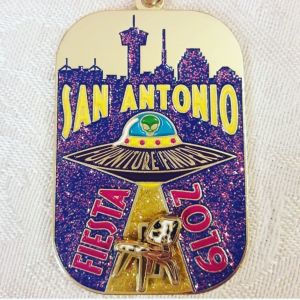 Our Honorable Mention Award this year was given to San Antonio Furniture Finders!  Included in their medal was a UFO depicting the "Space Age" (owner, Roberto Soto, also has a thing for aliens) and their many travels around the country every year to find and bring back great Mid-Century Modern pieces for their customers. The Eames molded plywood chair is shown with a cow print and is a play on UFO's taking cows. The chair can be moved up and down manually. This also references how they go out, find, and bring back goodies for their customers.
Soto mentioned with his submission,
"The alien is done in an "esqueleto" in relation to our rich Hispanic cultura (ie. Dia de Los Muertos). Bright colors representing Fiesta and of course the San Anto skyline."
To purchase this medal you can go to their shop, San Antonio Furniture Finders, at 1805 Blanco Road.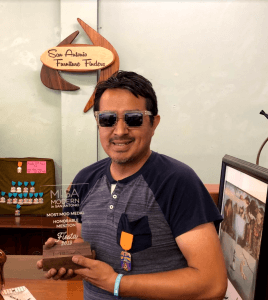 Those who helped to design and produce the medal for San Antonio Furniture Finders was Lone Star Special Tees. They worked closely with owner, Roberto Soto, to include all that he envisioned for their company's medal.
It is easy to pick up both winning medals this year since they are neighboring businesses!  We would like to thank all who took the time to submit their wonderful medals and those who attended our reveal party!  We look forward to seeing everyone's medals next year! 
¡Viva Fiesta!