Throughout San Antonio's 300 year history, "migration" and "immigration" have become terms with which San Antonians are very familiar. They are also terms expressed through the art and experience of local contemporary artist, Naomi Wanjiku Gakunga. Born in Kenya, her work speaks of crossing continents & cultures, of gender & empowerment, of the shifting of materials through time, and of migration to & boundaries on shared spaces. Given the current migration crisis unfolding on the world's stage, Naomi's work undeniably lends a strong voice by advocating for humanity.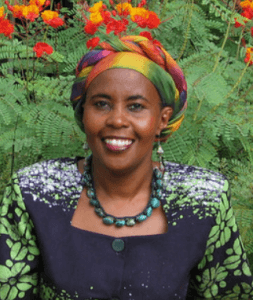 Wanjiku Gakunga is from a village just outside of Nairobi, Kenya called Gacharage. Her grandmother took care of her as a child while her mother worked as an elementary school teacher. As she visually noted the movement of her grandmother's hands and eyes as they darted back and forth while making baskets out of native materials, she also listened intently as her grandmother told her the stories of their ancestors. These early experiences are where she draws much of the inspiration for her art.
Mabati Women's Groups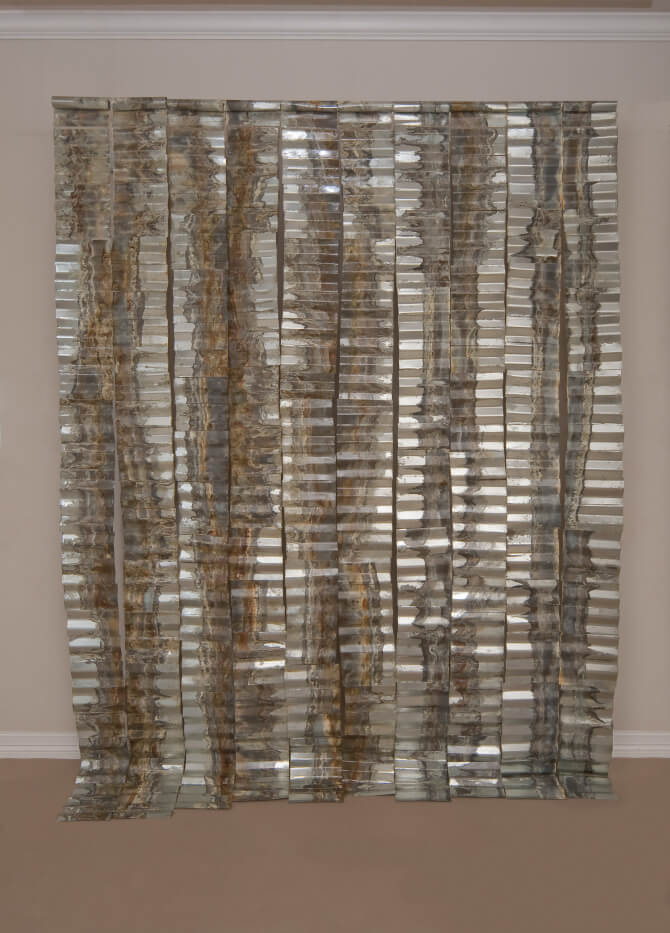 In the 1960's there was unrest in the Kenyan government. With the economic changes, many of the village men had to go into the cities for work. The women of the village were left for weeks at a time with their families and learned to be extremely self-sufficient. They also came up with inventive entrepreneurial strategies to make money, pool together their funds, and give them to other village women in need. Many times this need was for clean drinking water and they chose to replace their roofs from a thatched material to corrugated sheet metal. Metal roofs or "mabati" were extremely important. Now, instead of going down to the local river to draw water which could be contaminated, they were able to collect clean water from their mabati roofs, dramatically affecting the quality of life for their families. These stories of struggle and triumph have had a large influence on the work of Wanjiku Gakunga.
The Strings That Binds Us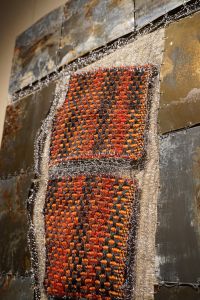 The string is a powerful symbol for the Kikuyu people as it plays a powerful function in the circle of life. Just as a string is used to cut the umbilical cord at birth, a strong string also is used to lower their body into the ground at the end of life to become one with the earth again. From the literal string that bound together her grandmother's baskets, to the figurative strings linking Naomi's journey to Los Angeles, San Francisco, and now to San Antonio, to the organic and metal strings that she uses in her artwork, there are common "strings" that bind her life's journey together.
She made her way to the United States after studying Art at the University of Nairobi.  After graduating, she was given an Assistant Lecturer position and eventually a scholarship to pursue postgraduate studies at U.C.L.A. She and her family moved to San Antonio in 2000, after her husband joined a residency program at the School of Dentistry with the University of Texas Health Science Center. He was then recruited as faculty, and they officially made San Antonio their home. She has taught art in several well respected San Antonio art communities such as Southwest School of Art, and Guadalupe Cultural Arts Center.
The climate here in Texas is very similar to what Naomi experienced growing up. It inspires her to use the sheet metal — similar to that which the Mabati Women's Groups used on their roofs —  which she shapes and weaves together into sculpture. For some of her pieces she submerges rolls of coiled sheet metal in water and leaves them out in the elements to create natural seasonal patterns and textures. Naomi also enjoys spending time in our local Mercado watching the talented folklorico dancers. Reminding her of some of the textiles and dresses from Kenya, and influenced by the movement of dance both here and in her home village, much of her work weaves these figurative and literal strings into one-of-a-kid pieces.
When asked what she loves about working in San Antonio, she said:
"San Antonio has a rich cultural heritage and a diverse artistic community. As a contemporary artist, I draw my inspiration from its people, ecology, as well as its creative vibrant atmosphere. My interaction with the South Texas culture has inspired a lot of my works of art, including the Folklorico dance series."
Over time, the string that she uses as media for her work has evolved. One material that she also brings into play is a 0.01 gauge wire that she weaves into beautiful sculpture while still incorporating fiber strings used in traditional baskets and other textiles. The metal string is the same material that her husband uses in his dental practice. As she states in a video spotlight on KLRN,
"It is very interesting because it connects my husband and I and we are dancing together again because of the string. We are intertwined."
Current and Future Exhibitions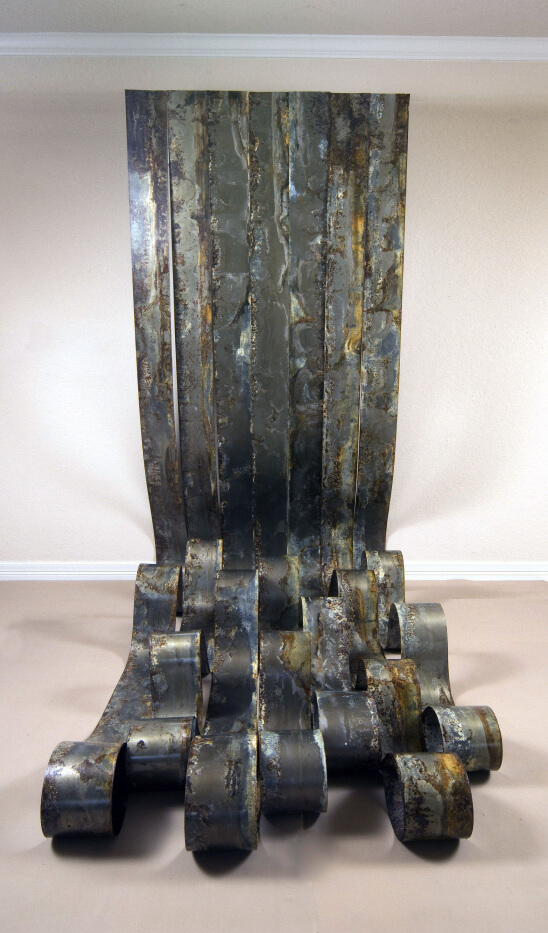 Don't rely on this article alone to experience Wanjiku Gakunga's work. Her pieces are even better when viewed in person. The following are exhibitions this year that we encourage you to attend:
The Museum of Geometric and MADI Art
Dallas, TX
African Ancestral Legacies
January 26 - April 22, 2018
Southwest School of Art
San Antonio, TX
Common Currents: Artists Explore 300 Years of San Antonio
February 15 – April 22, 2018
St. Philip's College
San Antonio, TX
San Antonio African American Artists at the Tricentennial
April 18- May 11, 2018
Art Paris Art Fair
3 Avenue du Général Eisenhower
75008 Paris, France
April 5 – April 8, 2018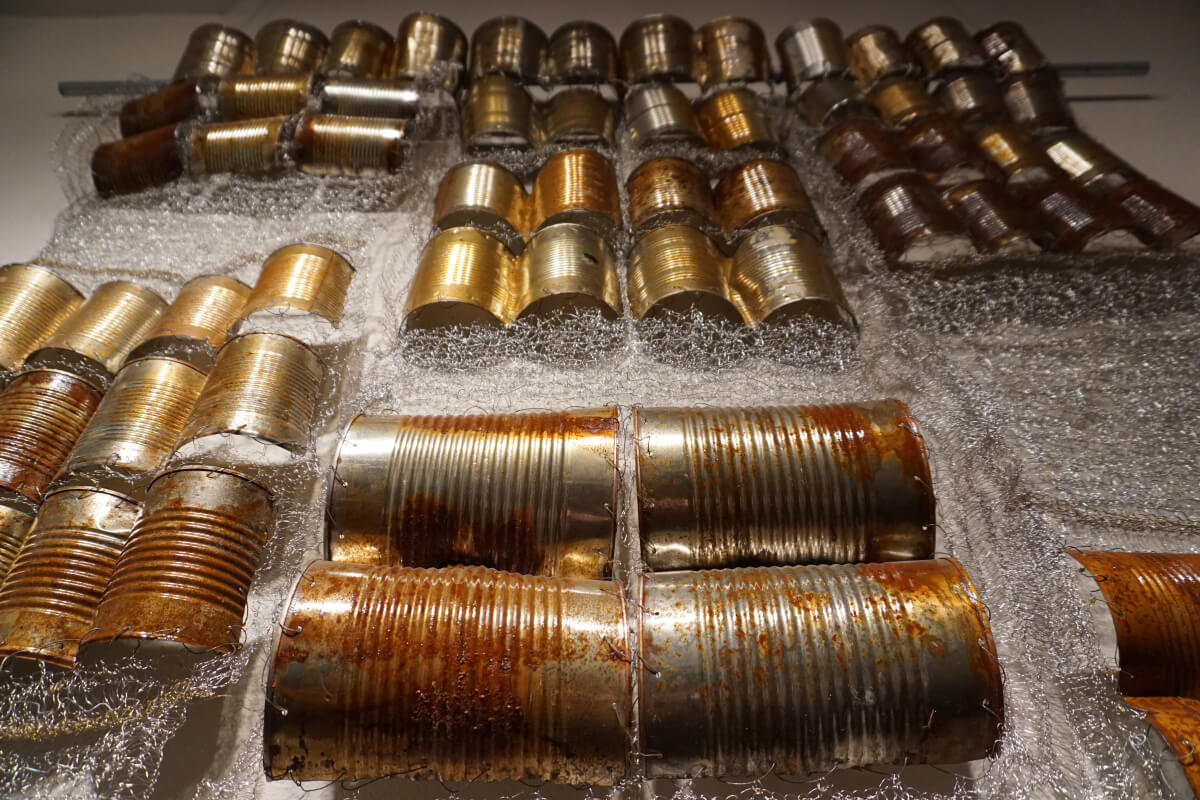 Philanthropy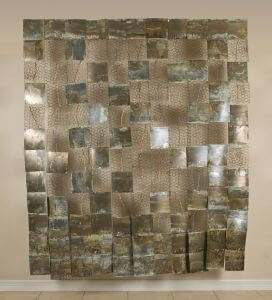 An additional string that ties Wanjiku Gakunga back to her people is her philanthropic work. She is the founder of the Alfajiri Project, a not-for-profit corporation based in San Antonio, Texas. It is a leadership development project that provides scholarships to girls in Kenya. The scholarships support the education of academically gifted but financially disadvantaged girls, who have the potential to succeed in life. Education makes the biggest difference in the lives of young women, and their communities. Alfajiri Project focuses on providing access to education, while nurturing integrity and responsibility through training in leadership programs. If you are interested in donating to this cause you can obtain more information by emailing them at alfajiriproject@gmail.com or mailing your donation to the following address:
Alfajiri Project
20770 Hwy 281N Suite # 108
San Antonio, TX 78258
Social Media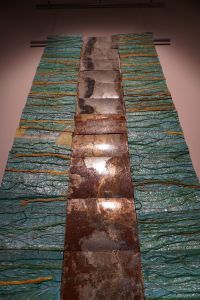 You can follow Naomi Wanjiku Gakunga's work on social media via the following platforms:
Facebook:  https://www.facebook.com/NaomiWanjikuArt
Twitter: https://twitter.com/nwanjikugakunga
Instagram: https://www.instagram.com/naomiwanjikugakunga/
Pinterest: https://www.pinterest.com/naomiwanjiku/pins/