During Fiesta this year, we began to wonder who has the most modern fiesta medal in San Antonio? So we sent out a call to all San Antonio modernists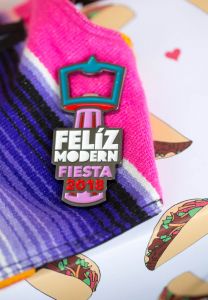 to submit their medals for a design competition and a chance to be recognized! Leading artists and designers on our M!SA Advisory Panel met to judge the submitted medals based upon the following criteria:
Clean and minimal in design
Creative use of color
Reflected the brand of the organization/individual
Reflected the character of San Antonio
The votes were in, scores were tallied, and the medal that came out on top was Feliz Modern! Having opened in August 2017, Feliz Modern is a lifestyle store with a quirky mix of modern and vintage goods that combine their love of art, home, and entertaining, with a mantra of, "Add some FELIZ to your life!" They are located just off the Olmos/McCullough circle at 110 West Olmos.
The Force Behind Feliz Modern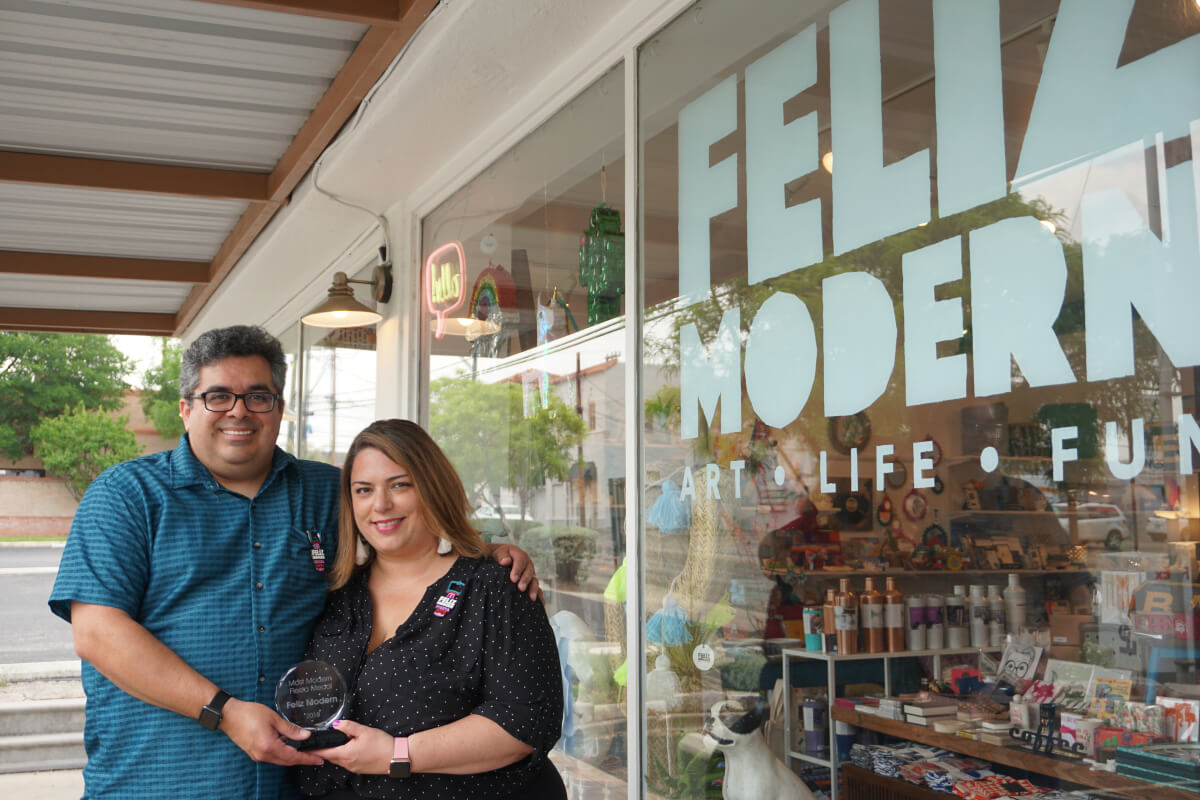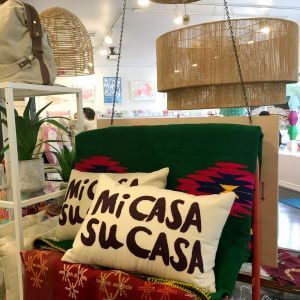 The concept of Feliz Modern was born when owners Ginger and Mario Diaz were reflecting upon how they loved to entertain in their home but realized that they were not finding the kind of items locally that they loved to use with their guests. Ginger is a local photographer and Mario is a graphic designer. With their combined creative backgrounds and love for fun and approachable items for the home, they were destined to bring our locals a store for-San Antonians-by-San Antonians.
Ginger and Mario are often asked if they are going to open a store in Austin. They don't think this concept would do as well in Austin since it is just a different crowd. San Antonians are unapologetically fun, festive, and don't take themselves too seriously. Feliz Modern has 4,000 items and around 237 vendors that are from a wide variety of places such as Mexico, Turkey, India, United States, and San Antonio.
They already had connections with local well known artists such as Kelly O'Connor & Cruz Ortiz, and they continue to carry prints of their work in their store along with the recent addition of Bygoe Zubiate. They consider the prints that they carry to be "the gateway drug to art collecting" since these pieces are still a way to get your hands on local art at a price that won't break the bank.
Design of the Most Modern Fiesta Medal
Feliz Modern's fiesta medal sold out within days, so it was no doubt that it was a winner! They knew from the beginning that they wanted it to have the dual purpose of being a wearable medal and bottle opener. They admit that they saw the bottle opener done by others last year and it was perfect because at Fiesta who couldn't use a medal that pops-a-top! The judges mentioned just that, stating that it perfectly follows the timeless design philosophy of "form follows function". In the beginning, Ginger and Mario tossed around the idea of this bottle opener being in the form of bright red
lips; or one of the best selling items in their store, the balloon dog. Since this year was San Antonio's tricentennial, and The Tower of the Americas turns 50, they wanted it to commemorate the occasion. They took the color scheme for the medal from a pair of childrens pajamas. This was appropriate being that $2.00 of every one of their fiesta medals that were sold was donated to The Children's Shelter of San Antonio. They also had to make sure the medal had the correct dimensions to get the leverage one needed to open a bottle, plus it had to be the right thickness or it would bend in the process of opening ones favorite beverage. Mario went through several sketches before deciding on the perfect one to send into fabrication. They landed on a design that they felt was not too busy, but not boring either. We completely agreed!
Fabrication of the Most Modern Fiesta Medal
Feliz Modern partnered with Ray Chavez to have their medal fabricated. You might recognize the name from the popular Fiesta event Cornyation, as he is the director for the event each year. Ray served as the broker for them and their medal fabrication since he had all of the right sources with the skills to get the job done.
Keep in Touch with Feliz Modern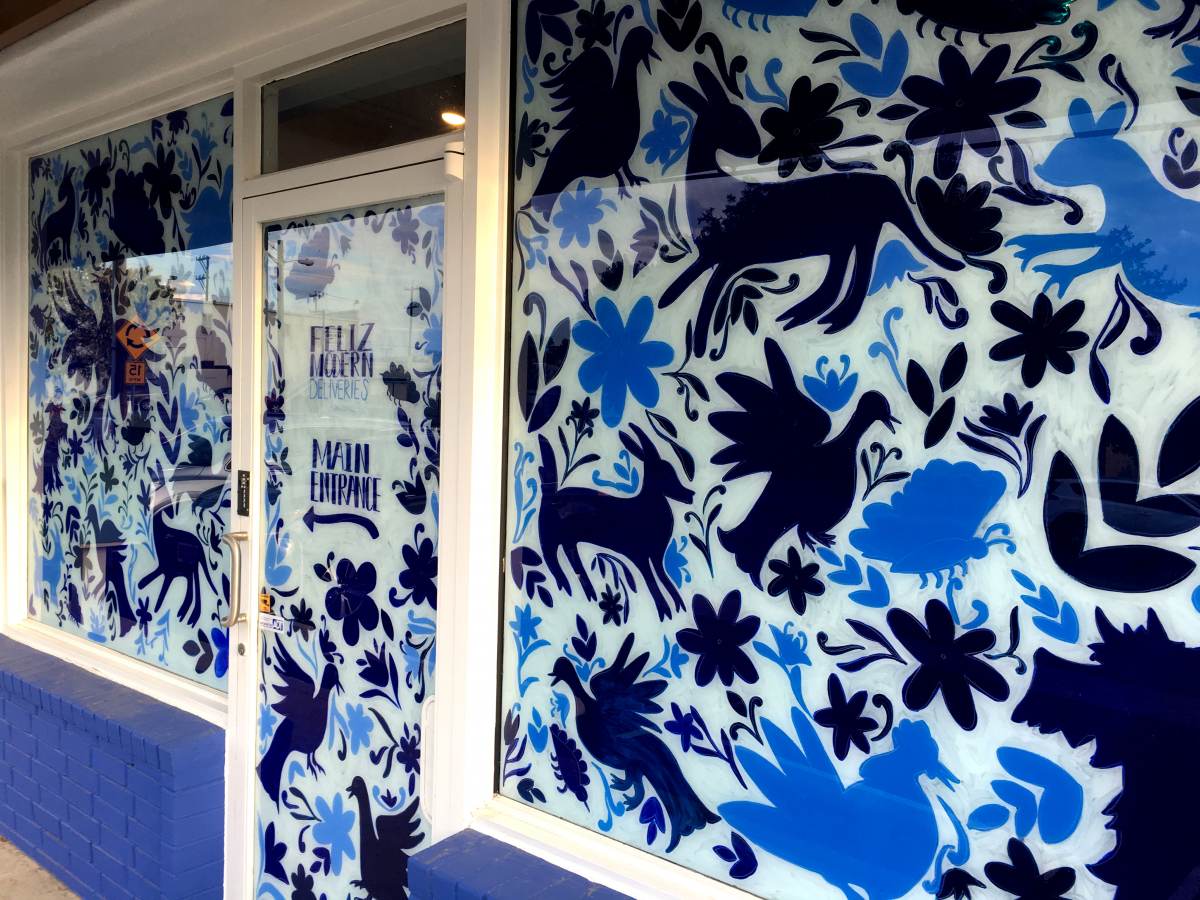 Feliz Modern's 1 year anniversary is on August 26, 2018! Celebrate with them by staying up to speed on social media and find out when their latest pop-up workshops and events will be. They also host art classes in conjunction with outside art companies.
Instagram https://www.instagram.com/felizmodern/
Facebook https://www.facebook.com/felizmodern
Twitter https://twitter.com/felizmodern
We want to thank all of those who participated in our Most Mod Medal Design Competition this year!  Who will be the Most Mod Medal next year? Stay tuned!