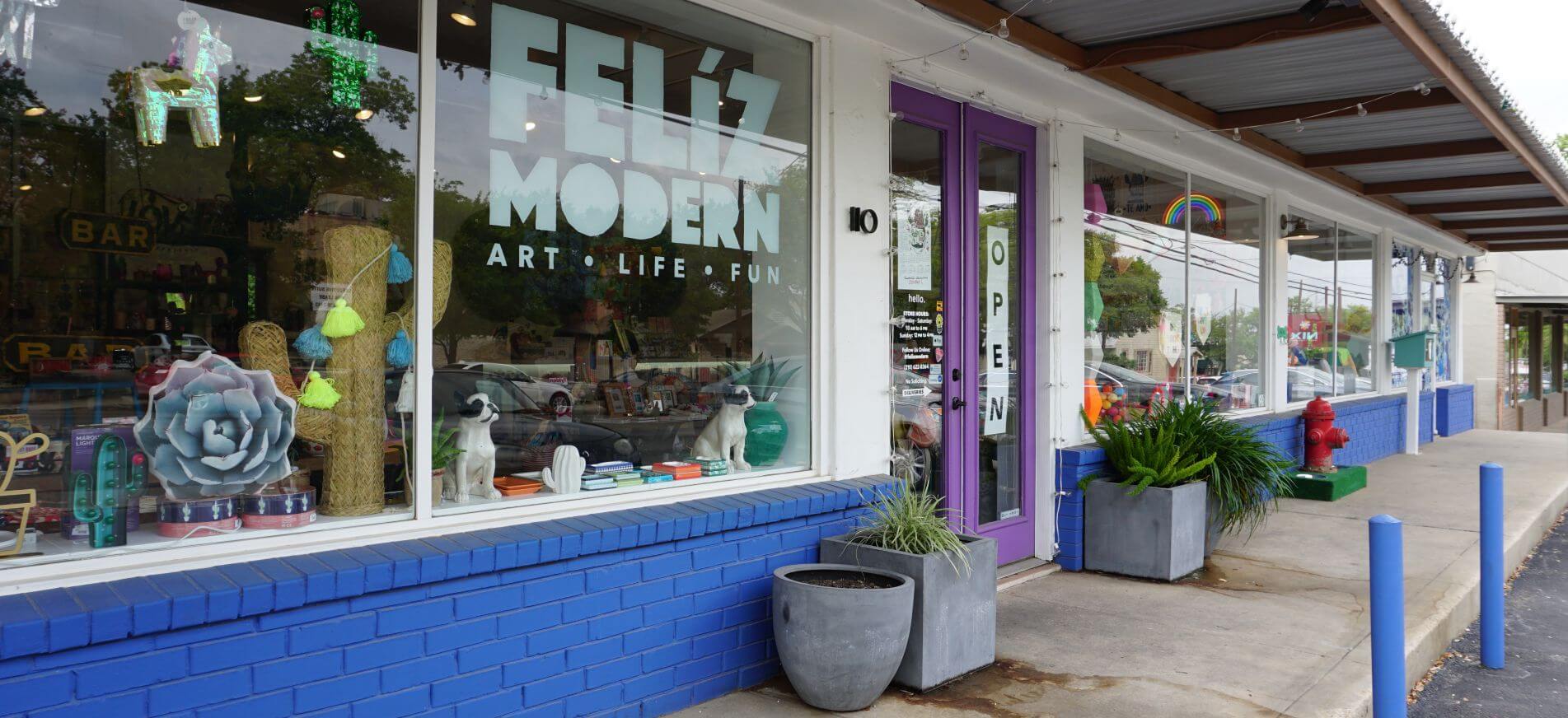 Cool | Mod | Local: 6 Great Places to Shop in SA This Holiday Season
November 21, 2018 at 5:00pm
If you are like us, you are more than likely a bit picky when it comes to gifts (for either others or yourself). M!SA has searched the city to find some great places to shop for the holidays to highlight those cool mod gifts that you love. Read on for our top picks for great local retail (in no particular rank or order) plus sales and special events! Remember to shop local this holiday season!
San Antonio Museum of Art - Museum Shop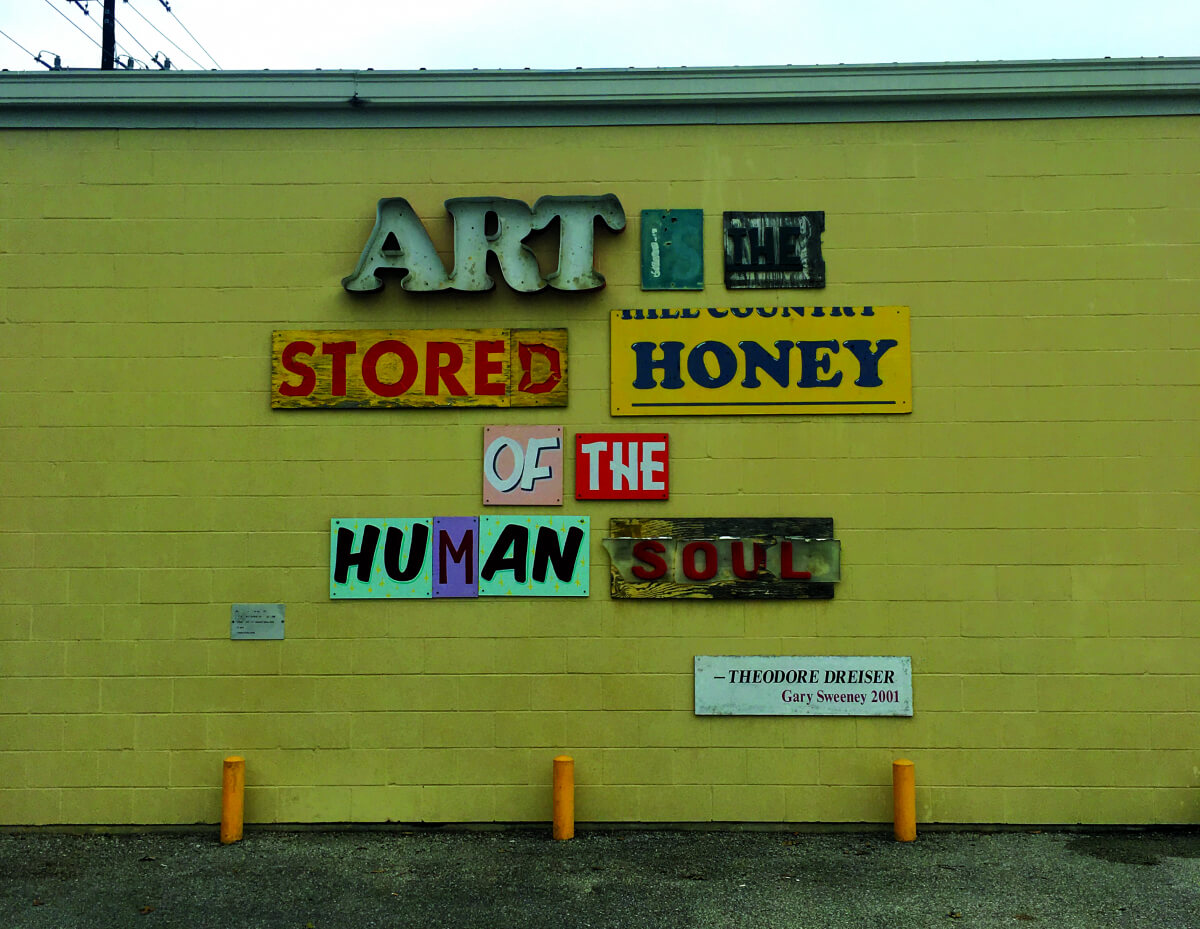 As a Museum Shop, it is their mission to represent SAMA's global collection in a tangible way.  This means that they source from artists right here in San Antonio, as well as around the world. When possible, they make sure to tell the story behind the product that the customer is purchasing.  Whether it's a piece of Mexican silver, a hand-woven textile from the Ivory Coast, or a vintage Kimono – much of their merchandise tells a greater story than meets the eye.
Museum Store Sunday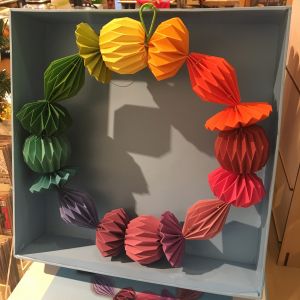 On Sunday, November 25, 2018, over 900 Museum Stores representing all fifty states, twelve countries, and four continents will offer relaxing, inspired shopping inside your favorite museums and cultural institutions. Museum Store Sunday offers a special shopping experience in one-of-a-kind stores, showcasing broad assortments of highly curated, unique, mission-specific gifts. From books to jewelry to children's products to home accessories and gourmet food, there is something for everyone. Shop knowing you are supporting the missions and programs of each participating museum and cultural institution.
In particular, the SAMA Museum Shop will extend 10% off purchases to non-members and 20% off purchases to members (exclusions apply). Additionally, as part of Museum Store Sunday, the following institutions are participating in the Museum Stores of San Antonio Passport Program (San Antonio Museum of Art, The McNay, Briscoe Western Art Museum, Witte Museum, Mini Art Museum):
Shoppers are asked to pick up their passport from any of the participating Museums. Shoppers must visit each participating institution to collect a stamp. Once all stamps are collected, shoppers then turn in their passport to any participating institution by Nov. 25th to enter a drawing for a chance to win a gift basket including a family membership from each institution along with other goodies.
Other notable events with SAMA:
Nov. 24th , 1:00 pm - 5:00 pm – Double Discount Sip and Shop: Kick off the holiday shopping season at the Museum Shop while sipping a holiday beverage. Receive 20% off (30% off for Circle members) from 1:00-5:00 p.m. on in-store purchases only. Member double discount days will continue through December 1 on in-store purchases only during normal Museum operating hours (Some exclusions apply). 
Nov. 25-Dec. 1 – Double Discount Days: Members receive 20% off (30% off for Circle members) from Nov. 25th – December 1st on in-store purchases only (some exclusions apply). 
Nov. 25th – Museum Store Sunday: Shop with a purpose! Visit participating museum shops and enjoy special discounts and other promotions just in time for the holidays. The SAMA Museum Shop offerings include Phaidon and Dupatta Scarf Design trunk shows + 10% off entire purchase for non-members and 20% off entire purchase for members. (Some exclusions apply.)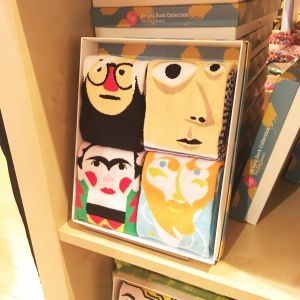 Dec. 1st , 10:00 am - 5:00 pm – Museum Shop Holiday Fair + Potter's Guild Clay Festival: Join them for their 5th Annual Holiday Fair. It's your one-stop shop for unique finds from local artisans including Microterra Terrariums, Kelly Renay Stationery & Gifts, O'day Jewelry Designs and many more! Plus, more than 30 Clay and Arts Festival vendors will showcase everything from bowls and cups to ornaments, prints, clothing, scarves, and decorative sculptures in ceramics and glass.
As a non-profit, each purchase supports the Museum's operations and programs.  They have their main gift shop as well as a second shop featuring merchandise inspired by their current exhibition which is "Becoming John Marin: Modernist at Work". 
The Shop at Artpace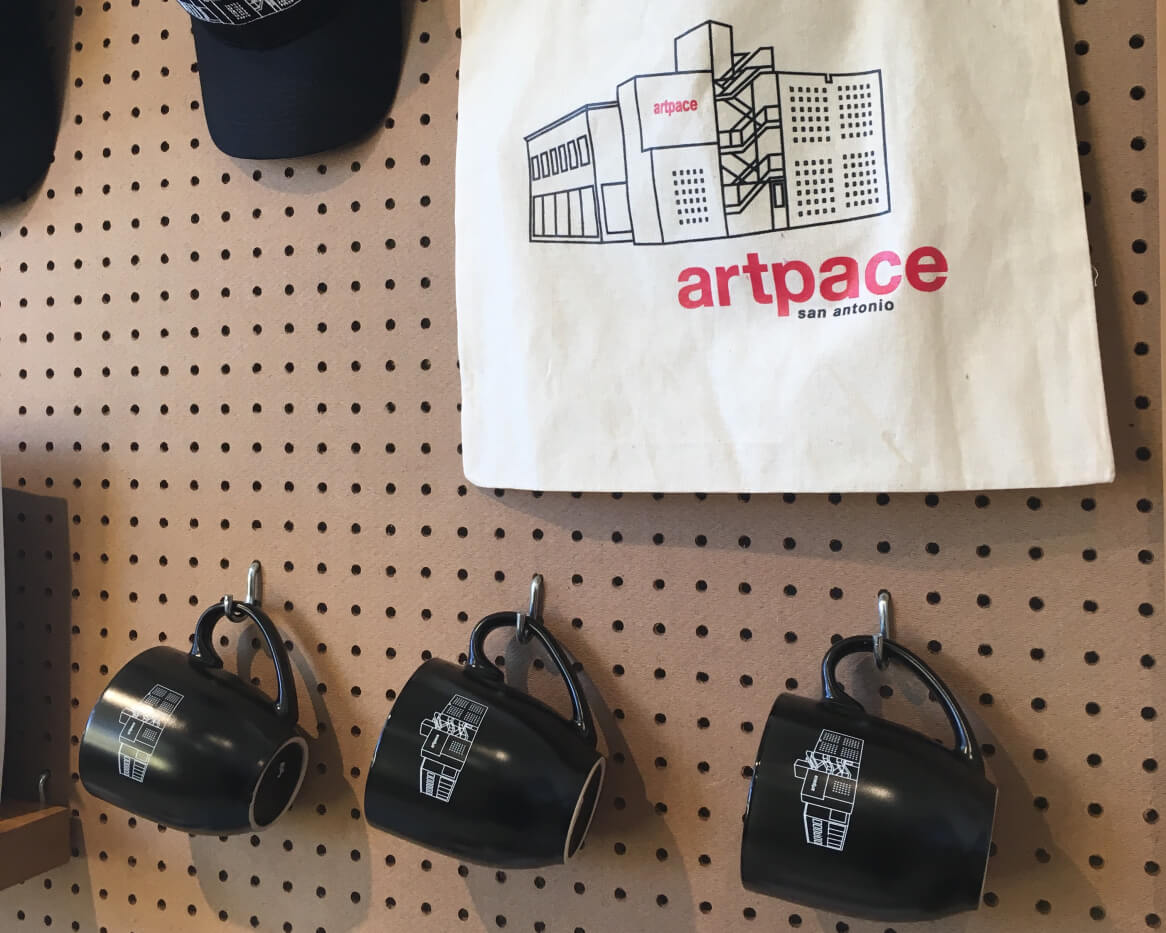 The Shop at Artpace's selection of limited-edition exhibition inspired art and objects has been carefully curated to reflect the vibrant contemporary San Antonio scene along with showcasing national and international items; national exhibition catalogues and internationally renowned publications.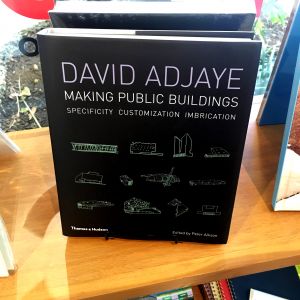 They also pride themselves on offering locally made artisanal items, keeping in line with Artpace's mission to support our local San Antonio community. All proceeds go towards benefiting Artpace programming including our International Artist-In-Residence program. All items online are also available for purchase at the Artpace Store, located inside Artpace on the first floor. They carry an eclectic assortment of beautiful art books, handcrafted earrings and journals, and even a suite of silkscreened mission prints by alumni artist Cruz Ortiz. Their resident artists frequently make limited-edition pieces for them, including silk-screened underwear by London-based artist Alice Khalilova!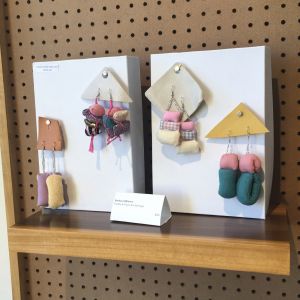 The Shop at Artpace will be open 10:00 am – 5:00 pm on Black Friday. Artpace is free and open to the public every day except major holidays. Every purchase over $20 on Black Friday will receive a free Artpace Tote Bag! Their members receive 10% off on ALL purchases. They are also the only place on earth where you can find custom Artpace M&Ms! The best thing is that when you're done shopping, you can tour their galleries for free and see brand new art from some of the world's finest artists.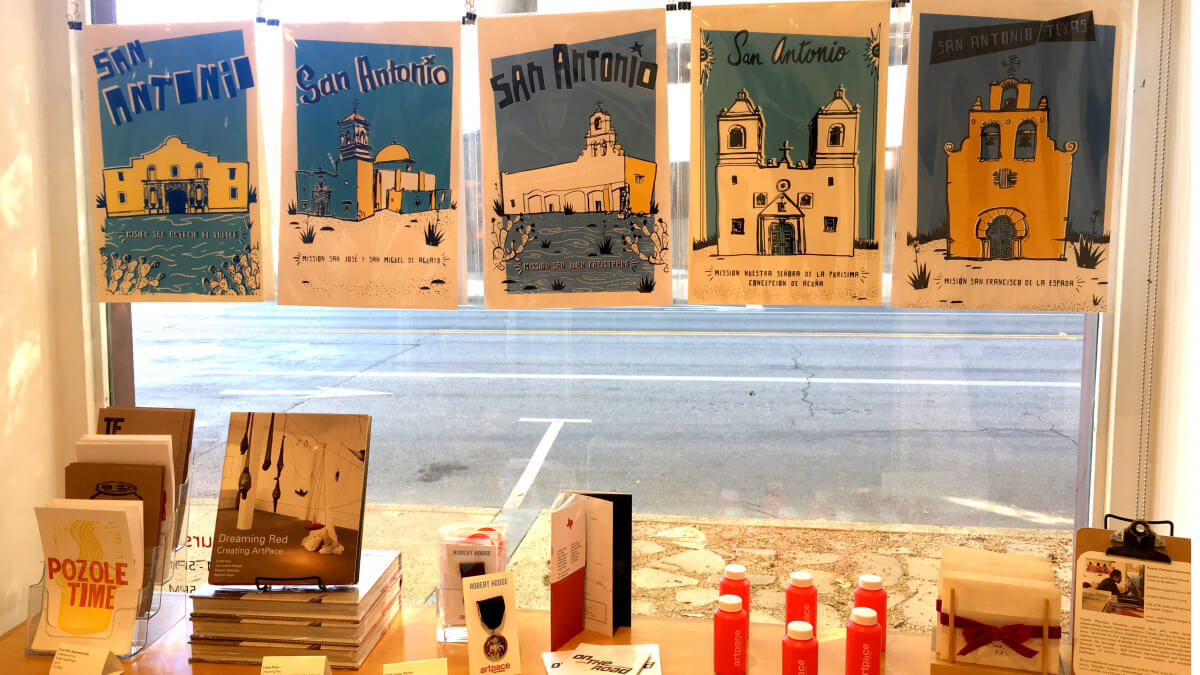 Feliz Modern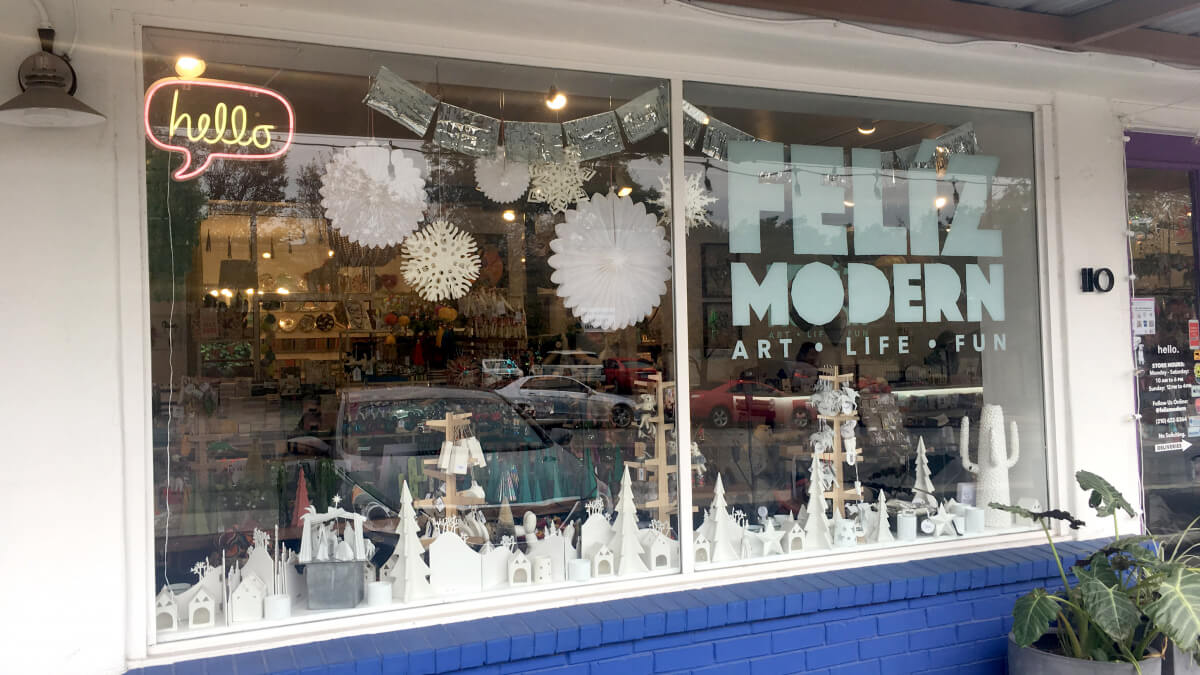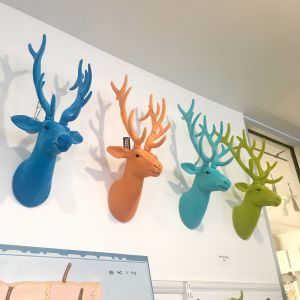 "Art/Life/Fun"… this is the tagline of Olmos Park's shop Feliz Modern, located at 110 W. Olmos. And owners Mario & Ginger Diaz say everything in their store falls under these 3 areas. "We were looking to fill a void in our local shopping options. We like to entertain friends & family, have a comfy welcoming home full of affordable art, and give thoughtful gifts to those we love (even pets)." Following the goal of "Art/Life/Fun" guided Ginger and Mario to create Feliz Modern. With a colorful, quirky aesthetic, their customers can find everything from a funny card, unique accessories, or even a vintage Turkish rug for their home.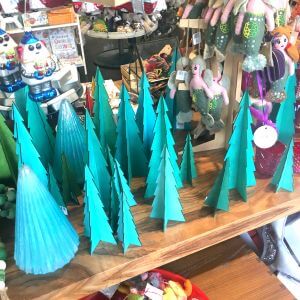 "What started as this small idea has grown into so much more than we dreamed. We have had the best, most supportive customers. And our proudest achievement is creating eight new jobs so far, in addition to ourselves. Our team has been great at welcoming the community and helping them find what they need (or didn't know they need). Seeing our repeat customers makes our day."
This holiday season, Feliz Modern will be open on Black Friday and Small Business Saturday. On Black Friday, they will have food and drink vendors in front of their store so they can be a "Rest Stop" for people on their busy shopping day with family! They will be serving Chicano Cocoa from 10:00-2:00. They will also have discounts and will be giving out Raffle Door Prizes throughout the day! For example, Raul Gonzalez is marking $5 off his Werk/Sleep/Repeat shirts. On Small Business Saturday - Estate Coffee Cart will be there 10:00-2:00 (and every Saturday for the rest of the year). For Cyber Monday they will post discount codes on their Instagram Stories to be used on their online shop.
Later in December, they will be hosting the Launch Party for Millennial Loteria on Dec 11th - the creator of this viral game will be there from LA to launch it and to play the game with guests in their shop! https://www.facebook.com/events/992316840940341/. 
Kathleen Sommers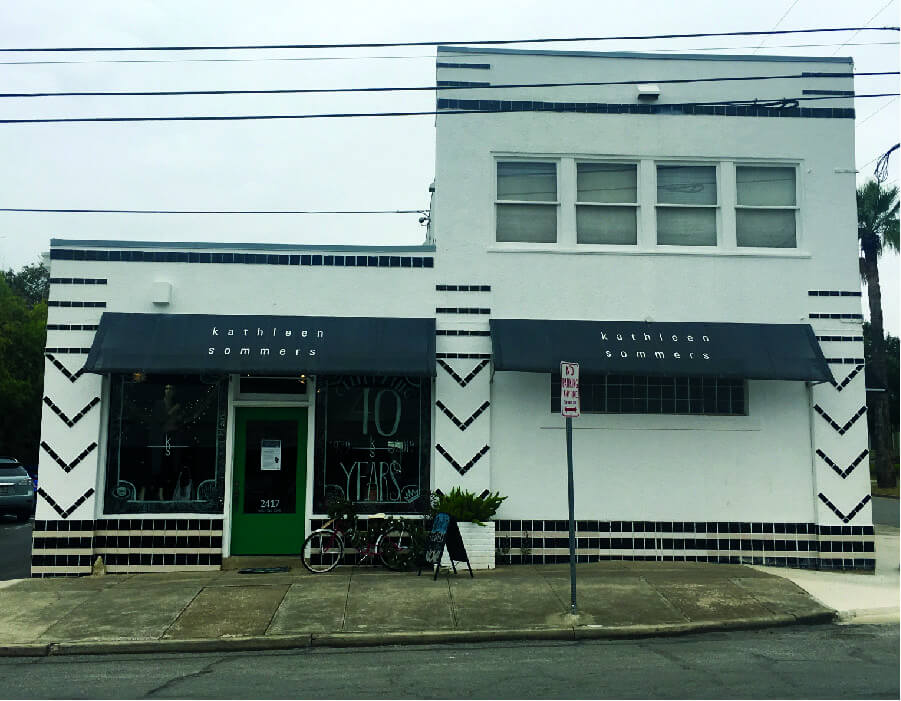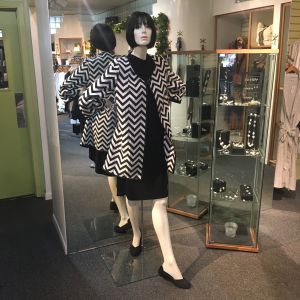 The retail store, Kathleen Sommers, has been a staple in the San Antonio fashion industry for 40 years now.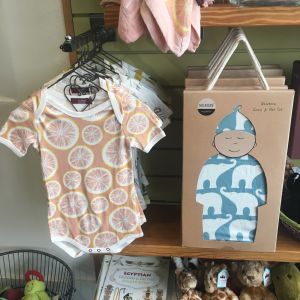 Their matriarch, Kathleen, recently lost her battle with cancer, but the store and her legacy continue on! Located on the corner of Main Street and Woodlawn, they have a beautiful variety of women's clothing, jewelry, skin care products, baby clothes, and other accessories.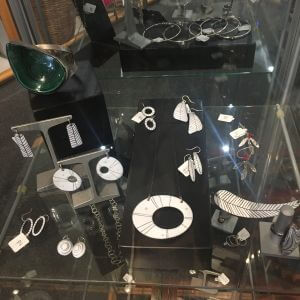 Their store manager is the well-known local Blanquita Sullivan, who has her own line of clothing called Bonjour Biqui. Her designs, as well as others, are available at Kathleen Sommers.
This Black Friday, receive 20% off 1 full priced item and 40% off all sale items. They will also be open for Small Business Saturday and on Sunday with the same promotional running for all 3 days.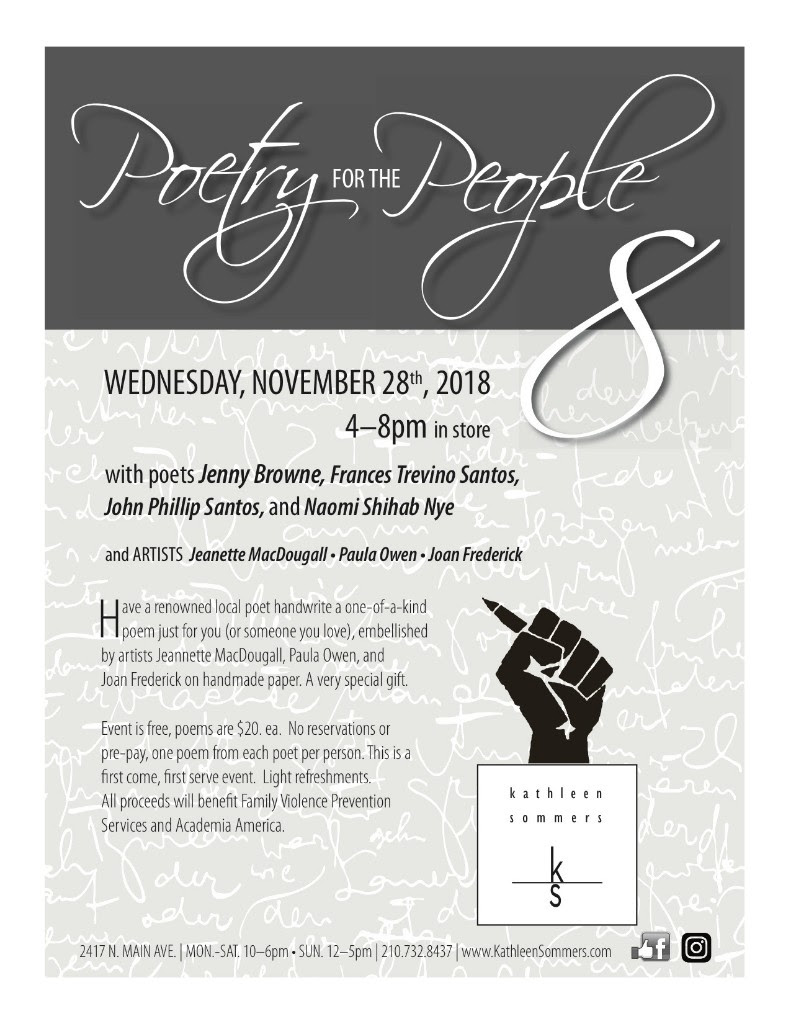 Then on Wednesday, they will have their annual Poetry for the People event featuring many local poets from 4:00 - 8:00 pm.
Karolina's Antiques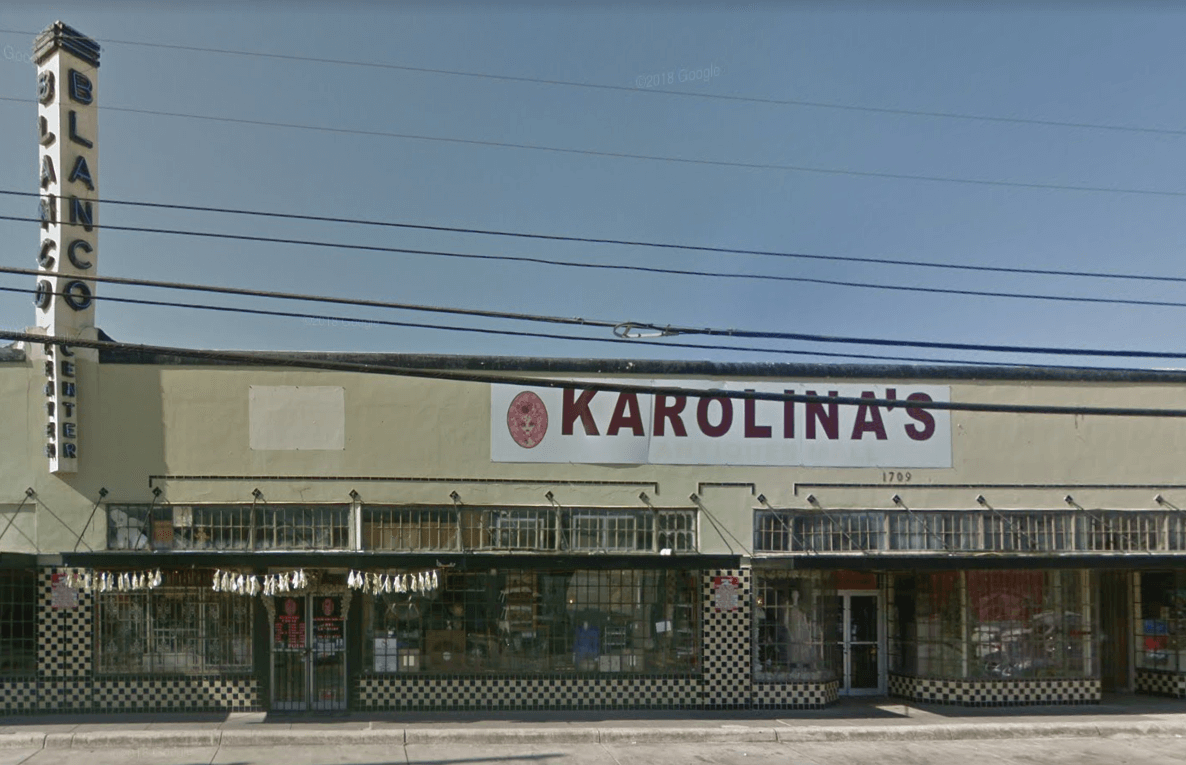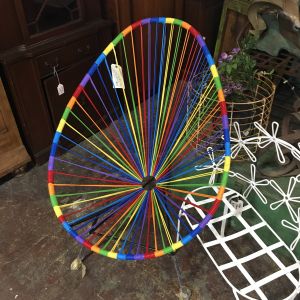 A little bit of everything for everyone, Karolina's is the most colorful and eclectic antique shop in San Antonio. Family owned and operated, they carry their culture in everything they do. They offer unique items and gifts at reasonable prices while buying from local people and artists.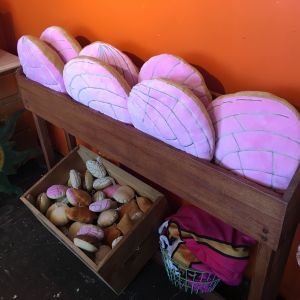 Don't let the word "antiques" fool you either. This gem of a shop is as local as it gets and is located at 1705 Blanco Rd. Here you will find unique items that are mid-century inspired, Frieda Kahlo and Marylin Monroe inspired; and best of all, items based upon what the locals eat (like avocados, conchas, etc.)! Don't miss this shop as an easy source for stocking stuffers and gift exchanges!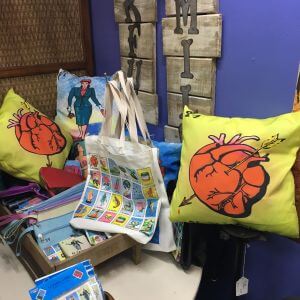 They will be open Black Friday with a few outside vendors and sales throughout the shop. Come for the 20% off of jewelry and furniture and lots of other great sales. 
San Antonio Furniture Finders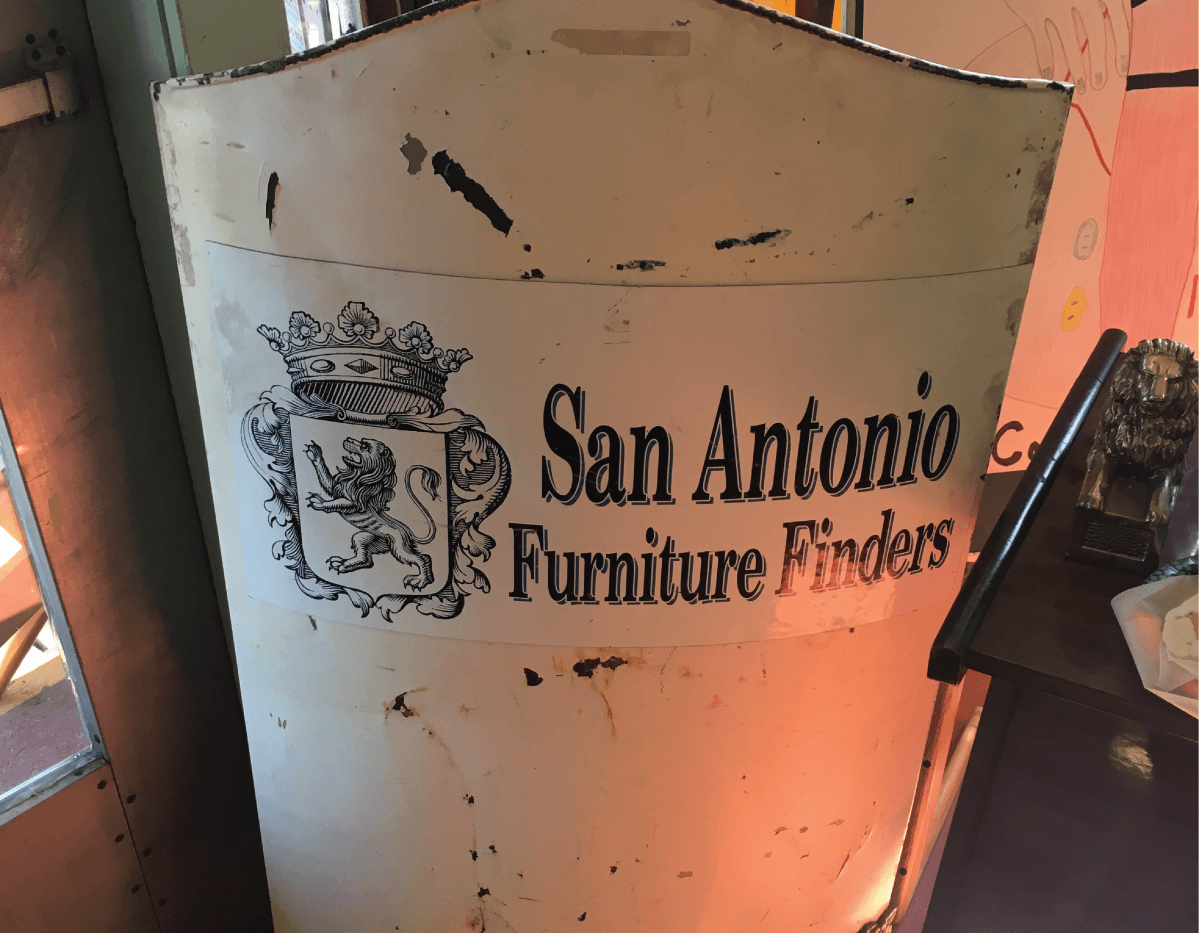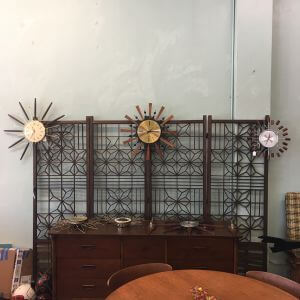 SA Furniture Finders is a San Antonio-based vintage and antique shop.  The shop is sectioned in two rooms. One showcases classic antiques, and the other room is where you could find us spending most of our time!  They have a wonderful collection of mid-century modern pieces to choose from!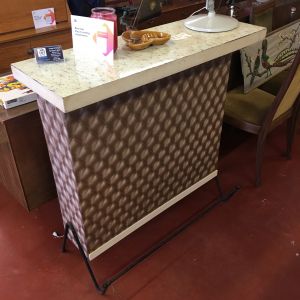 They get their fantastic variety of pieces from local sales, auctions, local "Pickers" as well as from out of town. They have brought pieces over from nearby places like Austin, New Braunfels and San Marcos, as well as from further Texas towns like Corpus Christi, Del Rio, Lubbock, Shiner, Dallas, Fort Worth and Houston. They have even traveled to states like Wisconsin, Ohio, Tennessee, and Alabama to name a few. Some of their pieces are from Europe, Mexico, Africa, the Middle East, Asia and other areas of the world.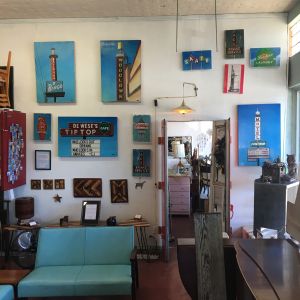 In an effort to support the arts and local artisans of all types, they have a small section in their shop dedicated to showcasing the work of "Local Artisans". At no charge to these talented artists, SA Furniture Finders showcases their work for a two-month period and if their items sell, they receive 100% of the funds. Learn more about this and their current Artisans on the "Local Artisans" page of their site.
SA Furniture Finders will be closed on Black Friday, but will be open for Small Business Saturday instead. Follow them on Instagram to learn about their Winter Sale that will take place in mid to late December!
Happy shopping!