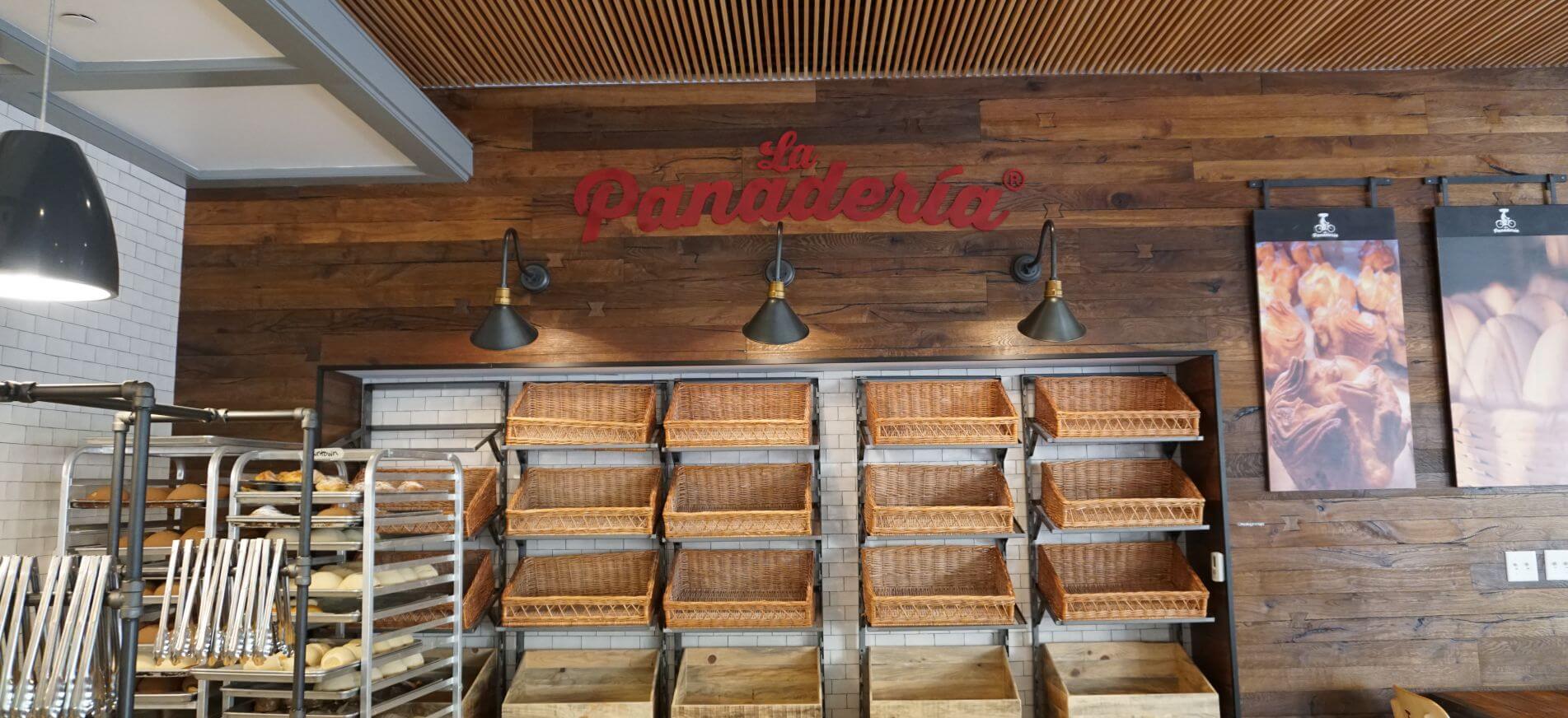 If you have not had a chance to be a patron of the new La Panaderia downtown off Houston Street, then ándale because you are in for a treat!  You may have been to the location off of Broadway, but the location off East Houston Street is special, not only because of the food, but the design and operations as well.
Owner Story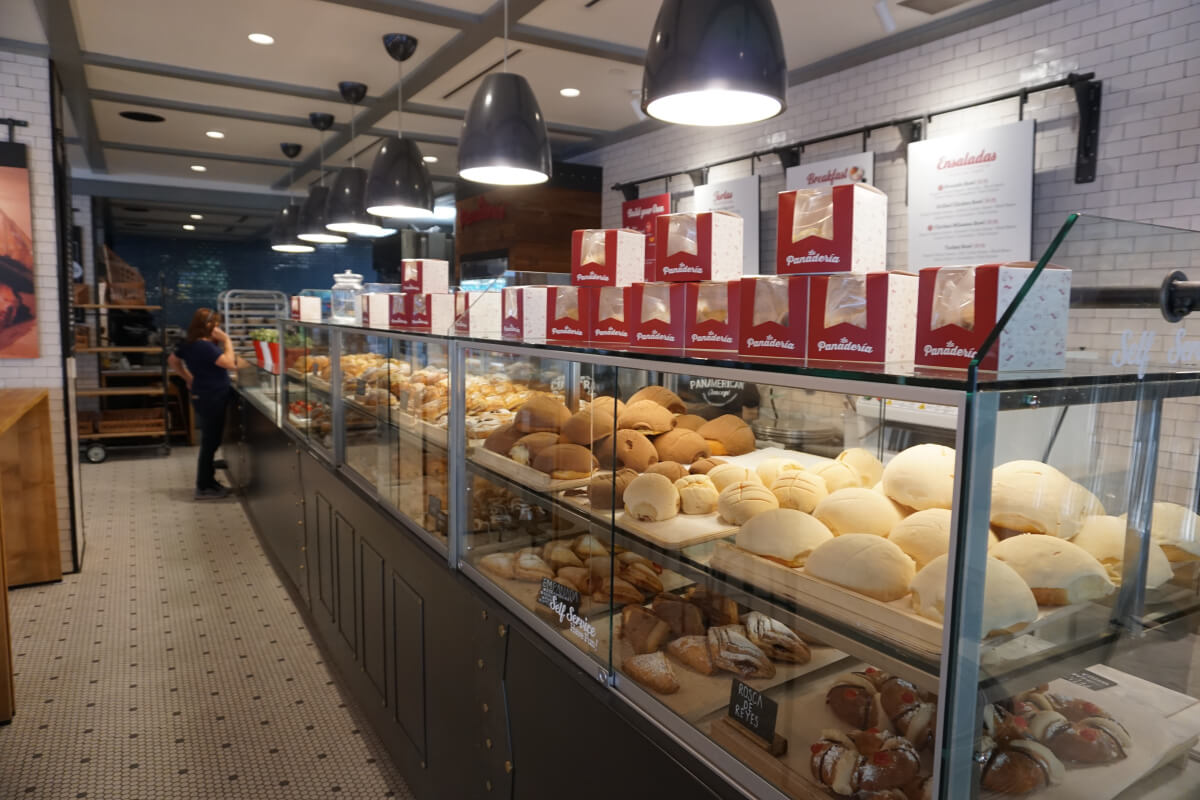 Jose and David Cáceres grew up in Mexico and were Panaderos/street vendors for their mother's freshly baked pan as a means of income.  As they watched the rise of mass market bread makers, they noticed how so many were cutting corners and the quality of the product suffered in the process.  As they came into adulthood, they followed their dreams, and luckily for us settled in San Antonio to continue their heritage of breadmaking the right way and opened their store on Broadway.  The concept of "bread cultura" harkens back to their days in Mexico where their process of making bread took several days as they allowed for a fermentation process to occur.  The difference is literally palatable, and in an age of mass production, it is a culture all it's own.  
The Broadway store was so successful, they were able to open their dream shop recently on Houston Street with the help of Clayton & Little, a local architecture firm known for its collaborative approach to creating layered, coherent experiences in the built environment. Clayton & Little was founded in Austin in 2005 and opened its San Antonio office in 2015. MiSA had the chance to sit down with the team at Clayton & Little who designed the Houston Street location to discuss "the why" behind their decisions and how the design has influenced the establishment's success.
Selecting Their Downtown Location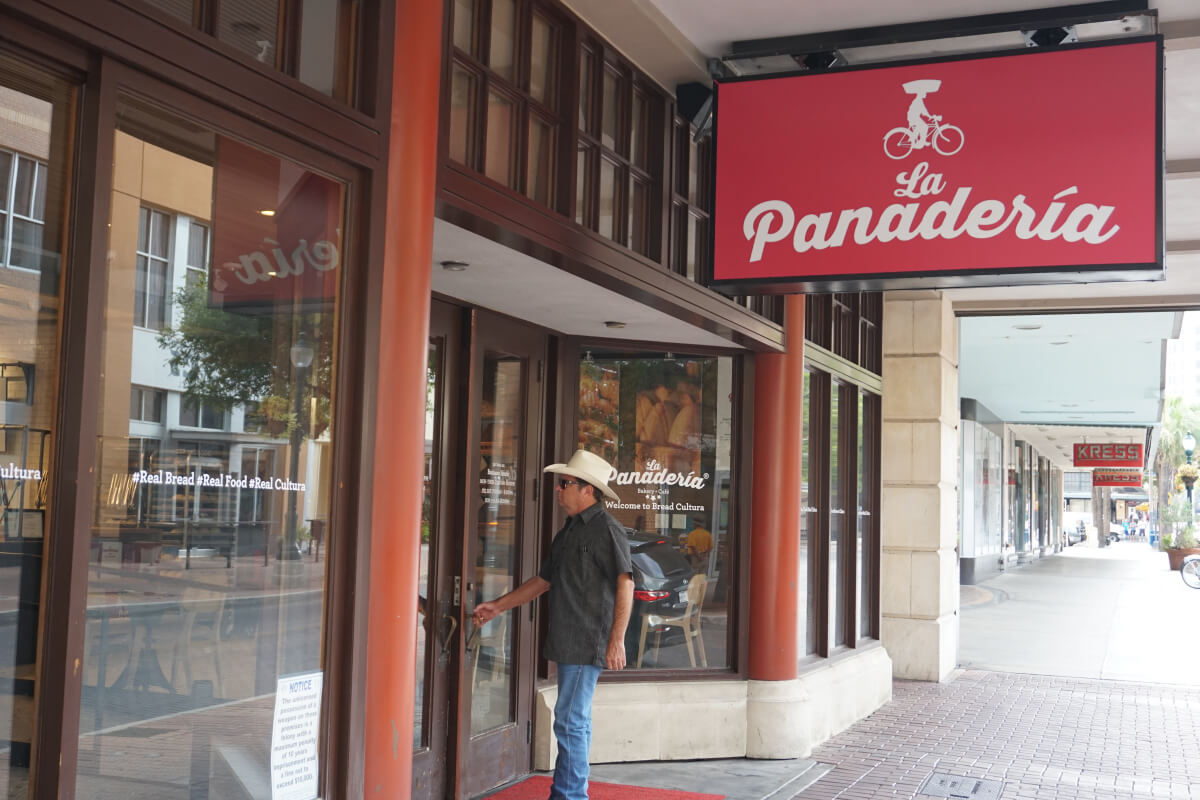 When looking for a downtown location they found that their architects had a connection with the landlord at 301 East Houston Street, GrayStreet Partners.  GrayStreet is also known for their development of the property adjacent to the Historic Pearl Brewery where West Elm now resides, which is also a Clayton & Little project.  This connection ultimately worked out in their favor and was the best option for La Panaderia's new downtown store.  On the corner of East Houston and Navarro, the store has a prominent store front with neighbors such as Home 2 Suites by Hilton Riverwalk, Majestic Theater, Maverick Apartments, and Bohanan's to name a few.
Experiencing the New Store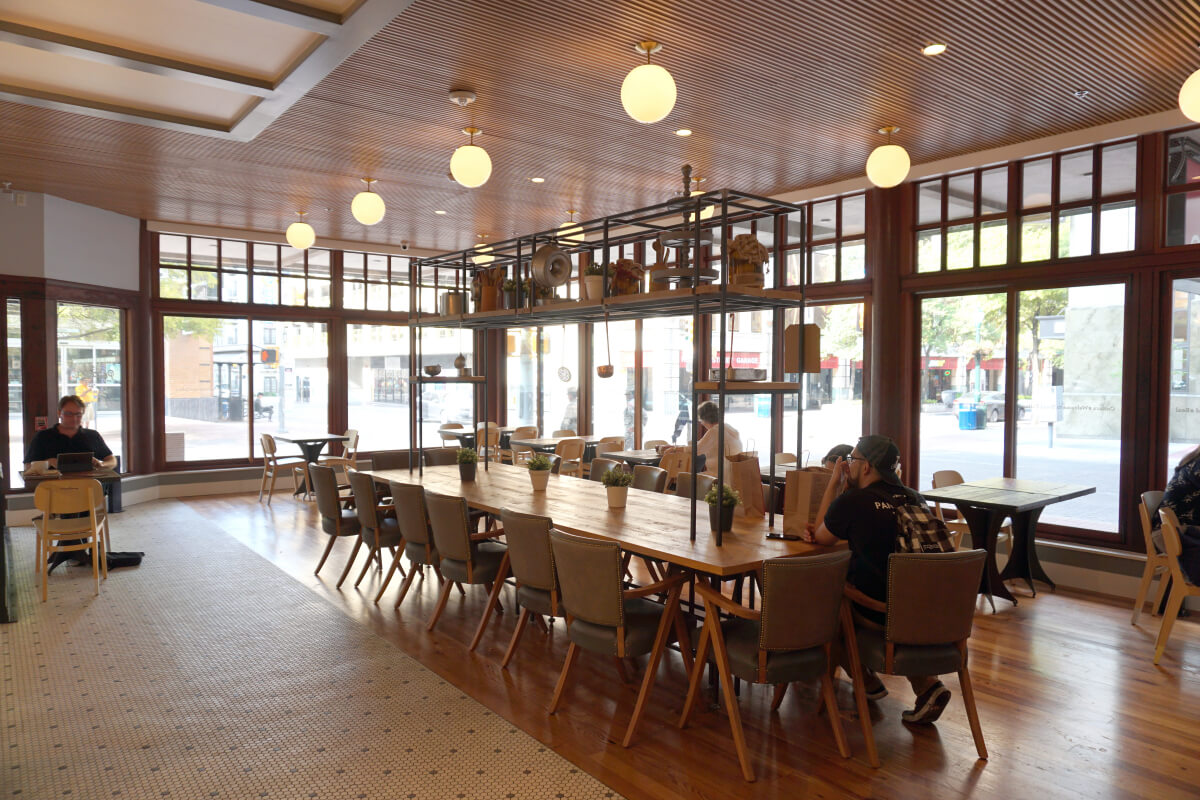 When La Panaderia came to Clayton & Little for help, they asked that the interior would look "old world".  The designers skillfully made it appear contemporary/refined industrial in design while still achieving elements that harkened back to another time.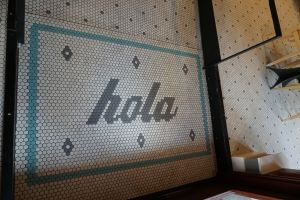 Upon entering, a friendly mosaic tile pattern will greet you as you cross the threshold.  It has a modern graphic application yet done in a traditional typeface.  The visuals and aromas of freshly-baked pan will be calling your name in the display cases.  Suddenly you will realize you are in line and should start the daunting task of making a decision on which pan to purchase.  If you can draw your eyes away from the luscious treats, look down just below the bread to see the craftsmanship of the wood display cabinetry.  It is unique to the store and the owners commissioned a talented company overseas to make them whom we will discuss later.
Coffered ceilings are found in many traditional interiors.  They are usually a series of beams that cross over each other creating a grid with recessed portion in between each beam. In some traditional coffered ceilings, applied to each recessed section is an ornate medallion and nearly always is attached directly to the ceiling's surface.  The coffered ceiling in the case of La Panaderia is a dropped plane delineating the transaction and prep areas from the seating area.  It is also a minimal application with clean lines and neutral color palette. The slatted wood ceilings over the seating area are also another typical and current modern interiors detail. The exposed brick and drain pipes were also intentional in the design to help give the space an old world/industrial feel, while the pale blue glass accent subway tiles bring a refined contemporary look.  Sustainability efforts were taken by reusing the existing store-front as well as reusing the wood flooring from the former San Antonio retail legend Joske's.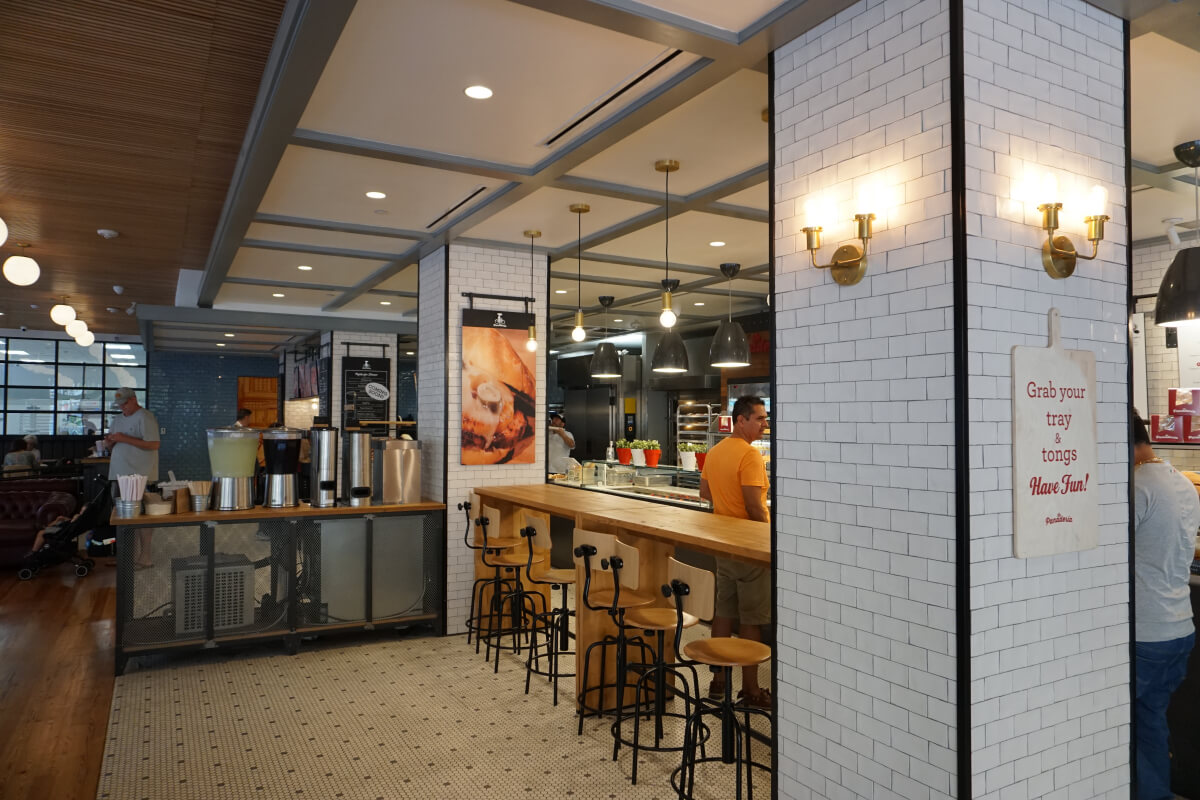 The barista bar is a new feature to this location, with espresso machine on full display.  The designers mentioned how they previously did not have space for this at their Broadway location, so at the Houston Street location it was a must.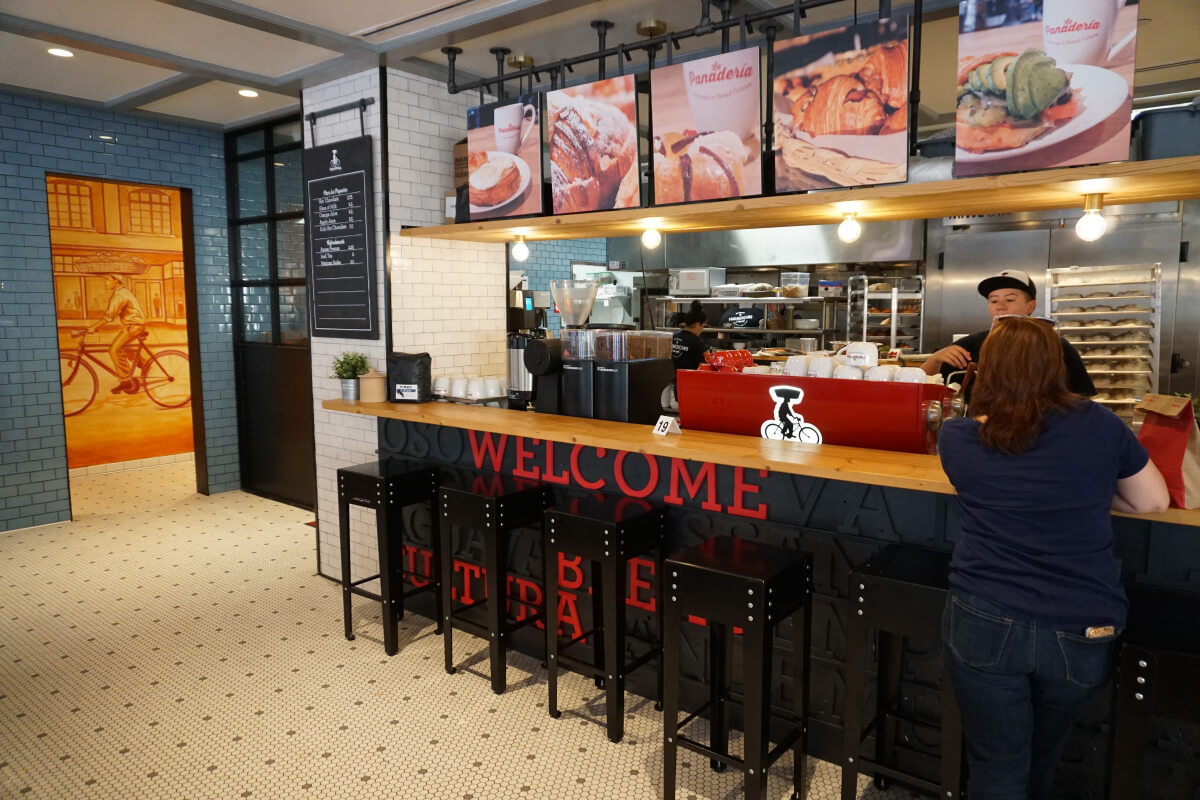 As you look around at all of the millwork/cabinetry you will see that it is not a run-of-the-mill mass produced construction, but very much like their bread cultura, an intentional and thoughtful custom design.  It was a dream of the La Panaderia owners to work with an Italian company called Costa Group.  They were the minds behind the design of the displays and furniture in the store.  The architects stated that the owners felt once they could use the Costa Group in their stores, it meant that they had really "made it".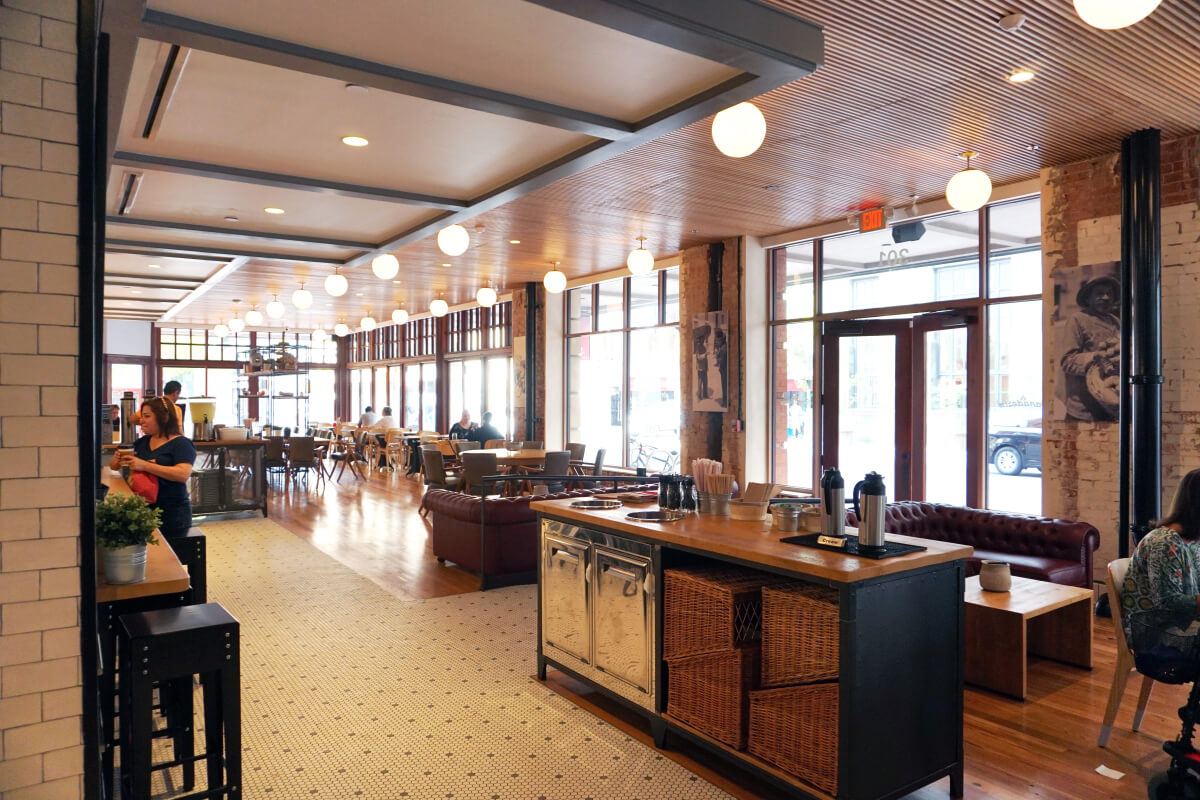 Their original store on Broadway seated only 10 patrons.  On Houston Street, they have a fully functional dining area that is 3,000 square feet alone.  La Panaderia did not want this location's seating area to feel like a typical deli.  They wanted to offer their patrons a variety of places to sit, lounge, meet, converse, relax and enjoy their food and beverages. The store is quickly growing in popularity, so if you are lucky to get there early enough to have the choice, there is a wide variety of seating to choose from such as bistro bar, family-style seating, cafe-style seating, friendship table, and booth seating.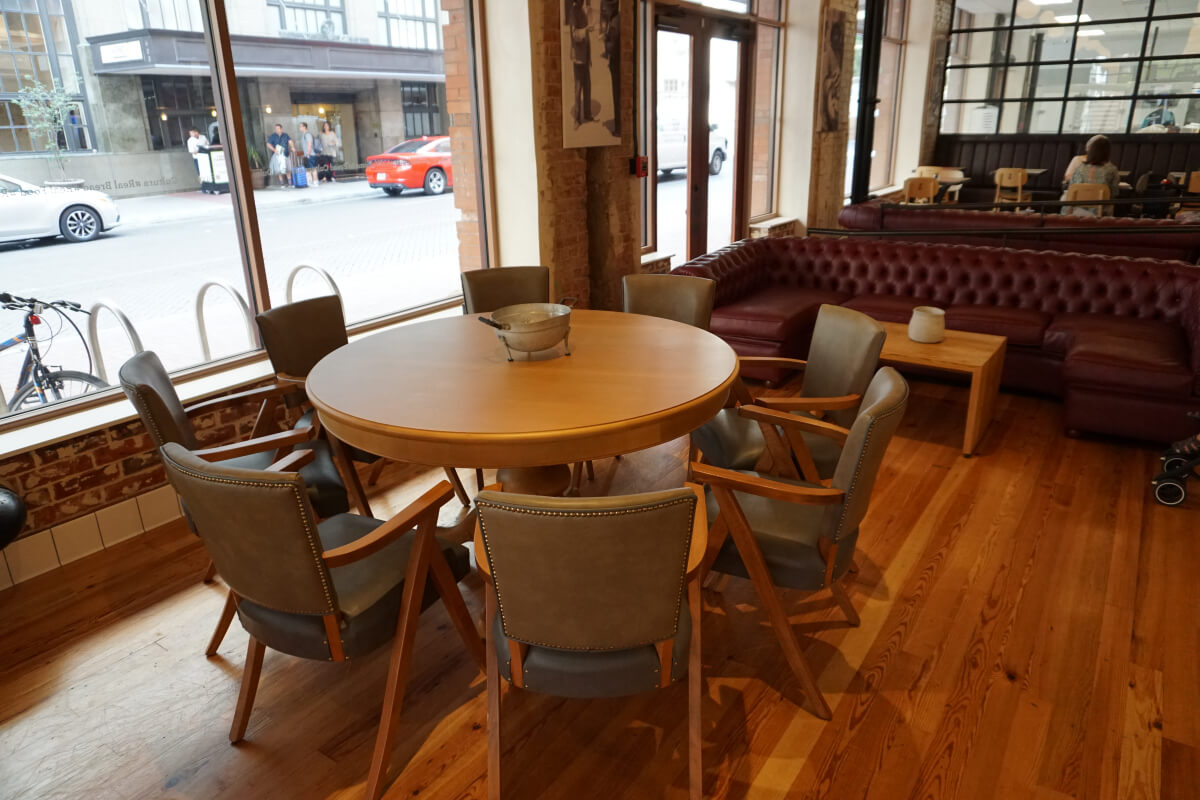 Behind the Scenes
It takes a lot to run a successful establishment like La Panaderia.  Many have made comments about the size of this store and the design plays a large role in it's success. Windows to the kitchen and prep areas leave their process viewable to the public, not only from their dining area but also from the street.  It is as though they are giving homage to their early days as Panaderos from the streets of Mexico to now operating a state-of-the-art high tech kitchen.  
The architects explored various layouts with their equipment to make their process as efficient as possible.  They told the story of how David went to culinary school in San Francisco and it was there that he learned of the high tech process of blast freezing to stop the fermentation process for optimal results.  In their new location, they have the space and the equipment to take advantage of this process and bring it to market.  The results have been their best ones yet, shipping product to their other locations, making this Houston Street location mas Pan H.Q.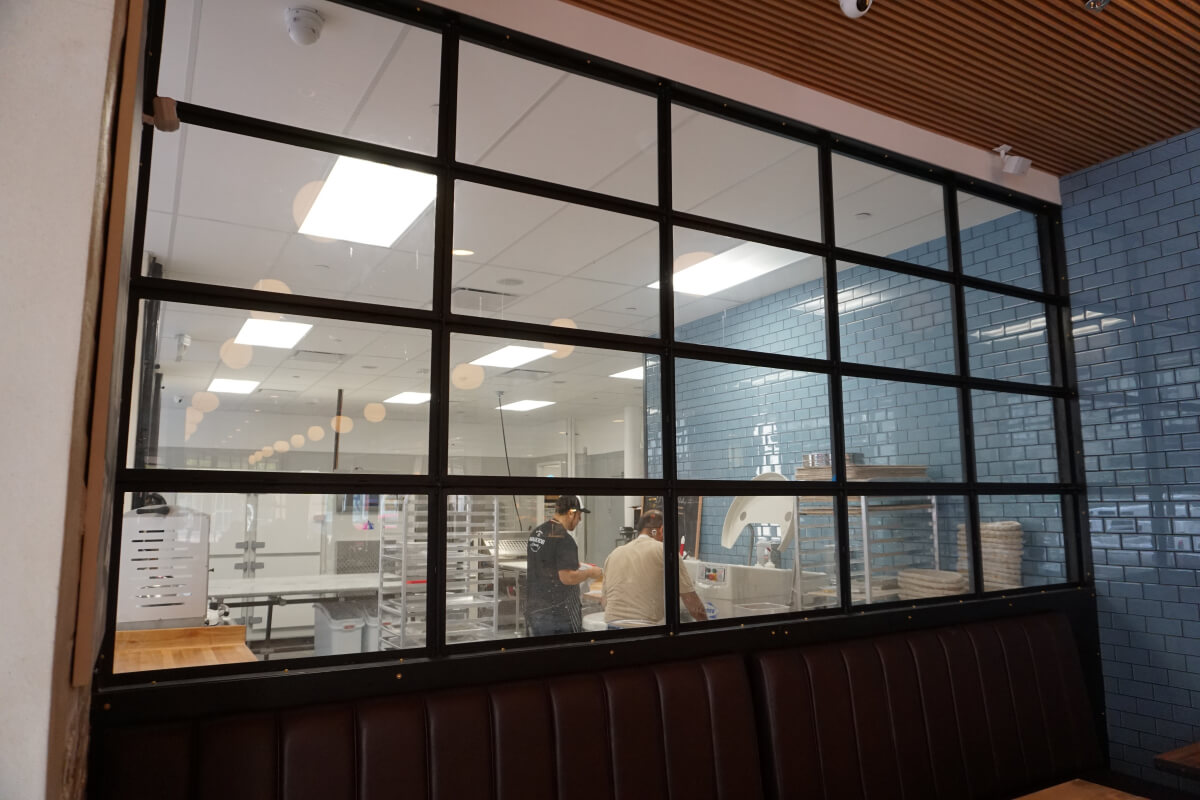 Joining Downtown Night-life
With time, La Panaderia plans to join the downtown San Antonio nightlife by being open for dinner.  Being so close to the Majestic Theater, local bars, and Maverick Apartments, we predict this should serve them well as people exit shows, need a bite to eat after drinks, or are simply going home after work. 
In the National Spotlight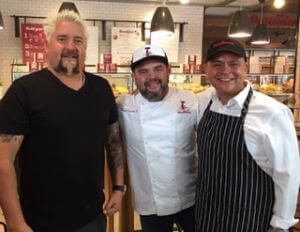 Recently Jose and David Cáceres were featured on Guy Fieri's Diners Drive-ins and Dives which aired on September 22 in an episode entitled "Passport of Flavor".  The super-star Chef joined them along with Guy's sons to make the bakery's best seller, their Tequila-Almond Croissants. La Panaderia is one of 10 restaurants in San Antonio that have been featured on the show.  Congrats on making the club, guys!  Here at MiSA, if an establishment has received national or global acclaim, we call them MiSA Rockstars!  Thanks for representing SA well!  
¡Viva MiSA!
Project Team:
Architecture: Clayton & Little, San Antonio
General Contractor: Joeris
Furniture Fixtures & Equipment: Costa Group, Golfo di Spezia SP, Italy
Mechanical/Electrical/Plumbing: MS2 Engineers
Commercial Kitchen Consultant:  Mission Restaurant Supply