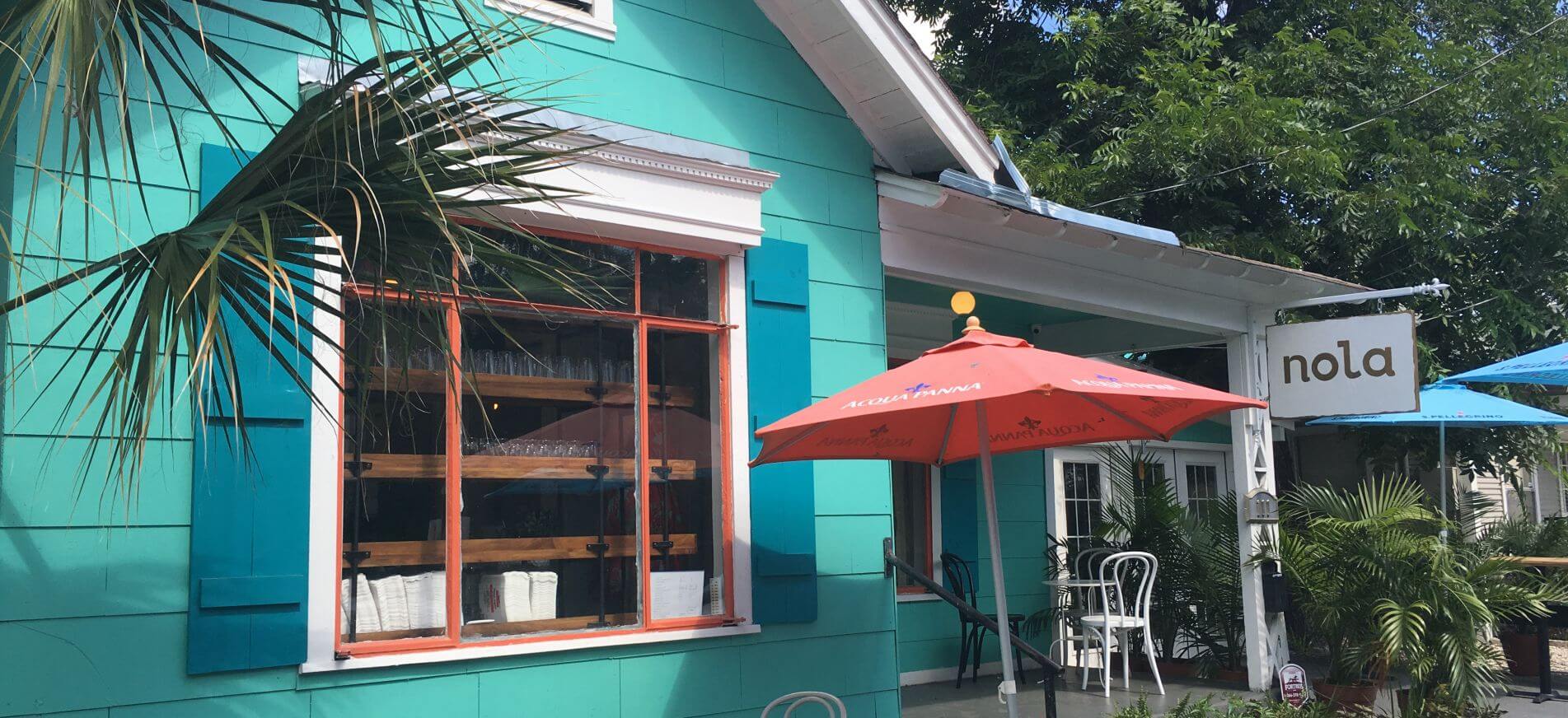 ¡Beignet Me! A Nola Brunch & Beignets Experience
September 30, 2017 at 8:00am
It was a hot summer day and brunch sounded great, but a spicy cajun/creole brunch?  Nola Brunch & Beignets did not disappoint!  
Nola (short for New Orleans) is one of those local success stories that started out as a food truck (called Where Y'at) and then moved to brick and mortar neighboring their sister restaurant, The Cookhouse.
Getting to the restaurant was easy.  While it is not immediately visible while driving on North St. Mary's it is tucked away on the  adjacent street Kings Court.  Parking is along the streets in the nearby neighborhood.
Look for the teal and aqua restaurant with crisp white trim and you won't miss it.  Signage is a beautifully simple white with gold lettering.  Outside they have some seating for spillover or patrons that like to brunch al fresco.  Windows appear to be original too with framing painted a nice contrasting terracotta color.
Interior Design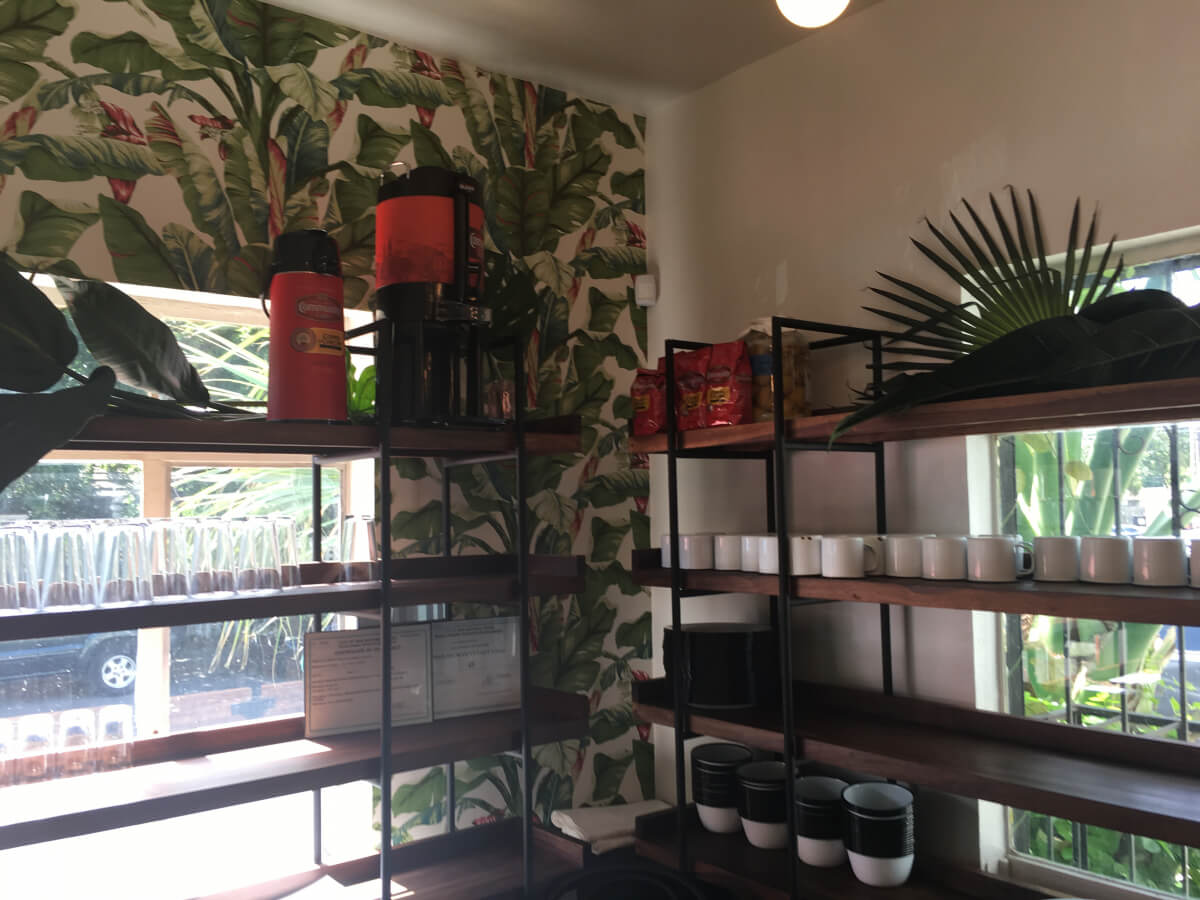 This day I chose to hunker down inside with the A/C.  Upon entering, it was a tight space with a hostess table, and behind it, a wood/black steel shelving unit housing some of their glassware with a great plant graphic on the wall.  I was immediately greeted and taken to a table.  I arrived on a Wed at 10:30am and it was slow but quickly got hopping by 11:00am.  Noise level was moderate but tolerable. If you were to ask me if Nola is kid-friendly, Yelp says they are not, but I did see a child that looked like she was about 8 or 9, and they had a stack of high chairs in the corner, which signals that they are committed to serving families.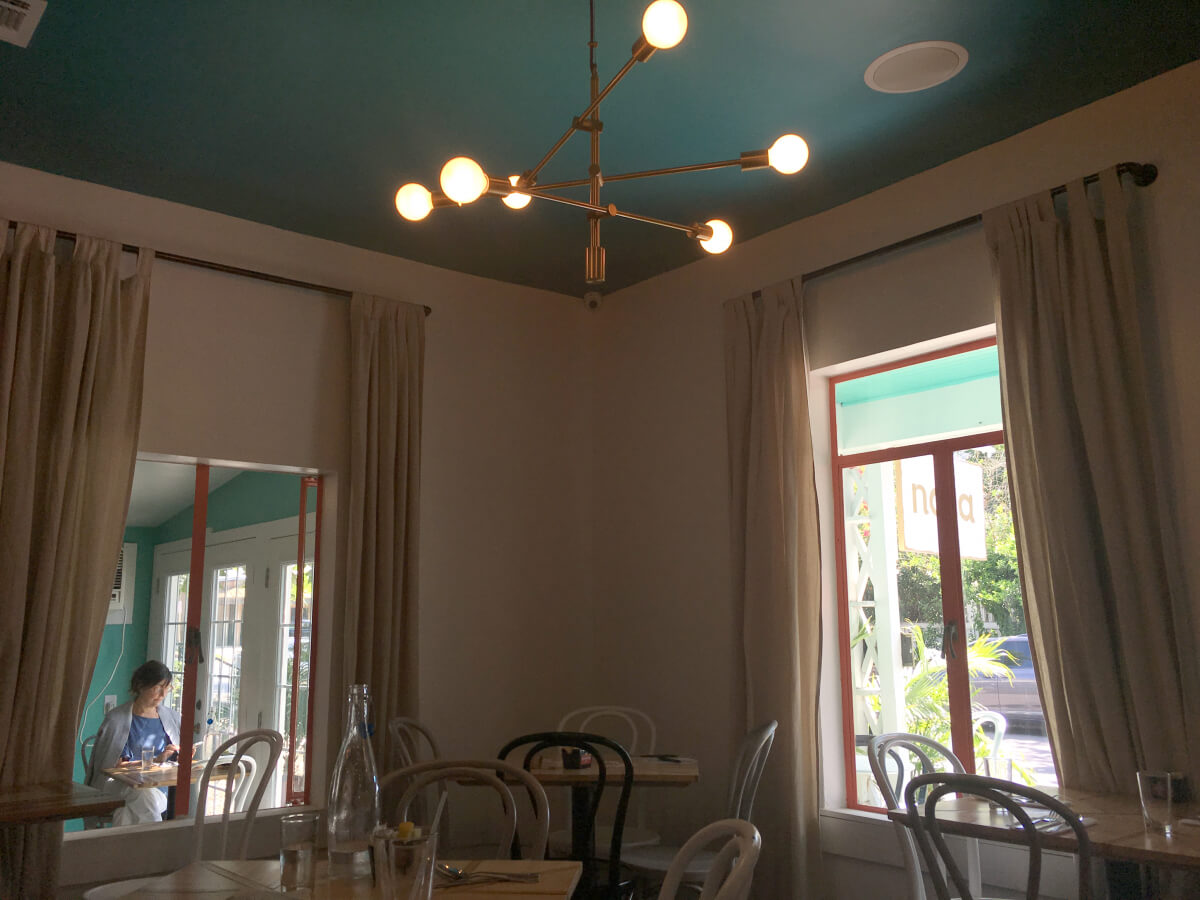 Ceilings are painted a crisp teal color while the walls were painted a minimal white.  The hardwood floors were beautiful and appeared to be original to the structure.  Drapery hardware is like an industrial black iron conduit holding simple draperies in a neutral tone. Accent lighting consisted of some great contemporary linear pendant lights in a brass finish with an exposed frosted lamp.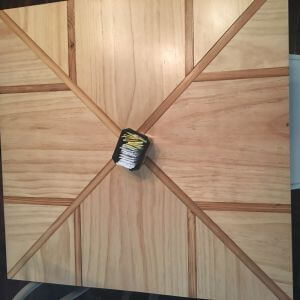 Some interior openings were draped in various fun fabric graphics of flora and fauna.   Seating on the exterior and interior were the same with a mix of black and white in a style typical in New Orleans.  
Tables are a laminated strips of wood in varying patterns per table with a simple black metal base.  They were handmade by the local design firm, Work5hop, who consulted on the entire renovation of the project.  More to come on them!  Tablescapes were no fuss with a Community Coffee branded black condiment holder with all the sweeteners you need.
Branding
The entire experience from the exterior to interior and branding are well coordinated. The typeface of the Nola logo is simple and elegant, just what we love to see.  Menu design was sophisticated and simple with thought given to white space, color choice crisp and clean, making it easy to read and understand.   While there was a great variety of menu items to choose from, Nola makes it easy and sticks to their specialization, keeping the experience from being overwhelming.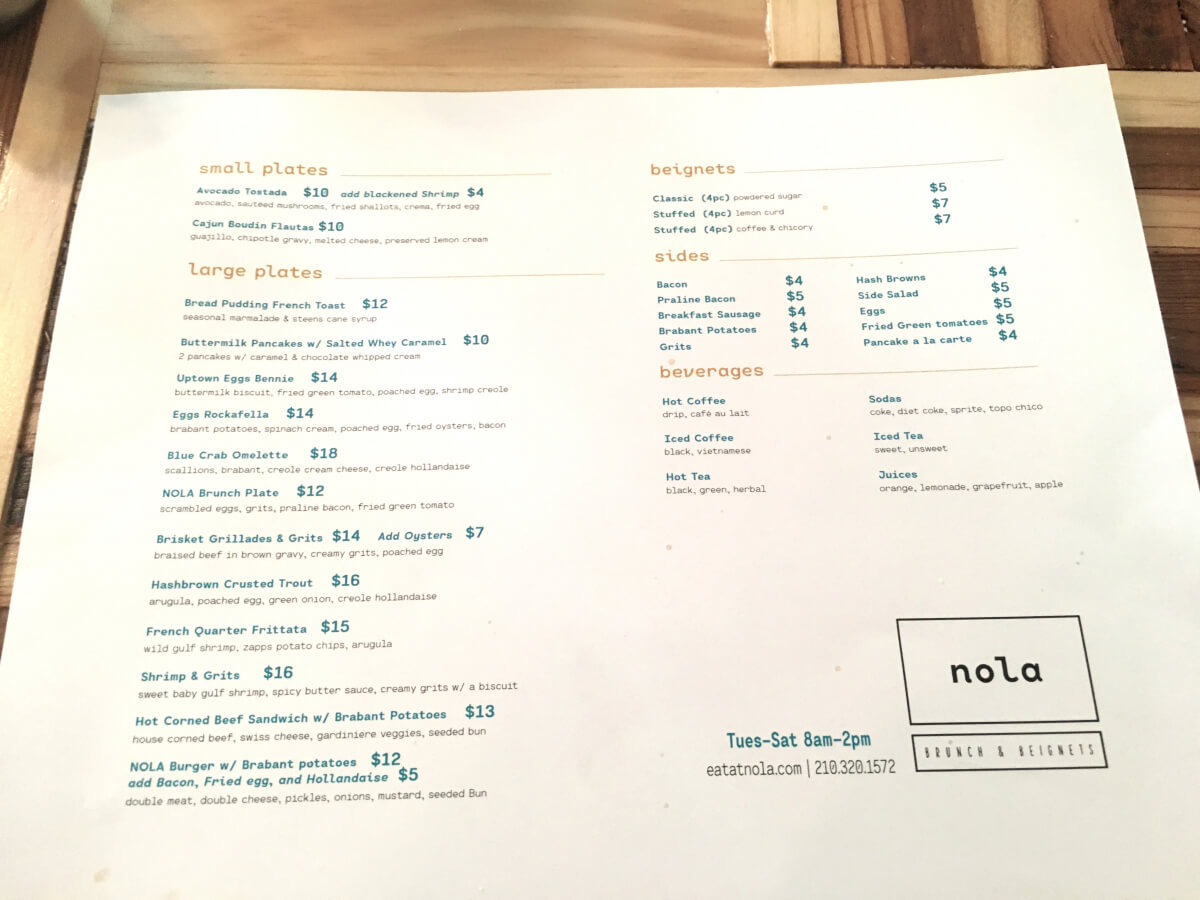 Culinaria
When I asked my server, Brandt, for "The Nola Experience", the first item he mentioned on the menu was the Hashbrown Crusted Trout which consisted of arugula, poached egg, green onion, and creole hollandaise.  While that sounded amazing, I was not feeling trout for brunch that day so I kept listening.  Next he mentioned the shrimp & grits.  Sweet baby gulf shrimp, spicy butter sauce (of which they are famous), and creamy grits w/ a biscuit.  Now you are talkin', Brandt!
Coffee was served in a simple tin cup (ok, it was probably aluminum for my metal snobs out there) covered in an enamel and painted white with a simple blue rim fitting perfectly with the theme of New Orleans.  I tend to be a bit picky about my coffee being bitter so it was perfect when I made it a latte.  Water also graced the table and was poured from a tall and slender glass bottle into a gracefully simple small breakfast glass.
This is a beignet place, so "when in Rome" (or New Orleans), I had to try the beignets.  I asked for the classic beignet thinking I would get one, but instead, four squares of pillowy yummy goodness showed up at my table.  They were warm fresh and delicious with a hint of cinnamon doused in a layer of heavenly powdered sugar.  For my fellow native San Antonians, think sopapilla filled with fluffy dough and cinnamon.  I had one (believe me, I could have eaten more) and Brandt was kind to put the rest in a bag for me as I anxiously awaited the main course.  Also getting rave reviews are the lemon curd stuffed beignets.  Next time for me.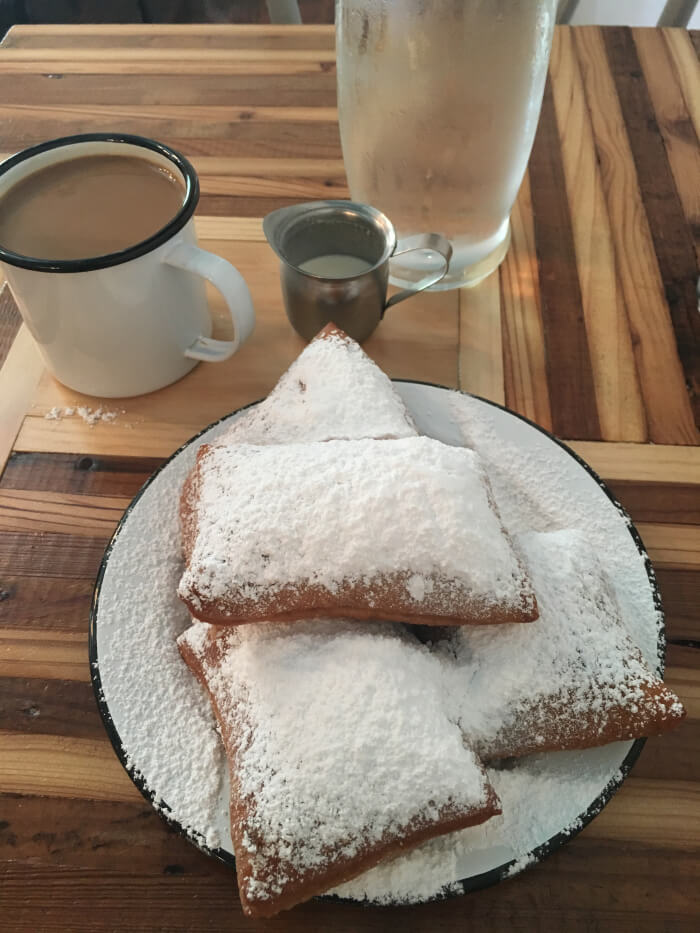 Shrimp and Grits were served on a tin plate (matching the coffee mug) giving it that easy New Orleans feel.  The first bite was amazing!  Whatever that "spicy butter sauce" consists of, it makes all the difference.  Grits were creamy and the spice is very mild.  In the past when I have had shrimp and grits, it has never been an experience to write home about, but this experienced changed my mind.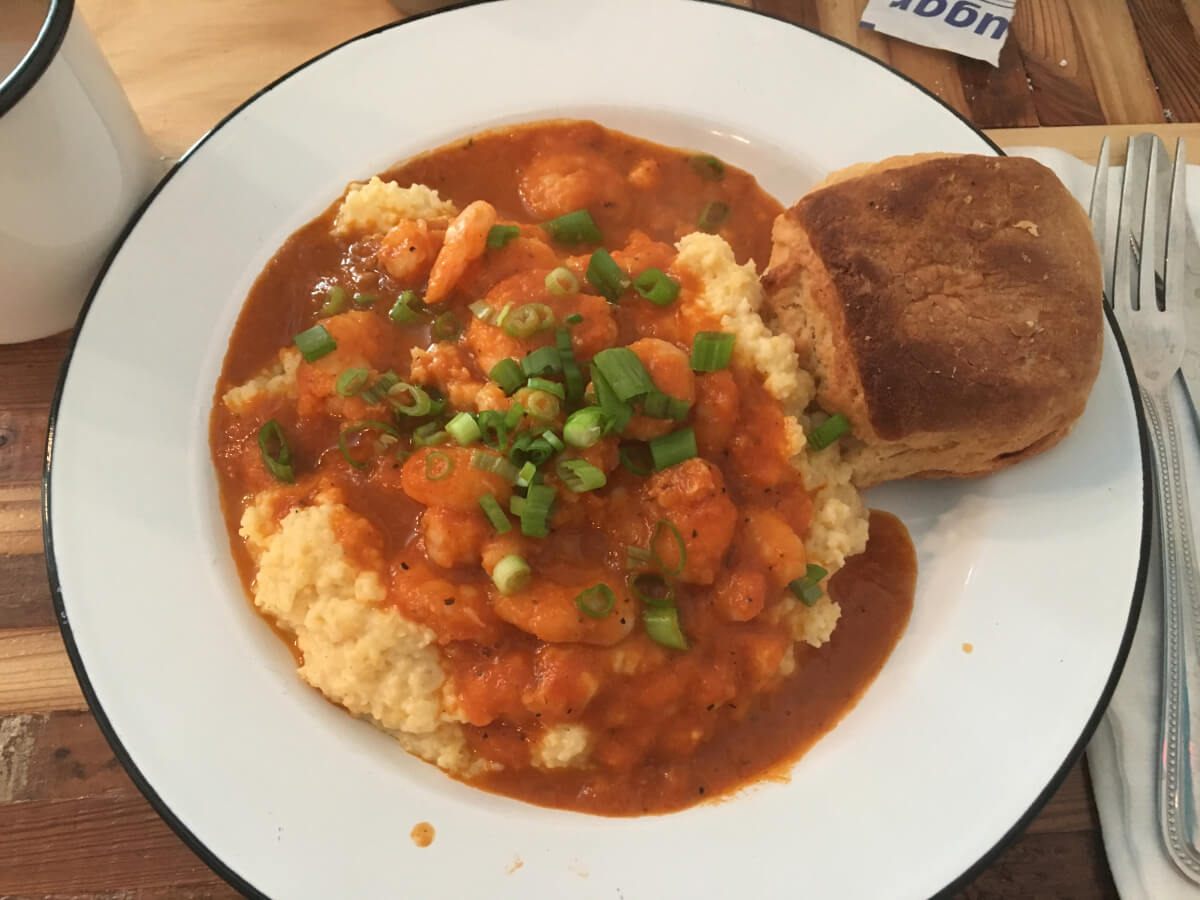 ¡Viva Nola!
Nola Brunch & Beignets
111 Kings Court
SATX 78212
210-320-1572