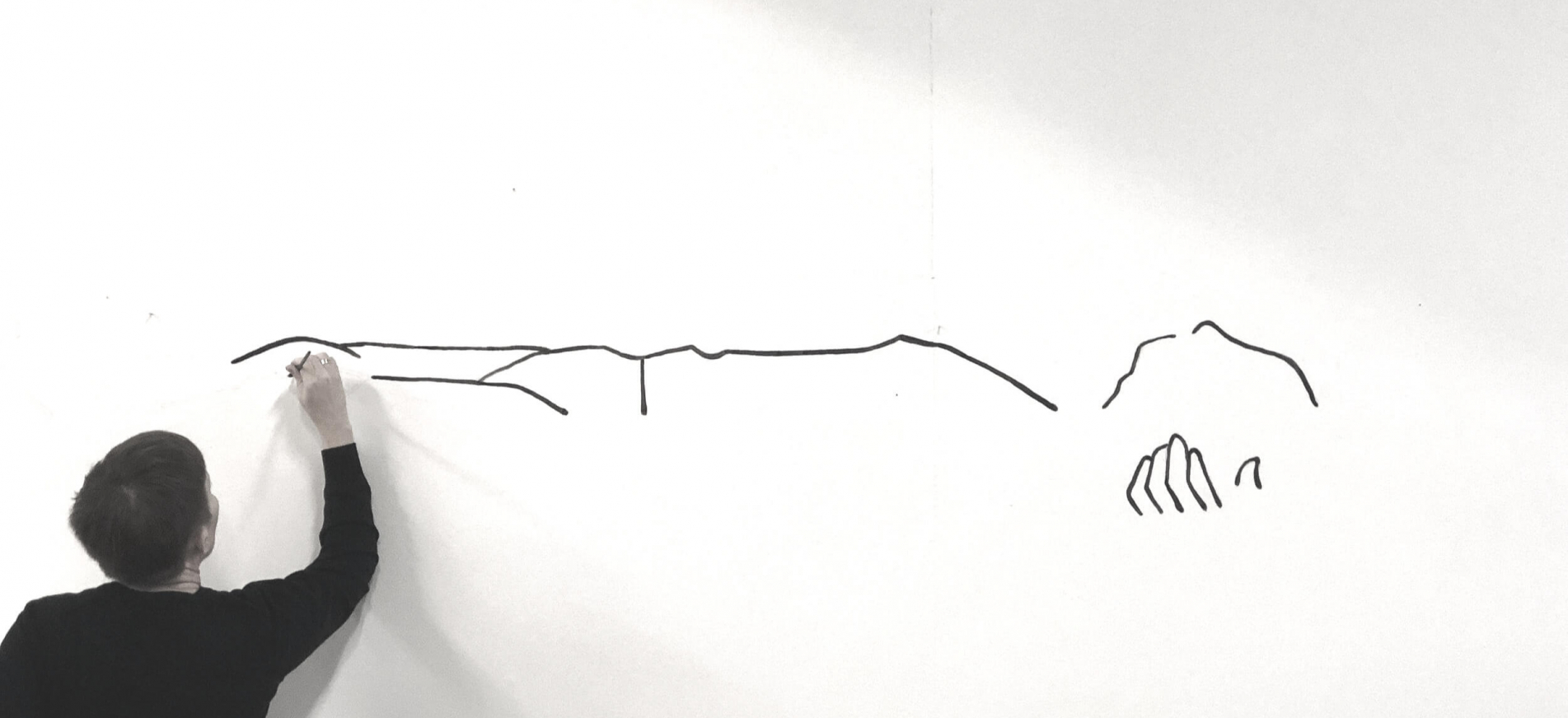 Artist Rikkianne Van Kirk: New Lines | Old Objects
July 21, 2021 at 3:47pm
San Antonio-based artist, Rikkianne Van Kirk, grew up in a small town along the New River Gorge in southern West Virginia. While being raised by her depression-era grandparents, she remembers drifting around to estate sales and being taught by her grandfather the value of the past, respecting old objects, and the value of reusing what you have. Her grandfather seemed to be ahead of his time in the way of sustainability even recycling cans which afforded him the ability to purchase a 10-speed bicycle for her.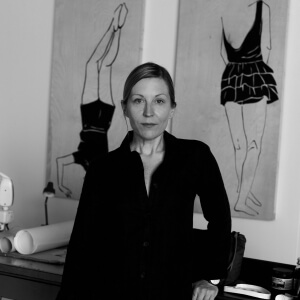 Her early artistic endeavors as a child were spent practicing dance and later dramatic arts. She attended the American Academy of Dramatic Arts in New York City after graduating high school. Upon completion, Van Kirk got married, they moved away from New York City and she soon became the primary caregiver to the grandmother who raised her. She then pursued a bachelor's degree in Social Studies and began teaching 10th-grade World History. It was during this time that she found her passion for the visual arts. Practicing the dramatic arts was difficult as a caregiver, but she fell in love with textile design and screen printing which later would drive her art career.
The Rich Past of Found Materials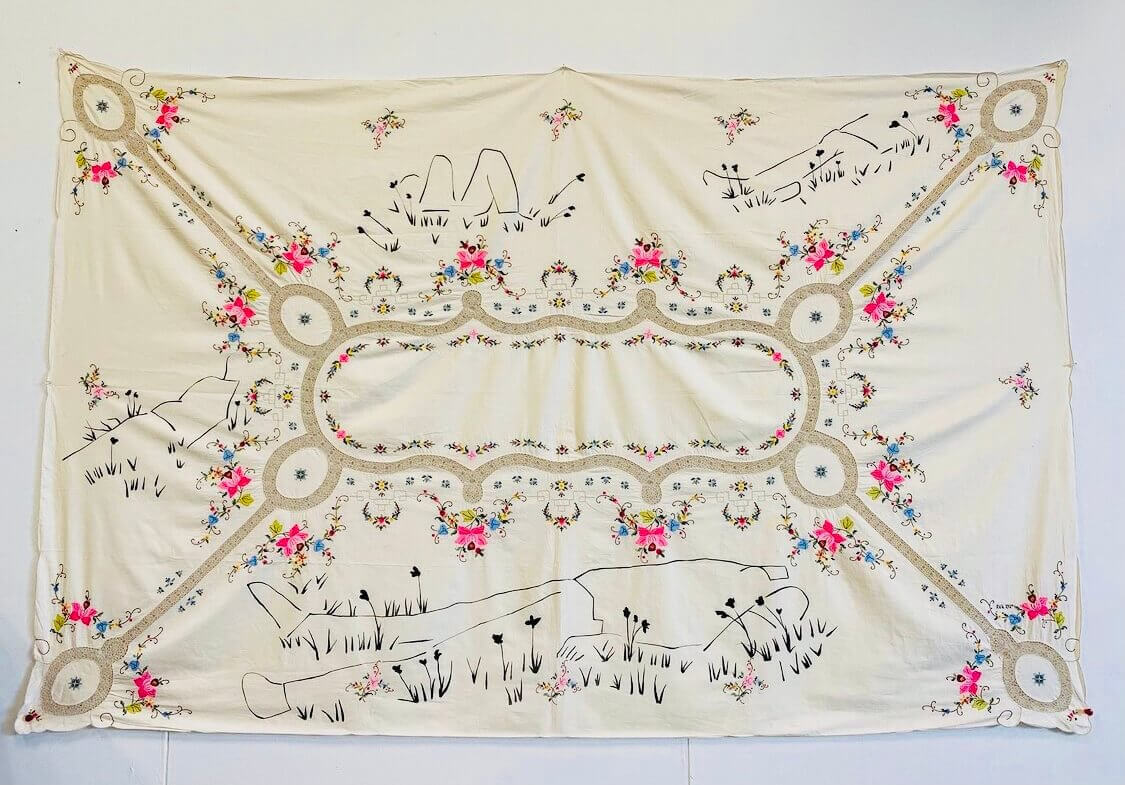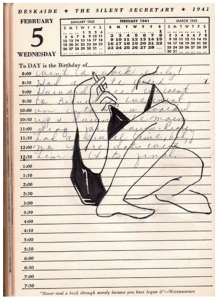 The influences on her life, both being raised by her grandparents and her passion for world history, are easily recognizable in her work. Van Kirk uses simple illustrations on antique objects and materials to enhance their stories, such as old journals, calendars, or tablecloths. The linework tells stories from her life, scenes, or quotations depicted in books or figures that express a concept or emotion. No matter the scene, those that connect with her artwork appreciate her minimalist approach while conveying deep emotion.
When we asked about her decision to begin incorporating vintage found objects into her artwork, she reminisced, 
"I remember finding my first old diary in an antique shop in Virginia and being completely inspired by the whole experience. From finding it buried in a box of odds and ends to the feeling of reading someone's words, journal, memories, daily life from so long ago. The diary was from the 1940s. I wanted to bring the words to life again, to honor it somehow, and the only way that I felt that I could was to illustrate the pages."
Exhibitions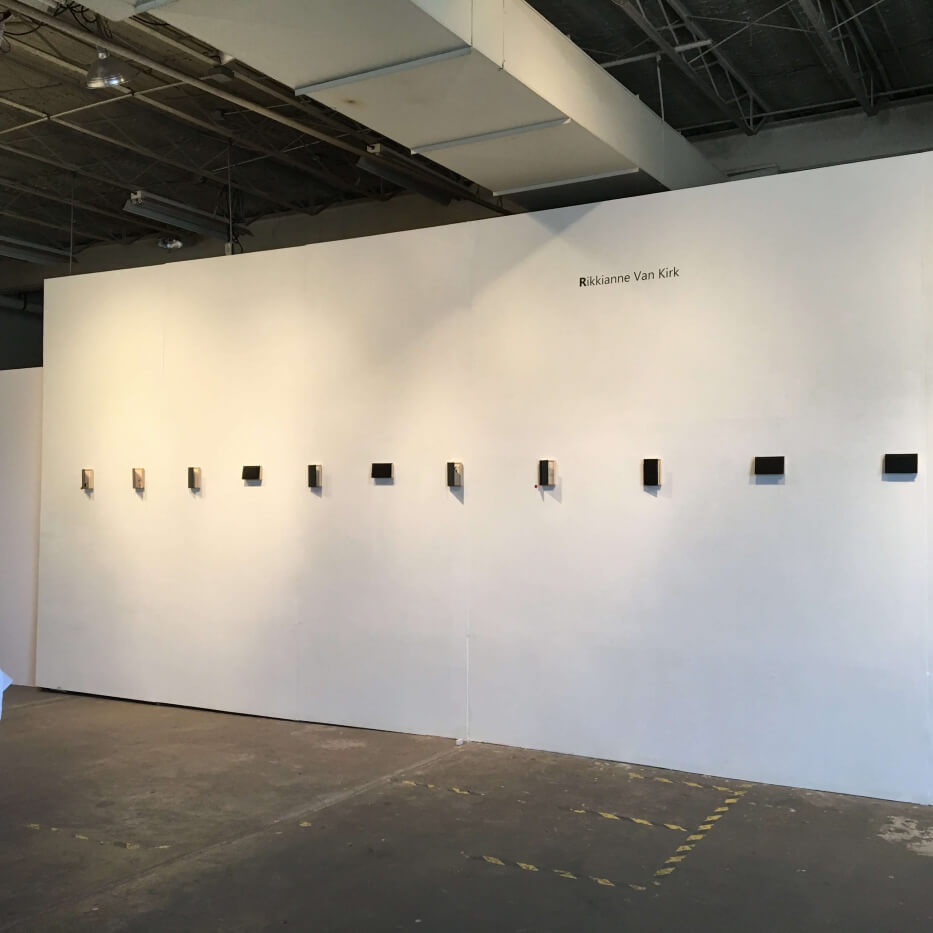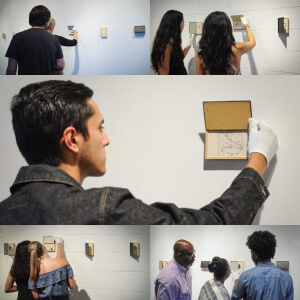 Van Kirk has had both group and solo shows in San Antonio at Bihl House Arts, Mini Art Museum, Pharm Table and Mercury Project Art Gallery. Outside of Texas, she has exhibited in Norfolk VA, Brooklyn NY, Brookline MA, Indianapolis IN, and Los Angeles CA.
One of her first shows was an international exhibition at the Heathrow Airport shop in London, UK. The international designer, Sir Paul Smith, found her work on the internet and his people reached out to offer her an opportunity. About the experience, Van Kirk told MiSA, 
"It's truly one of the wonders of the internet. I was over the moon and worked with his folks to make it happen and ended up sending prints for them to display and sell in the shop.  It was a success and Sir Paul Smith sent a handwritten postcard thanking me for sharing my work.  The postcard is now framed and hanging in my office!"
Commissioned Work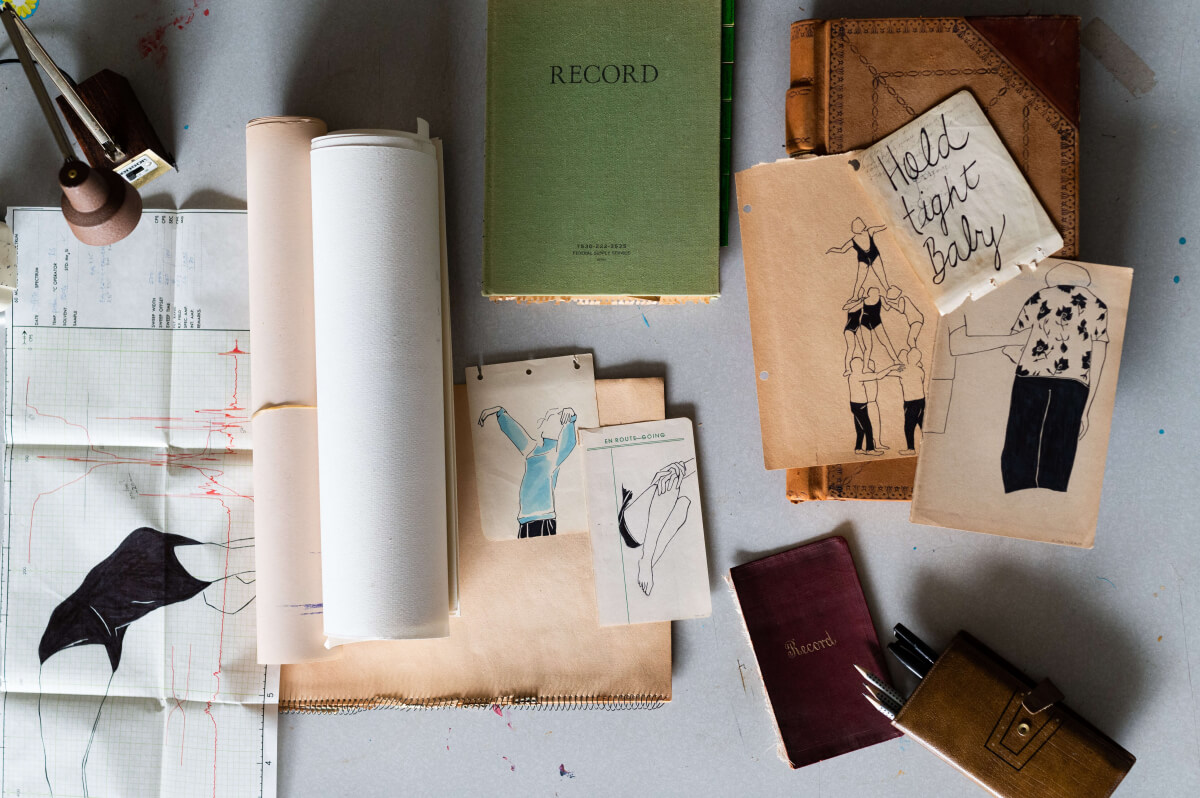 Kurt Vonnegut Memorial Library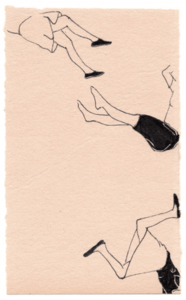 In 2014 and again in 2019, Van Kirk was approached by the Kurt Vonnegut Memorial Library in Indianapolis, IN to create works in response to Vonnegut's novels. Her original illustrations are now a part of the library's permanent collection. 
Her process began with the goal of reading each of Vonnegut's fourteen novels. It did not take her long to appreciate the vivid imagery that his words created. She began to bookmark the pages that spoke to her and by the time she reached the end, the book had become completely dog-eared.  About the experience, she told MiSA, 
"I found Vonnegut's prose colorful and illustrative, yet beautifully simple. I used my Sharpie to somehow capture that simplicity the best I could." 
Pharm Table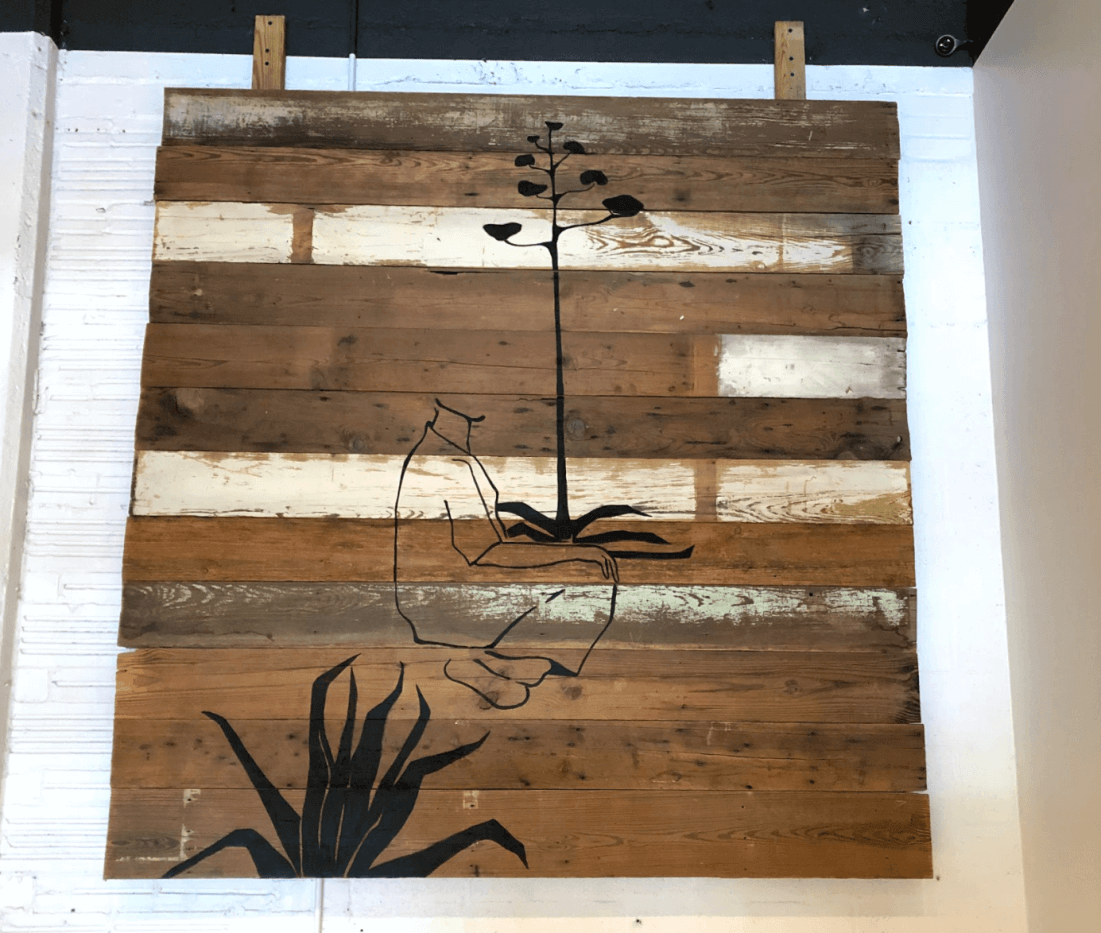 In 2020, As the restaurant Pharm Table was coming out of COVID-19 lockdown and transitioning from its former location near the Tobin Center for the Performing Arts to its new location in Southtown, Van Kirk was commissioned by Chef Elizabeth Johnson to create pieces for the restaurant. Chef Johnson told MiSA,
"During COVID, we created an exhibit for the restaurant based on native edible plants. She would call me and ask how I was holding up. I told her the only thing keeping me sane was having my hands and feet in the garden. That inspired her to draw hands and feet. This is a great example of how we play off one another.
We took all the images from the native plant exhibit that she called "Hands and Feet in the Dirt" and made it into wallpaper [located in the restrooms at Pharm Table]." 
The piece painted on wood planks and installed on a rear wall in the restaurant's Southtown location is entitled "Garden Girl". The repurposed wood background was made by local cabinet maker, Zach Seiter, who salvaged the old-growth wood from the Lavaca neighborhood. Van Kirk's linework depicts a girl sitting in a garden with agave plants in the background and foreground. When speaking with Chef Johnson about the artist, she told MiSA,
 
"Working with Rikkianne simply "fits." We connect over all things food and design. What is so inspiring for me, is how we play off of one another when creating art for the new space. We always come to the same place. Her art seems like an extension of the food and the space in a very natural and organic way."
Artist Collaborations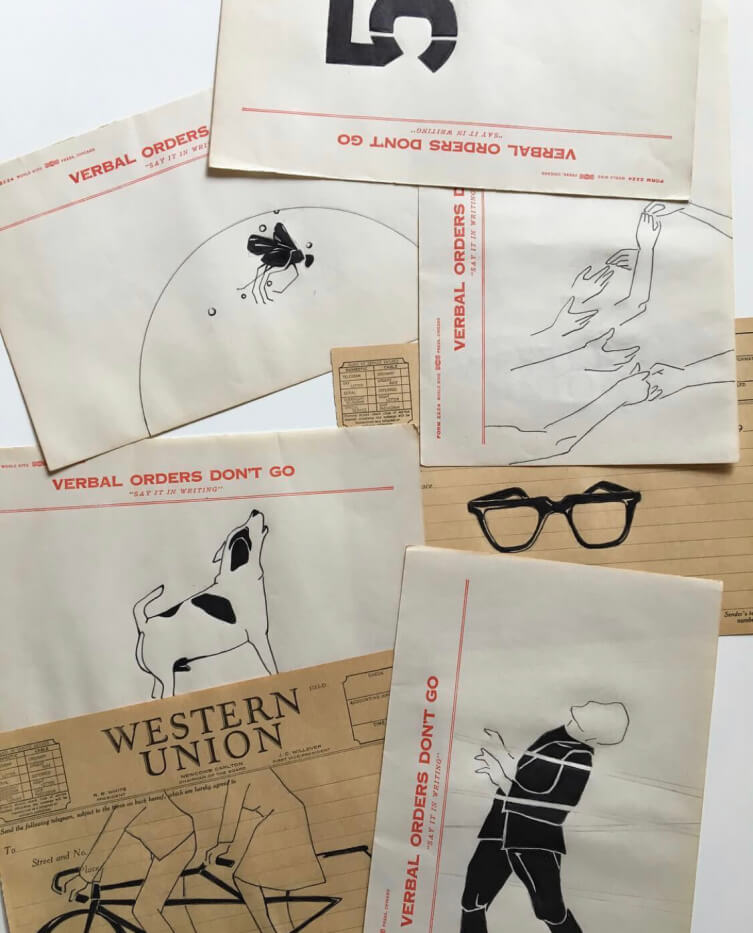 Poet- Rene Villanueva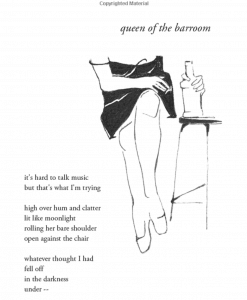 Van Kirk illustrated a book written by Rene Villanueva entitled, "When Love Ends, Be the Water: Modern Love Poems", released in 2018. A short description of the book states, "The book is a collection of poetry and short stories about a young Chicano's pursuit of love in South Texas."
When we asked Villanueva about working with the artist, he stated, 
"I think of poetry as being a tangible art that is as much about the ink on the page as it is the meaning of the words. In haiku, I have heard it called MA, which is not just the space on the page, but the meaning of what is omitted and the power of a well-placed pause. Negative space tells us about the writer's state of mind, and what is unsaid, tells us what we are afraid to let out of us. Rikkianne and I found, I think, an echo of that in each other. Carving out of the emptiness, enough of the story to give more emotion than what could be stated by adding more words or more lines.
I am in awe of her ability to turn a curve into a feeling, and line into a moment of humanity without giving the power all away. So I will say, in a way that hopefully doesn't sound frivolous, that she is an artist in every sense of the word, and I am grateful that we got to create something sincere and personal together out of the negative space." 
Ceramicist- Anita Becerra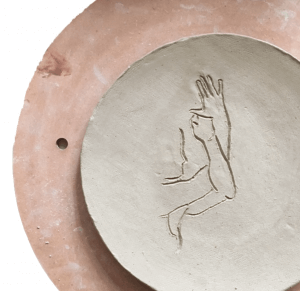 Ceramicist, Anita Becerra (branded Nita Cole) had an exhibition at MBS Fitness where she crafted yoga-inspired ceramic pieces. She invited Van Kirk to participate by providing artwork for the surface of them. She thought Becerra was going to have her sketch on the surface of them but soon learned that she would be carving her artwork into them instead. Never having carved on clay before, she approached the task with trepidation but the ceramicist gave her the freedom to learn the process, even teaching her how to use the carving tools. 
Grey Moon Vintage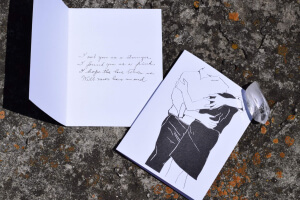 Rikkianne Van Kirk illustrated a greeting card series with Grey Moon Vintage, a retail shop in San Antonio, Texas. A description of the series of greeting cards on their website states, 
"Letters To Edna is a greeting card series by artist Rikkianne Van Kirk and Grey Moon Vintage. The poems and texts (with their original penmanship) inside the cards are from a found Autograph Book from 1905 that belonged to a woman named Edna from San Antonio, Texas. Autograph Books were a keepsake popular in the late 19th and very early 20th century among university students to collect poems, mementos, saying and signatures from friends."
 
Community Involvement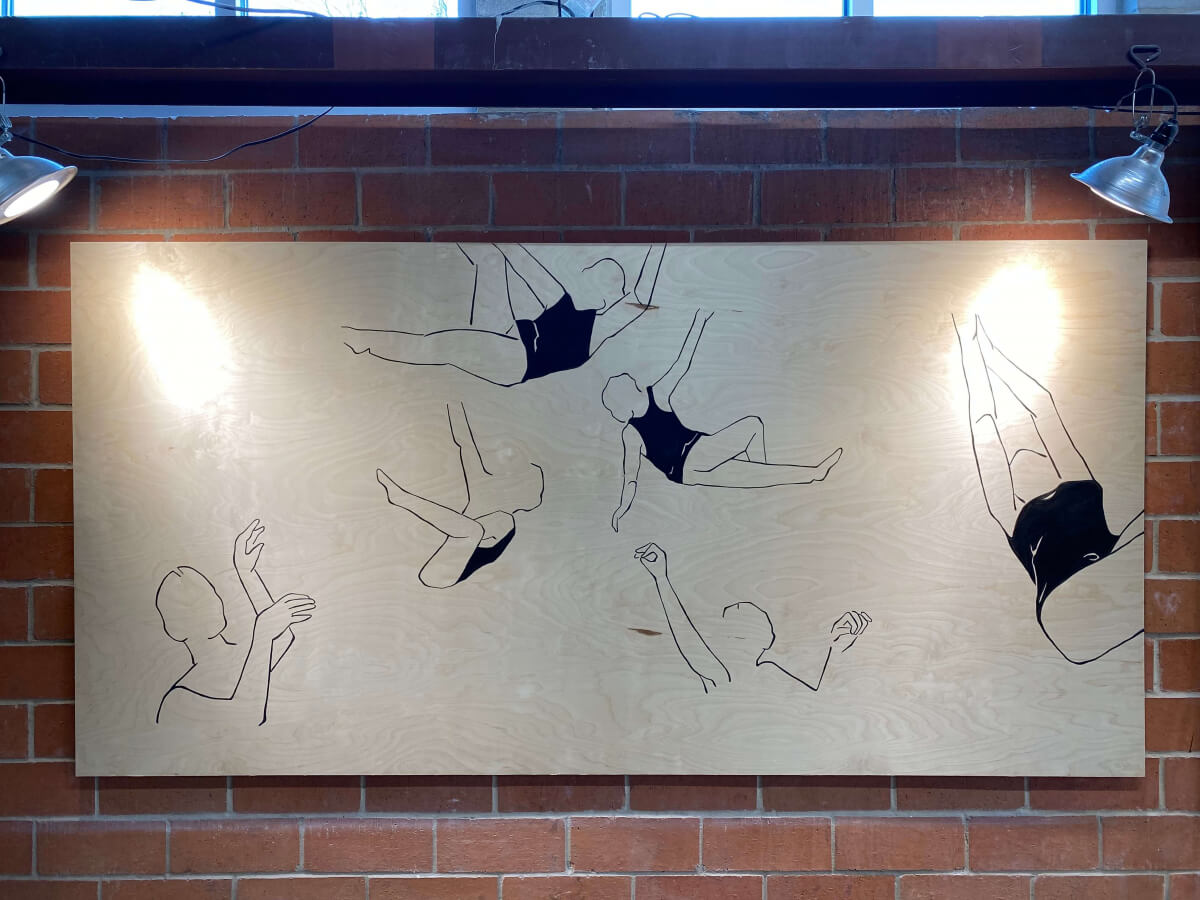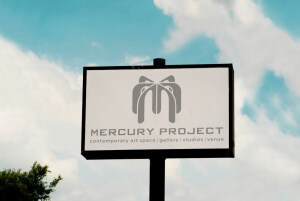 Rikkianne Van Kirk is the Art Gallery Studio Manager at the Mercury Project. Mercury Project was started by Antonia Richardson and Warren Borror. Antonia Richardson, a visual artist and painter, who had a dream to start a live-work-gallery-studio space where art could be shared and experienced while featuring artists of all disciplines. She found it in a 1940's factory warehouse that originally housed Clicquot Club Beverages, a sparkling water product. Mercury Project was born and is now a part of the Southtown Arts District.
Rock climbing and bouldering are something that Van Kirk does in her spare time and occasionally is depicted in her art. She says that it is something that she discovered a couple of years ago and it's one of those things she wishes she had been doing all her life. She has worked part-time at Armadillo Boulders in San Antonio, and also has her artwork installed there as well.
Follow her on Instagram for more information on the way regarding her work along San Pedro Creek and her drawing classes!
Header Image: Rikkianne Van Kirk drawing a mural of her work entitled, "Lay Me Down In The River" for a poetry reading by Rene Villanueva at Mercury Project.